Thanks for the free $200 in Ticketmaster giftcards, Starwood!
As I wrote about back in April (Deal Blitz: Starwood "Hear the Music" 2014 Promo – $50 Ticketmaster Cash for Every 2 Nights), Starwood was running a promo that gave you a $50 Ticketmaster e-voucher for every 2 paid nights at a Starwood property between between April 3 and May 31, 2014. The only catch was that you had to make the bookings using a SPG mobile app.

This was a pretty phenomenal promotion because it was based on paid nights, not paid stays during a 2-month period. Anyway, I'm happy to report that the promotion ended just about a week ago and the e-certificates have started to email!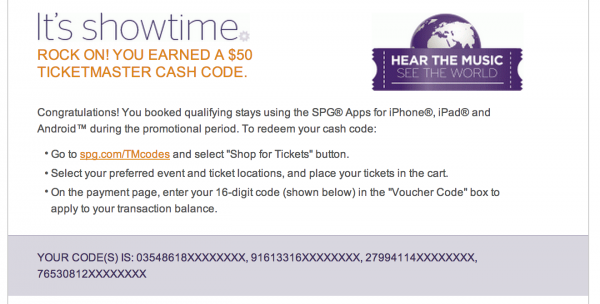 While I'm glad I got at least 4 of them, I'm also unhappy to report that I totally forgot about this promo and only booked a few of my Starwood stays using the mobile app. Bittersweet since it looks like I could have scored a few more, had I remembered.