The Westin Mission Hills Golf Resort & Spa Review – Palm Springs, California
Booking
I had a conference here and booked a 3 night stay about 4.5 months in advance. I was able to get a corporate rate of $125 per night.
Check-in
I booked a 2 Queen room and, despite there being a large conference for the next few nights and the Coachella music festival starting on the weekend, rooms were still available for for the length of my stay. The agent said that they were able to give me an "upgrade" to a Deluxe golf course view room (Deluxe golf, non-smoking:  2 Queen Beds, 525 sq ft / 49 m²) but, after I asked, said that a suite upgrade wouldn't be possible due to the high occupancy. I confirmed this on the Starwood app:  a suite with 1 king and a sofa bed was available but all of the 2 queen suites were sold out. At check-in, they gave me a voucher for a "special gift" to be picked up with the concierge.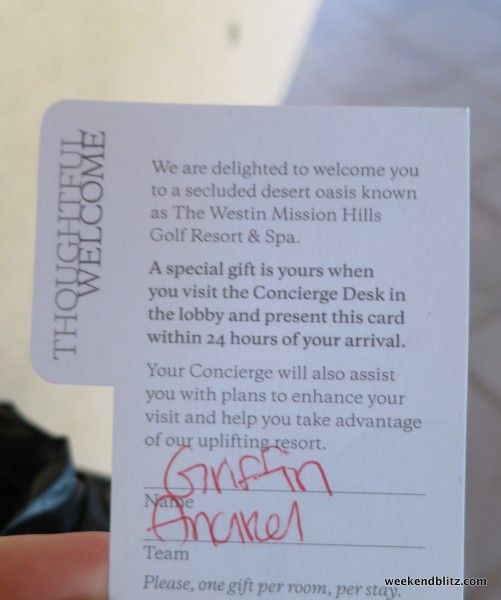 I bought into their little gimmick and stopped by for my welcome gift. Turns out it was a coupon for the golf pro shop and spa. Real great gift, Westin. I'm glad that I stopped by however, because I learned that both restaurants at the property will give you a 20% discount on all food for showing your AAA card. This is a great deal, and who doesn't have AAA anyway?
The Room
The resort is very spread out and all rooms are in "villa" units spread around the property.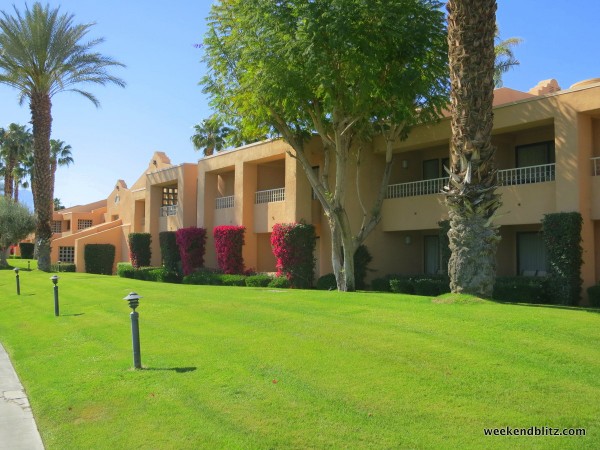 The good news is that many, if not all, rooms have a balcony and the most steps you'll have to climb is one flight.
I've stayed at a few Starwood and Hyatt resorts, mostly in Asia, and can say that this Westin "resort" is a bit of a stretch. The room was bigger than a typical Westin but still nothing exceptionally resort-y feeling. That being said, the room was well appointed and more spacious than a typical Westin — and in good shape.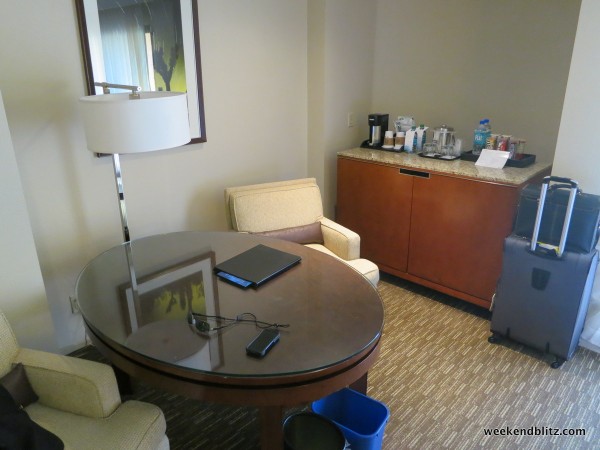 The Bathroom
The additional bathroom space was noticeable and highly convenient. This was a nice extra touch that pushed it past regular Westin territory and closer (but not all of the way) into "resort" territory. The tub/shower and toilet were in their own room and there were dual sinks and a closet in a separate area.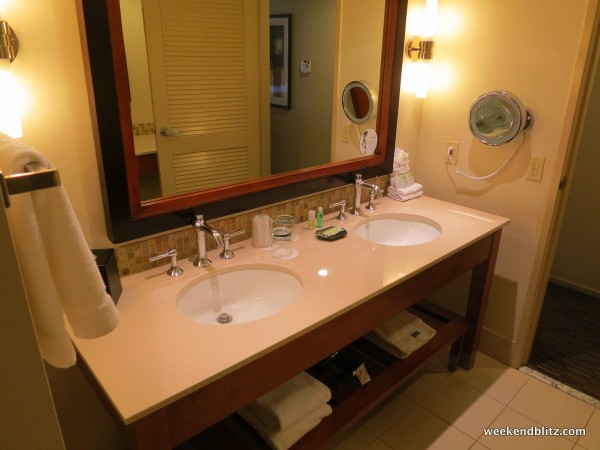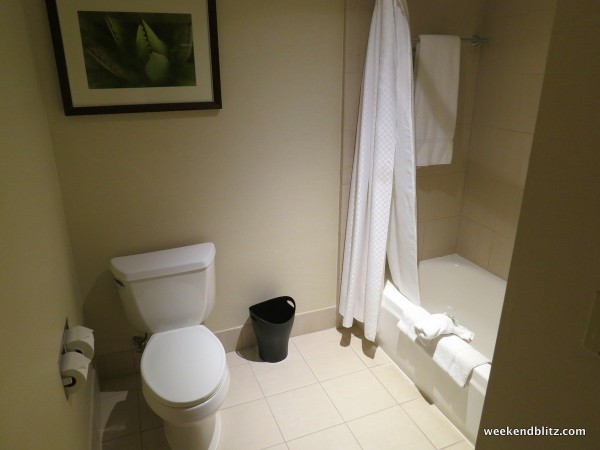 Property
The property was beautiful, a true "Desert Island" or whatever the area calls itself. The Westin is part of a much larger compound that must be hundreds of acres large. Adjacent to the "The Westin Mission Hills Golf Resort & Spa" was another Westin property: The Westin Mission Hills Resort Villas, Palm Springs. Although it was easy to walk freely between the 2 resorts, there was limited pedestrian access to the rest of the property. I jogged around and it seems like they've got a full range of neighborhoods from duplex-style condos to huge luxury homes. It is truly a lush oasis amid the desert, full of vegetation and bright green golf courses with the backdrop of hilly mountains.
Restaurant
There are 4 dining choices at the resort:  the full-service Italian restaurant (Pinzimini), Fireside Lounge, Season's Grill and the market, Mission Hills Market & Café. I had lunch and dinner at Pinzimini and can say that it was great, much more on pace with resort quality.
Service
The service was fantastic. Check-in and concierge went over above; no complaints. The wait staff was always very polite and attentive, although it was obvious at times that English was a second language.
BOTTOM LINE: While the Westin Mission Hills Resort seems to be an older property, it has been renovated and is pretty much up to good quality resort standards. There are more golf courses and pools than you might know what to do with, but it's one of the only tolerable places to be if you find yourself in the Palm Springs desert.