Walking Tour of Nantes, France
Walking Tour of Nantes, France
Nantes was our second stop on our trip to France and also the reason we were there in the first place:  Jeffrey's little sister was studying there for the semester.  After spending a few days in Bordeaux (see our walking tour of Bordeaux here), we took the SNCF INTERCITÉS train up to Nantes to spend a few days exploring the city and visiting his sister.
Nantes is the region of Brittany's largest town and another large port, with a population of half a million people.  Nantes, though, felt way different than southern Bordeaux. In Bordeaux, it had been sunny and warm. Our entire stay in Nantes was filled with rainy days and the damp cold that comes with it. Maybe we just caught it at a bad time, but Nantes was lacking a bit of the bustle and energy that Bordeaux had. Right away, my preference leaned (just a little!) toward Bordeaux.
All that to say, we had a wonderful time in Nantes, exploring with Jeff's sister and her boyfriend and drinking lots of vin chaud (hot wine).
Total distance: appx 4.5 miles (or 7.2 km)
Time: You could power walk in less than 2 hours, but I'd say a minimum of 4-6 hours would be good and even better if you try to use all day.
Day of the week: Avoid Mondays/Tuesdays as the following are closed: Les Machines de l'île, Natural History Museum of Nantes.

A. You might as well start your day off at the Gare SNCF Nord. If you're just stopping into Nantes for the day, this is likely where you'll first land. I always like to visit the train station in any European city–it's the lifeblood of city, full of life and hustle and bustle.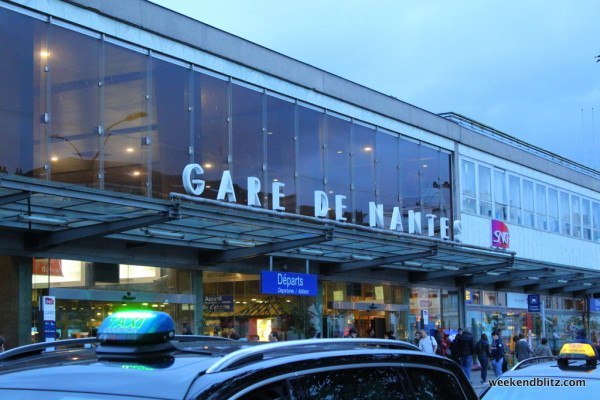 B. Hang a left out of the train station, following the tram line to its next stop (you could also take the tram, but it's less than a 10 minute walk):  Château des ducs de Bretagne. You won't be able to miss this monstrosity. This is probably the highlight of Nantes. Their prized possession. A must-visit attraction. But don't be disappointed that we're bringing you here first; despite being the most popular attraction, Nantes has a lot more to offer!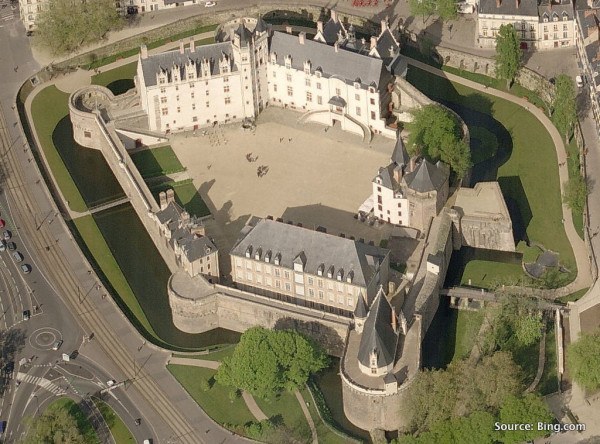 C. Leaving there, you'll head north on Rue Mathelin Rodier, a narrow cobblestone street, to the Cathedral of St. Peter and St. Paul of Nantes (Cathédrale Saint-Pierre-et-Saint-Paul de Nantes). Crazy fact (!): The construction of the cathedral began in 1434 and took 457 years to finish, finally reaching completion in 1891.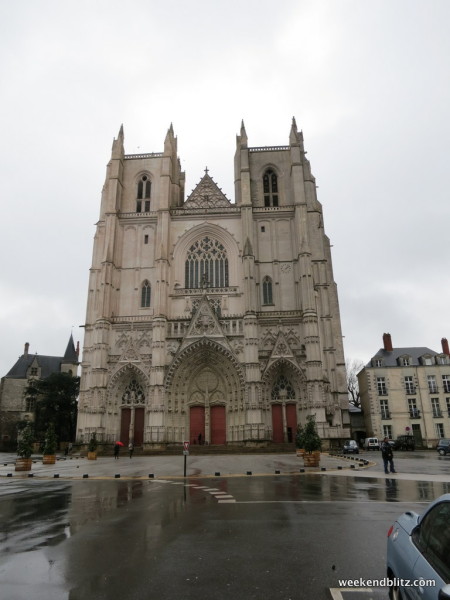 D. From here, if the weather is good and you're up for a (minor) detour, we suggest a walk to the Île de Versailles, an island turned garden-oasis right in the middle of the city. It's only a ~13 minute walk from the Cathedral and will be a great time to walk along the banks of the canal.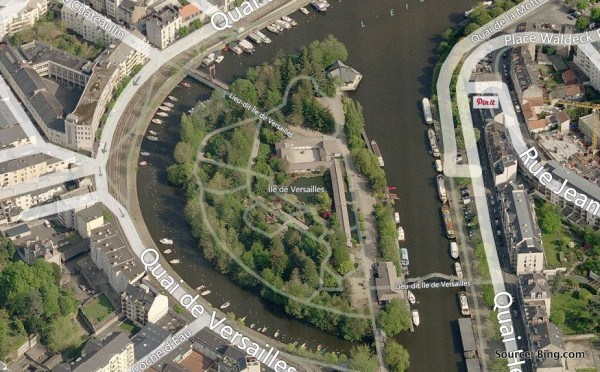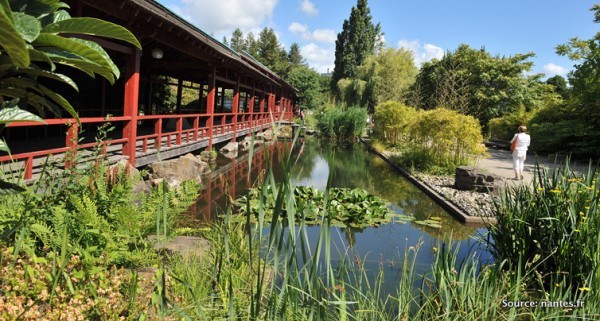 E. The next section is basically a walking tour down some great pedestrian-only roads through the middle of Nantes: Rue de Verdun –> Rue de la Marne –> Rue d'Orleans –> Place Royal. Take your time, pop into the stores, grab a snack and enjoy yourself! Leaving the canals, you'll walk down Rue Strasbourg for about a 1/4 mile (~500 meters) and hang a right on Rue de Verdun, the road will change names a few times but just continue straight until you reach Place Royal, a ~7 minute walk.
F. From Place Royale, you'll head down Rue Ruben/Scribe– somewhat of a back way– to take you to the next stop: Place Graslin. This is another of the main squares of Nantes, home to the Théâtre Graslin, a theatre/opera house.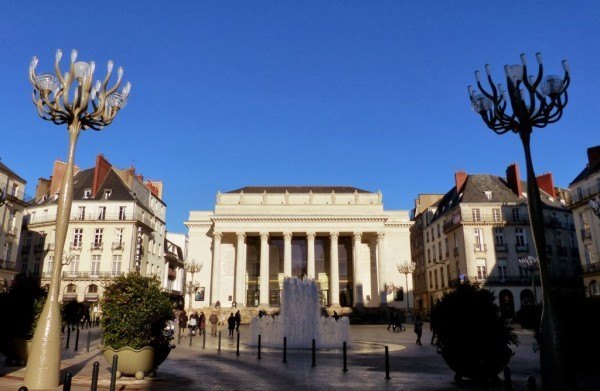 F. Lucky for you, Place Graslin is also home to Le Molière (http://www.lemoliere.fr/moliere-nantes.html), a great brasserie that is worth a stop. We highly recommend the "vin chaud" or hot wine:

G. We can't personally vouch for this next one (it was closed on our only opportunity to visit), but we've heard great things about the Natural History Museum of Nantes (3.5€, closed Tuesdays), just a few blocks away from Place Graslin. They've apparently got some cool stuff from the region and it'll only cost you 3.5€ to pop in and have a look.
H. From here you'll head to the Passage Pommeraye, a must visit if you're in Nantes. It's basically a 3 story arcade (no, the other arcade, there's no Pacman here) covered with a glass ceiling. Built in the mid-1800s, it really transports you back in time to the Romantic/Belle Époque era.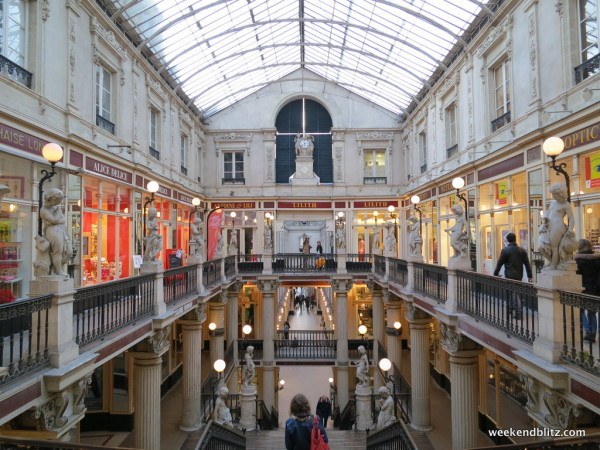 I. After weaving all of the way through the Passage Pommeraye, you'll wind up at the Place du Commerce. In the spring/summer, this should be a great place to grab a some food or drink at an outdoor cafe.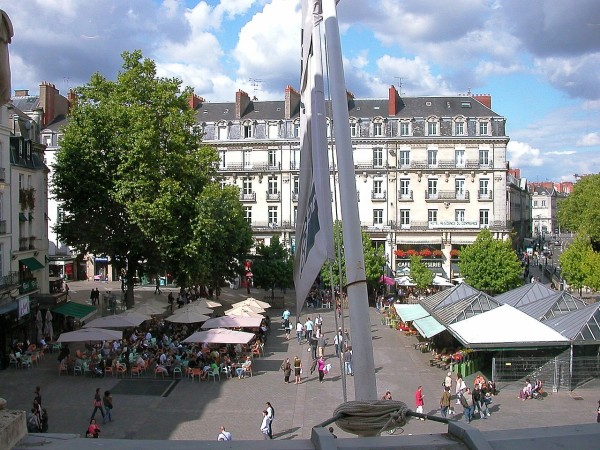 J. This next stop is a bit off the beaten path (about a 15 min walk), but is the most popular museum in Nantes, Les Machines de l'Ile. I remain confused to as what it actually is so I'll sub in the Wikipedia definition:
"The project of Machines de l'île in Nantes aims to promote city's image and tries to build an identity as a creative metropole of dream and of fantasy. In the warehouses of the former shipyards in Nantes, the Machines of the Isle is created by two artists, François Delarozière (La Machine) and Pierre Orefice (Manaus association), visualizing a travel-through-time world at the crossroads of the "imaginary worlds" of Jules Verne and the mechanical universe of Leonardo da Vinci."
It's a pretty fantastical place and will run you about 8 € for an adult ticket.
K. For our last stop on the walking tour, you're going to head back across the river to the historic/shopping district to the Tour de Bretange. The 37-story tall skyscraper is the tallest building in Nantes and, best of all, has a rooftop bar where you can soak in the view over a cocktail or 2. If you've timed it right, you'll be hitting this one up right at sunset. Once you get to the Tour de Bretange, follow signs to "Le Nid – Rooftop Bar."
More Pictures