W Hoboken Hotel Review – Hoboken, New Jersey
W Hoboken Hotel – Starwood Category 5
225 River Street, Hoboken, NJ 07030
Award Redemption: 12,000 pts or 6,000 pts +$110 (very limited Cash & Points availability)
Normal rate: Around $269-350 avg, ranging from $224 – $414
Starpoints return: 1.88 – 3.45 cents/point – Average to REALLY GOOD
Booking/Check-in
I had a last minute-ish stay required in New York and it happened to be on opening day of the United Nation General Assembly in Manhattan. As a result, all hotels were fully booked in New York, so the best I could do was Hoboken, New Jersey. I booked a "Cozy Room: King Bed," and, despite the busy week, I was able to get a pretty good rate. On my way to check-in, I noticed that I had been preassigned to a "Spectacular Room" …I made sure to screenshot it just in case… I came in on the Amtrak train to Penn Station (Amtrak Acela Express First Class: Washington, D.C.-WAS to New York-NYP) and had to make the transfer over to Hoboken. This transfer is a bit of a hassle if you have a lot of luggage, but well worth the savings on a cab. You'll need to exit Penn Station, walk appx 7 mins east (~2 blocks) and take the PATH train towards Hoboken. The ~15 minute train trip will cost about $2.50 and dead-ends at Hoboken, so it's hard to miss your stop. From the Hoboken PATH station, the W is about 4 blocks north, an easy 5 minute walk along the Hudson River.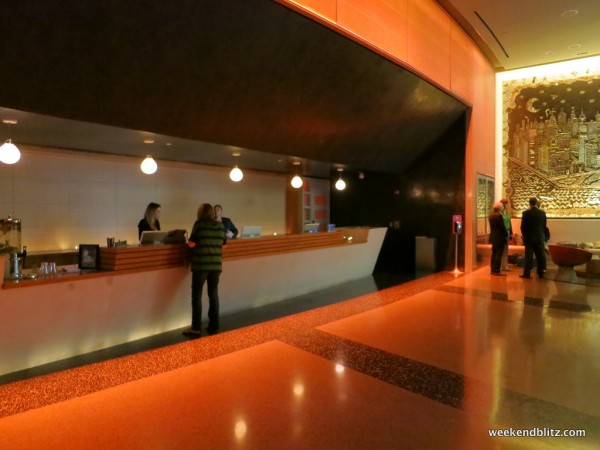 When I arrived at the front desk, I was greeted by some of the best Starwood Platinum recognition possible. The agent was very polite and (arguably) overly enthusiastic. Despite seeing on the SPG app that I had been preassigned to a Spectacular Room, dude-man worked the angle that he was going to **try** to upgrade me. He played on the computer for about 30 secs and confirmed, "I was able to do it, I have upgraded you." I made sure to play along, because who likes to crush enthusiasm, no matter how unfounded it is? In the end, this resulted in a 2 tier upgrade:
Cozy Room – 280 ft² – BOOKED
Wonderful Room – 330 

ft²

Spectacular Room 330 ft² – RECEIVED
Cool Corner Room – 448 

ft²

Fantastic Suite – 544 

ft²

WOW Suite – 864 

ft²

Extreme WOW Suite – 1,088 

ft²
Booked:
Cozy Non-smoking Room, Smoke-free
26 Sq.m/280 Sq.ft• 37 Inch Lcd Tv
Hoboken View• Free Sweat Access
W Signature Bed
Received:
Spectacular, non-smoking: 2 Queen Beds
Non-smoking, 330 sq ft / 31 m²,
W Signature Bed, 37 Inch Lcd Tv
New York City Skyline View, High Floor Room
Location
It's worth discussing location because many people might be looking at staying here instead of Manhattan to save some money. Going from the W Hoboken to Manhattan is quite cheap and easy using the NJ PATH trains:
So, you're only looking at about a 19 minute door-to-door trip to make it to 33rd Street: W Hoboken –> Walk 5 mins to Hoboken PATH station –> 14 min train ride to 33rd Street and Avenue of the Americas. Trains run Mon-Sun: 12am–11:59pm · every 10 min
The other line from Hoboken to Manhattan is the "Hoboken – World Trade Center" line. This will put you near Wall Street in 15 minutes flat: W Hoboken –> Walk 5 mins to Hoboken PATH station –> 10 min train ride to World Trade Center.  A one-way ticket will cost $2.50 and trains run Mon-Fri: 6am–11pm · every 12 min.
The Room
I made my way up to the 11th floor and found the room to be much brighter than most W hotels–something that I don't mind at all.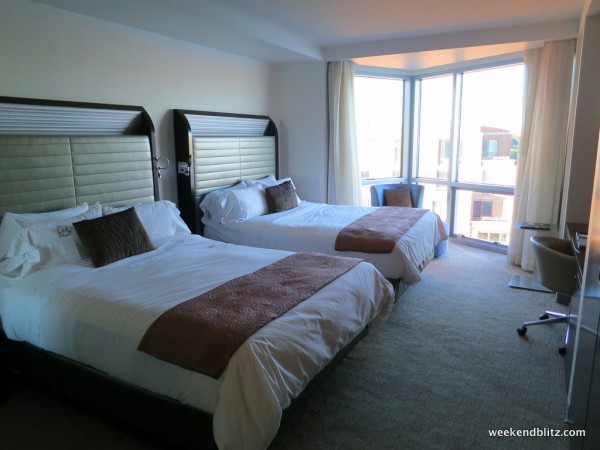 The W Hoboken has a great design that allows even the rooms that aren't directly facing Manhattan to have an awesome view of the city:
If you end up with xx01 or xx18, you'll have a view off the back of the building overlooking New Jersey–time to start complaining and have them switch you. I didn't have that issue:
My room was equipped with 2 Queen beds, which is all that they had available on short notice.  I generally prefer a Queen– those Kings can be too big when traveling solo.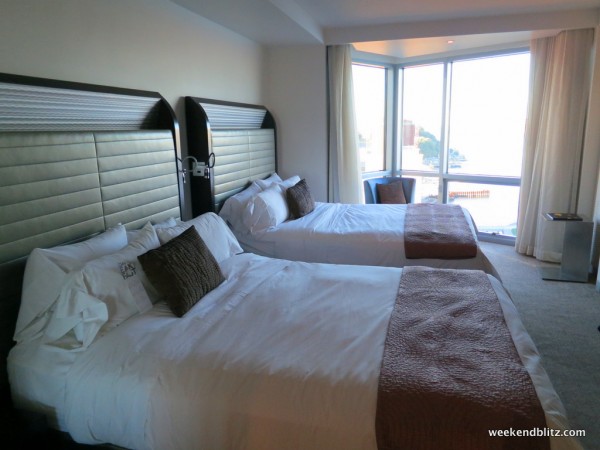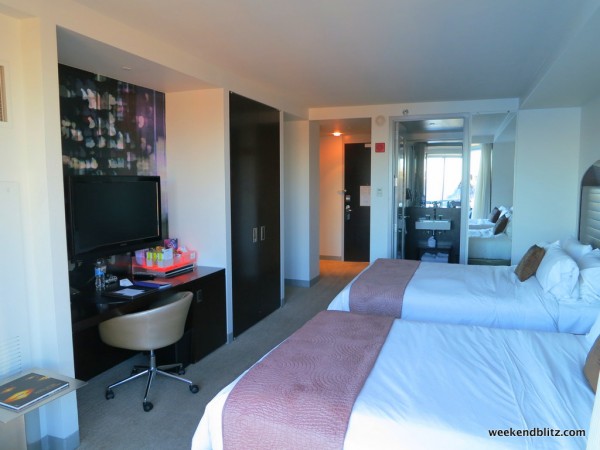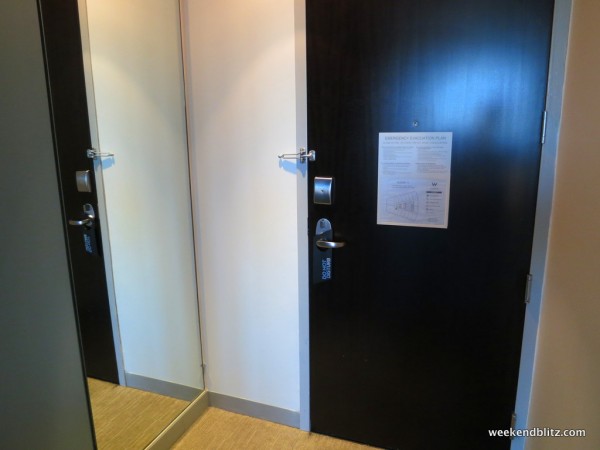 The Bathroom
The bathroom was surprisingly roomy by Manhattan standards, and, let's be honest, that's who the Hoboken hotels compete with.
Service
Again, service was stellar. I had a short stay, so I didn't have too many run-ins with the hotel staff. But, the few times I interacted with them, I was impressed. The check-in agent was one of the best I've ever had. Also, within a few minutes of arriving to my room, a bellman arrived with a SmartWater, a tray of nuts and a handwritten note: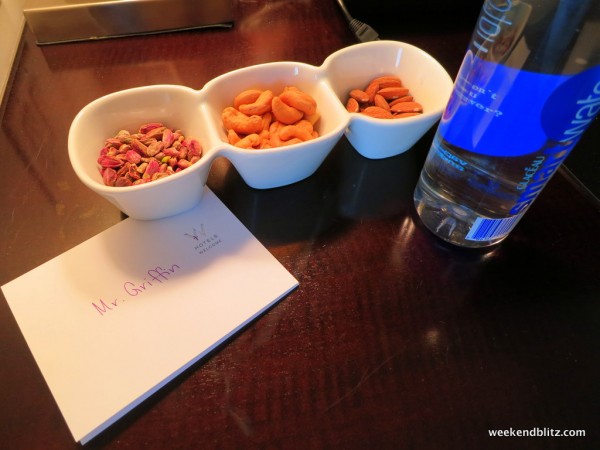 Lobby/Restaurant/Bar

Bottom Line
Bottom line: the W Hoboken is a pretty cool hotel at a great value. It's really not too difficult to get to Manhattan and you'll save hundreds of $ (or thousands of Starpoints) by staying across the river. And, you wouldn't have been able to get those amazing views of the city if you're staying in the middle of it.