Deal Blitz: Boston to Europe (Anywhere!) for 25,000 Flying Blue Miles in June/July
A few weeks ago, I posted Flying Blue's summer promo awards for June & July 2014 where Air France/KLM awards are between 25-50% off. It turns out the original list had an error and that Boston is really 50% off, meaning you can booking roundtrip flights from Boston to virtually anywhere in Europe for 25,000 Flying Blue miles (aka 25,000 AMEX points by transferring to Flying Blue). There is still great availability, here are some of the options:
Boston-BOS <–> Tel Aviv, Israel-TLV = 25k miles + $305
Boston-BOS <–> Moscow-SVO = 25k miles + $304
Boston-BOS <–> Paris-CDG = 25k miles + ~$300
Boston-BOS <–> Stockholm-ARN = 25k miles + $286
Boston-BOS <–> Munich-MUC = 25k miles + $354
Boston-BOS <–> Athens-ATH = 25k miles + $320
Boston-BOS <–> St. Petersburg, Russia-LED = 25k miles + $314
How to Get It
Head to Flying Blue here to see full list of routes: Promo Awards
Reference our How-to: Booking Air France/KLM flight post
Book between April 1 – 30, 2014
Enjoy your savings!
Analysis
In general, the flight availability is still plentiful and some dates offer a great value while others, not so much.
Example of great value:
Boston-BOS to Munich-MUC depart on Fri July 11, return on Mon July 21. Sample availability of return flights:

Some other deals aren't quite as great, such as Boston-BOS to Moscow-SVO June 5th to June 13th: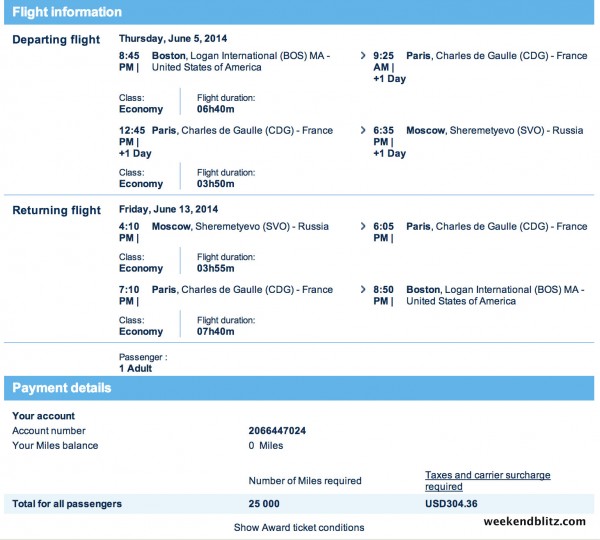 BOTTOM LINE: There are still some great award options for a summer trip to Europe. Always make sure to shop the award ticket vs. a paid fare because in some instances it makes more sense to save the miles and pay the full price.