Blitz Deal: 3x Hertz Points from Feb 1-Apr 15
Don't forget to register for Hertz's Spring 2014 Promotion:

The Deal:
Earn 3x the Hertz Gold Plus Rewards Points for all minimum 2-day rentals from February 1 – April 15, 2014. Normal rate is 1 point = $1 spend, now $1 spend = 3 points.
How to Get It:
Register here: Hertz Trip Points no later than April 15
All rentals starting after Feb 1 and before April 15 will qualify for bonus
Extra points are expected to post no later than 10 business days after return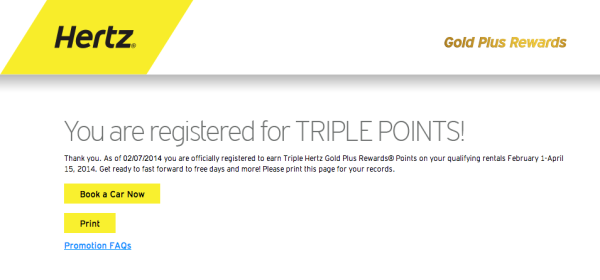 Don't forget:
As long as you start rental on/before April 15, 2014, you can get bonus points.

Base points ($1/point) are tripled. The Hertz Five Star 10% bonus and Hertz President's Circle 25% bonus are also tripled.

Only US/Canadian residents can enroll
Only applies to rentals in these countries: "U.S., Canada, Puerto Rico, U.S.V.I., United Kingdom, France, Germany, Ireland, Italy, Spain, Switzerland, Belgium, the Netherlands, Luxembourg, Brazil, Australia and New Zealand only"
Hertz is notorious for not posting bonus points! Make a note to check your account after a few days and make sure they've given them to you.
BOTTOM LINE:  Nice little promo to rack up some Hertz points. Check out a post here on the value of Hertz points (My First Hertz Award Redemption).