The St. Regis Buckhead – Atlanta, Georgia
The St. Regis Atlanta – Starwood Category 6
Eighty-Eight West Paces Ferry Road, Atlanta,Georgia 30305 United States
Award Redemption: 20,000 pts or 10,000 pts +$180
Normal rate: Varies b/t $385-$485, average around $450 + tax
Starpoints return: 1.9 cents points – 3.0 cents/point = below average – average return
Booking/Check-in
I booked the base "Superior Room" at appx 2 weeks before check-in and received a corporate rate of $275. When we arrived, the check-in agent was very polite and extremely enthusiastic and happy to see us–a great trait to have as an employee that has dozens of check-ins/check-outs per day. He confirmed that we were in a "Superior Room" and offered us the welcome amenity of either 500 Starwood points, a $19 voucher per person to be used towards breakfast or a bottle of house wine (we took the $19 voucher). When I asked about the possibility of an upgrade, I was told that all they had available was the "Superior Room" that we had booked and, while skeptical at first, we discovered that a huge wedding was taking place that weekend and it appeared that they were near 100% occupancy. Quick note: Parking is valet only and costs $32/night with unlimited in/out.
Superior Room – (440 square feet) — BOOKED and RECEIVED
Deluxe Room –  (440 square feet) – w/ A small Juliette Balcony
Grand Deluxe Room – (440 square feet) – privacy of a furnished balcony
Metropolitan Suite – (680 square feet) – 8 total – complete with a large bedroom and an inviting sitting area furnished with a sofa and armchairs
Caroline Astor Suite – (680 square feet)
St. Regis Suite – (1,000 square feet) – 19 total
Empire Suite – (2,800 square feet) – 1 total
The Room
We made our way to the elevator, then up to the 9th floor. The St. Regis Hotel occupies the first few floors and the St. Regis Residences have claim to the preferred higher floors.
Upon entering the 440 sq ft room, you first come across the "entry" or foyer–because no luxury hotel in their right mind would forgo this formal greeting area.
Although stuck slumming it in the base/standard room, it is a St. Regis standard room after all. This equates to highly automated luxury everywhere.
Finally making it to the bedroom, we found a very well decorated and homey feeling room. Everything was in terrific shape with a rather "sturdy" feel throughout.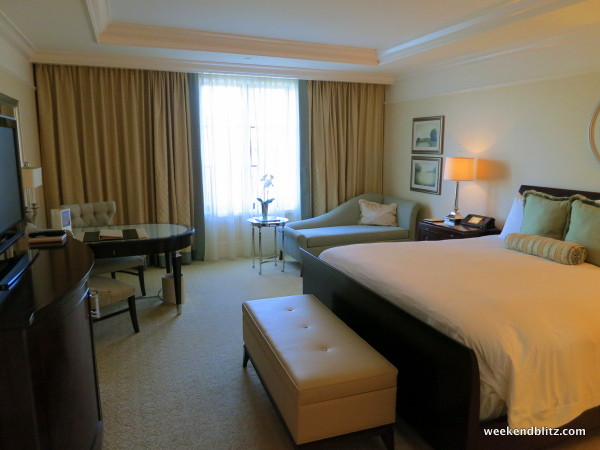 The room is highly automated:  all of the lights are one-button touch control with a few different settings to set whatever mood you're trying to set. The A/C and the lights were controllable bedside as well via the phone system.
The Bathroom
I always hate it when a hotel is nicer than my own apartment; I hate it even more when it's much nicer. This St. Regis Atlanta fits in this category. You'll enter to the dual-sink marble vanity. And, it wouldn't be a St. Regis without a TV built into the mirror–because who doesn't want to watch TV while shaving? This might be the single-most item that has completely spoiled me and made adapting back to normal, 99%-er real life totally miserable. #FirstWorldProblems….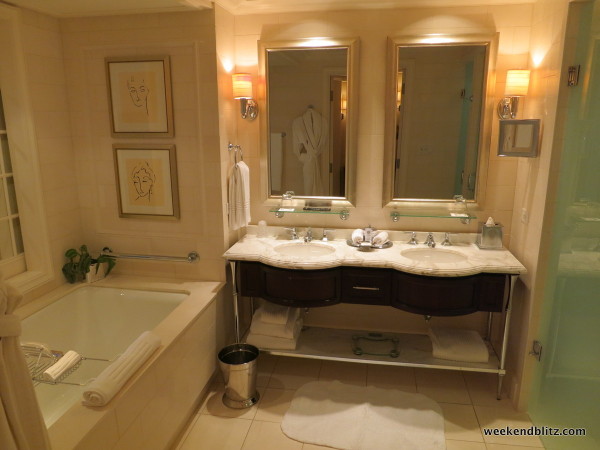 The oversized tub comes complete with bath salts (not the kind that, if inhaled, will turn you into a flesh eating zombie–for better or worse) and resort-style French Door panels that open up to the bedroom.
All surfaces are elegantly tiled, including the shower and bathroom.
The Gym
The gym is above average and on par with St. Regis' standards. Other than that, not much to say here– didn't use it but looks like it would get the job done: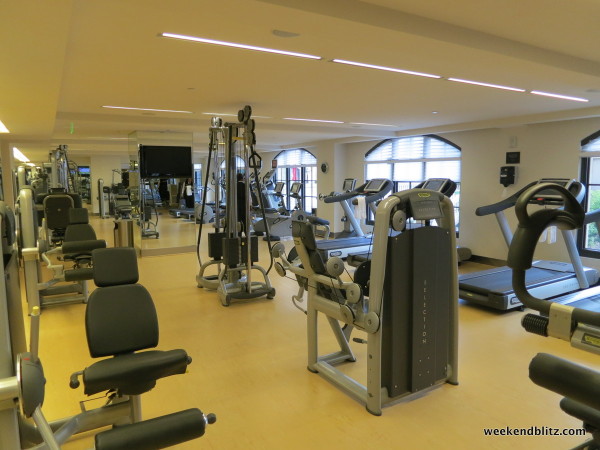 Lobby/Bars/Restaurants/Room-service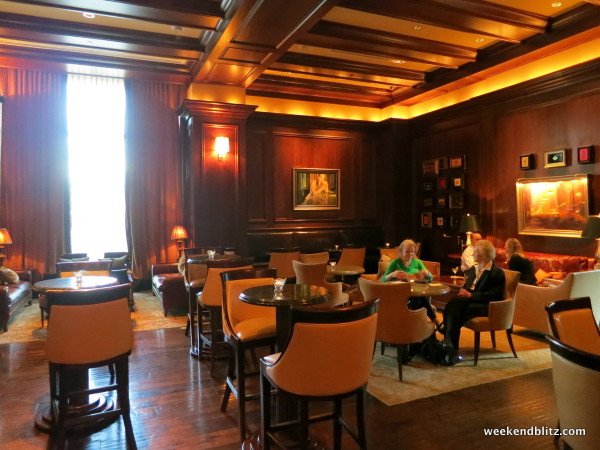 As with all St. Regis', they had the ceremonial champagne sabering (learn all you want to know and more about "saberage" here: Wiki article). The St. Regis participates because it somehow pays homage to the St. Regis family? I participate because I get free champagne.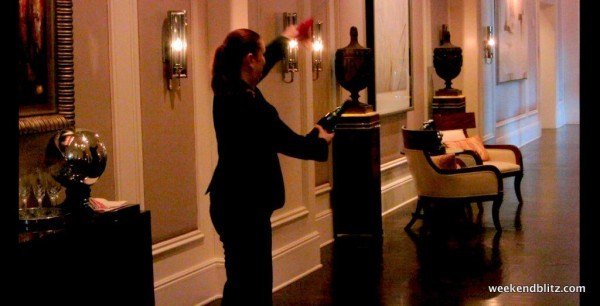 Astor Court Review
As a Starwood Platinum member, we were offered an amenity at check-in and took the vouchers for "complimentary continental breakfast." The St. Regis Atlanta handles this by basically giving you up to $19 to spend per guest (a max of 2 guests) at the Astor Court restaurant.
The tone was really set when we sat down and McCown was offered a "lint free napkin" whatever the hell that means…the waiter further insisted, "we can get you a black napkin, if necessary." I suppose this was since she was wearing black pants? Either way, I'm all for #firstworldproblems but let's take it down a notch, St. Regis. I think we'll cope with the lint.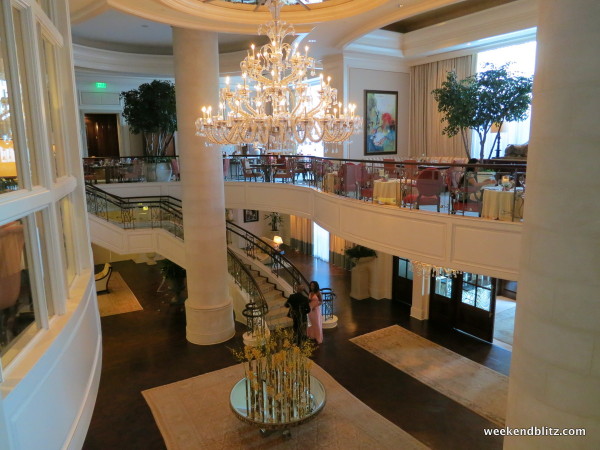 Most of the choices on the menu are in the $14-18 range, with a few near $26 so, by the time you add coffee, tax and tip, you've quickly blown through your $19 voucher which really begs the question:  how do they think that $19 covers breakfast?
I ordered the FINEST LOBSTER FRITTATA ($26) because, well, why not? Apart from lobster and egg, it comes with fingerling potatoes, asparagus and herbs topped with a "Bloody Mary" salad and fresh horseradish. Again, why not? At first, I found there to be too much Bloody Mary salad celery on top but not enough tomato/spice taste. The lobster was somewhat chewy, but that figures. In fact, the whole thing was a little chewy/spongy, but it actually started to grow on me. It was packed with lots of potatoes, asparagus and some cheese. The lobster meat was hard to find but, when I found it, was great.
McCown went for the SUMPTUOUS ST. REGIS OMELET ($18): fall mushrooms, herbs, white truffle oil, creme fraiche and an artisan cheese. It was great; such a juicy, moist and very well-cooked omelette. Basically, truffle oil galore with excellent mushrooms. And, anything with truffle oil is perfect.
The Astor Court restaurant was enjoyable, no doubt. It made sense to eat with our $38 worth of vouchers. I doubt I would go out of my way to come here as a local, but wouldn't have a problem returning as a hotel guest.
Service
As with just about any St. Regis, the service was outstanding. The check-in agent really seemed to go out of his way to be polite and enthusiastic and all other interactions with service staff were great, although none memorable, for better or worse.
When we came back to our room after the turn-down service, there was a shoe shine bag on the bed with a note announcing a complimentary shoe shine–uh, yes please. Similar to my teeth and the dentist, the only time these suckers get a deep clean is when someone else does it: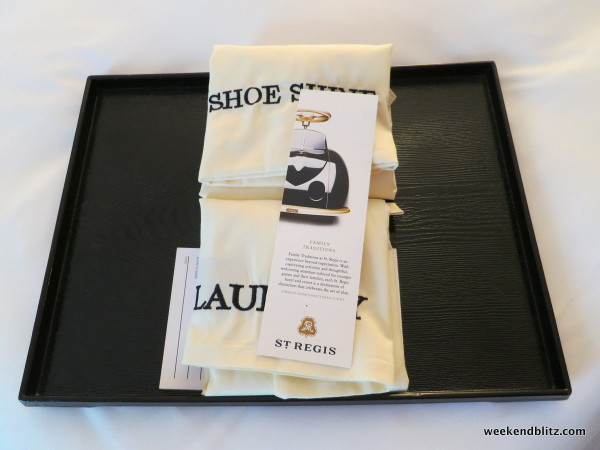 Sure enough, when we got back from breakfast, some freshly shined shoes were waiting for me: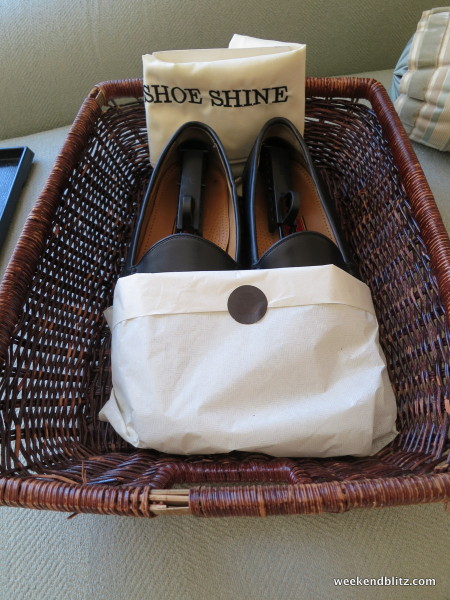 BOTTOM LINE: Give me the St. Regis Atlanta any day. An upgrade would have been awesome, but I'll never complain about their lowest-tier room. Never.