Singapore City Tour during a 10-Hour Layover
After flying in on Singapore Airlines from Jakarta (Singapore Airlines B777-200 First Class Jakarta-CGK to Singapore-SIN (SQ 953)), we were faced with a 10-hour layover in Singapore and, because we've never visited the city before, we took advantage of the layover and popped out of the airport (as impressive as it was) to see as much as we could in the short time.
Because Singapore is a hub, they've made sightseeing during a layover very easy! The airport offers free two-hour tours but, since we had more time than that, we opted to DIY and head out on the hop-on, hop-off bus. This gave us the freedom to do things on our own time and see more than the 2-hour free tour, plus Singapore Airlines/Silk Air boarding pass holders receive a 50% discount on bus tickets! We purchased adult tickets for just $19.50 SGD (roughly $14 USD) each once we hopped on a bus.
We knew that our luggage was checked through to our next destination, so we only had our carry-ons. We opted to store most of what we were carrying so we'd have less things to lug around with us all day and found the baggage storage at the airport to be more than adequate. Plus, there's a storage area in all three terminals, so it's very convenient no matter where you're flying in/out (and pretty cheap for just carry-ons since they charge by weight).
Once we were free of everything but the day's essentials, we headed through customs and right to the metro stop inside the airport (the metro leaves from Terminals 2 and 3).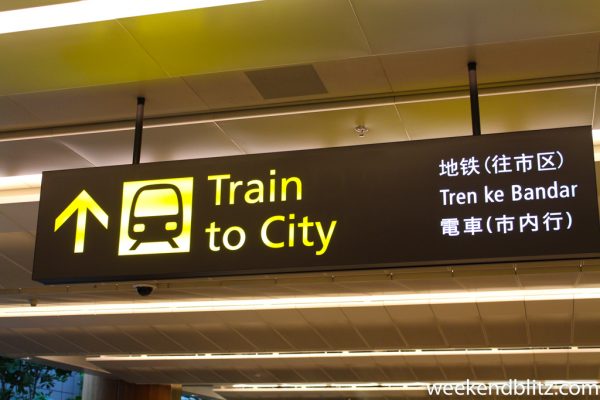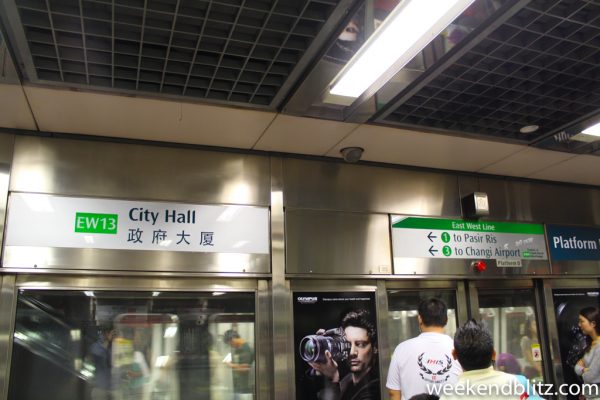 It takes about an hour to get into the city center from the airport, so be sure to factor traveling time in your layover plan. We got off the metro at City Hall and walked to the nearby bus stop: aptly named City Hall, too.
Once on the Red Line bus, we decided to stay aboard until we found stops that we wanted to explore more, knowing that we'd get to see more stops if we stayed on the bus longer. Here are the stops where we got off for a bit and explored on foot:
Chinatown: having never been to China, Singapore's Chinatown was as close as we'd get for a while, we figured. It was pretty similar to other Chinatowns we've seen, but still very cool to see and different from the rest of the city.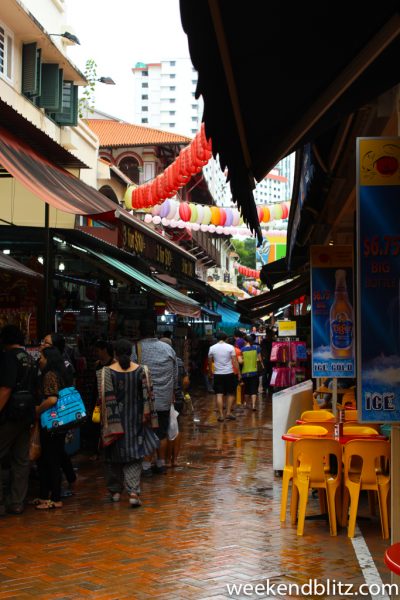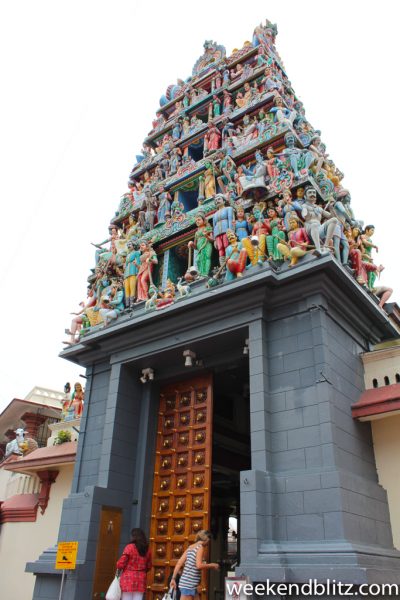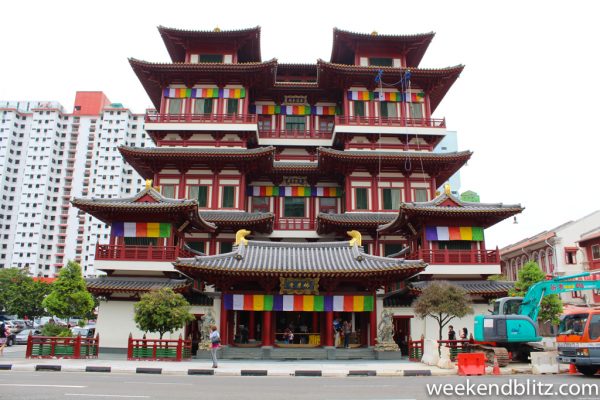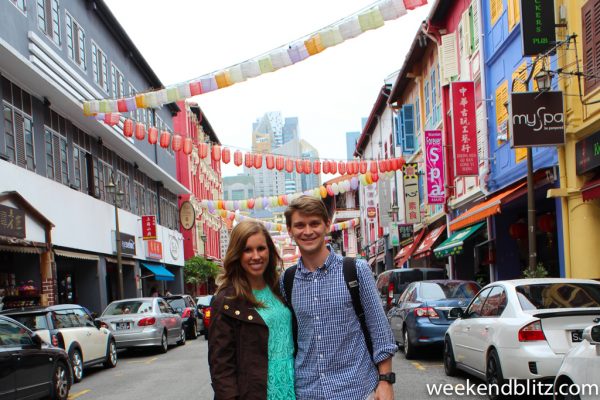 Old Customs House (near the Raffles Hotel): The famous Singapore Sling cocktail was originally concocted at the Raffles Hotel. We headed to the Long Bar Steakhouse in the luxury hotel to try it from the original place. It'll cost ya, though… just one drink costs close to $30 (!!) but it does come with all-you-can-eat peanuts.  🙂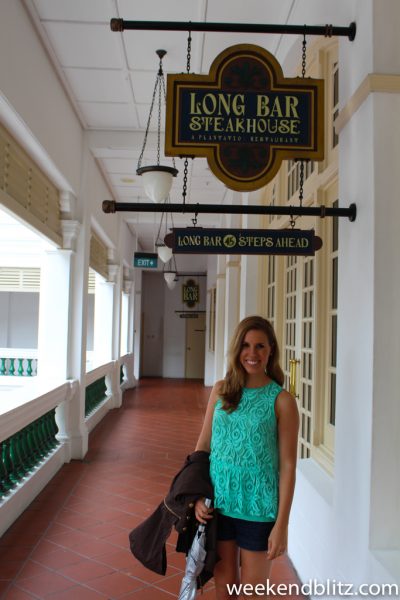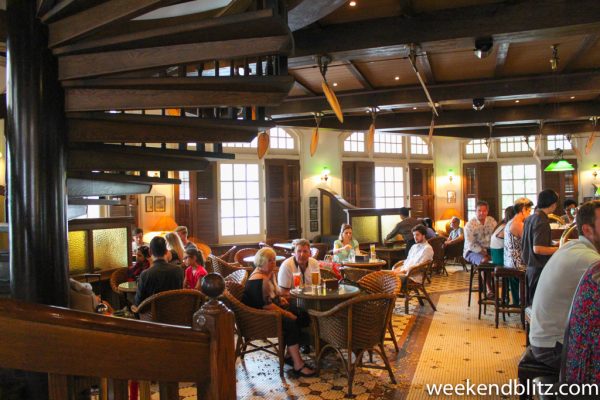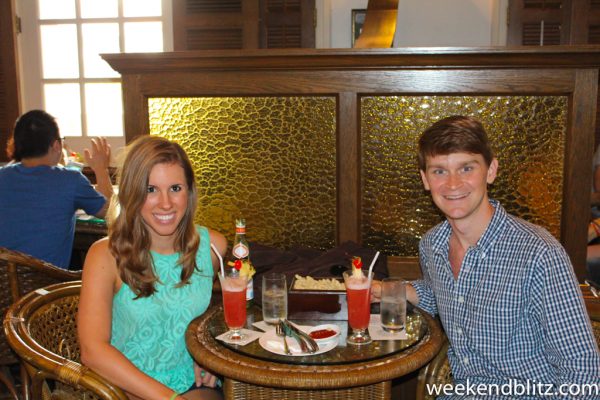 Note: The Long Bar Steakhouse is closed for renovations with plans to re-open in mid-2018, but you can still try the Singapore Sling at the nearby Bar & Billiard Room.
The grounds of the Raffles Hotel make you feel like you're in a time machine to the colonial era since it was built in 1887. Even in the rain, it was very luxurious: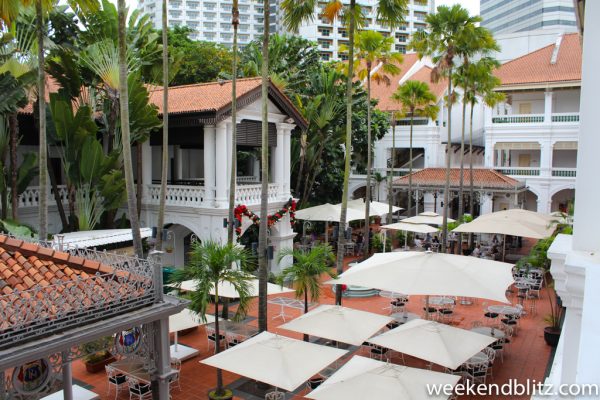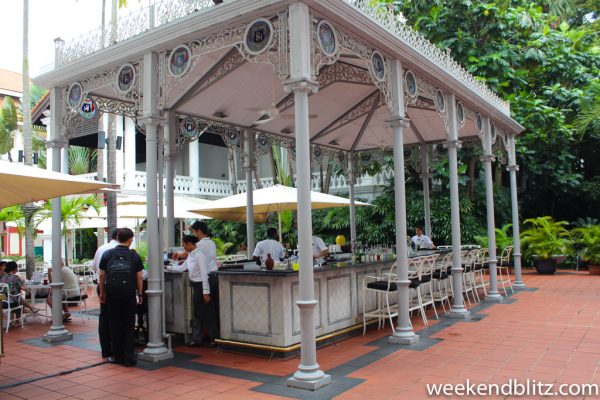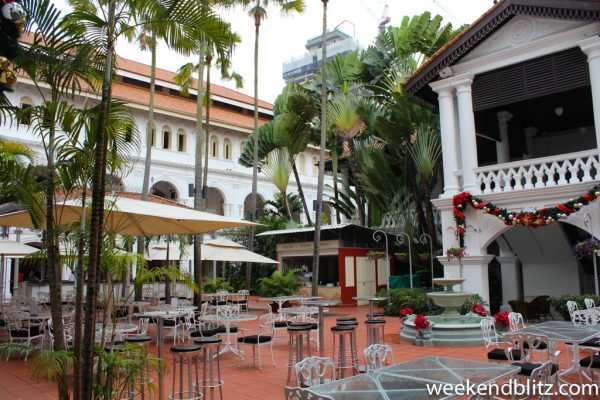 With just those two stops, we were running short on time, so we wanted to ride the bus through all the stops to see more of the city. One of the highlights? The Marina Bay Sands building with the boat on top! This is a resort with more than 12,000 rooms and a casino — built in 2010. It's definitely a site not to miss!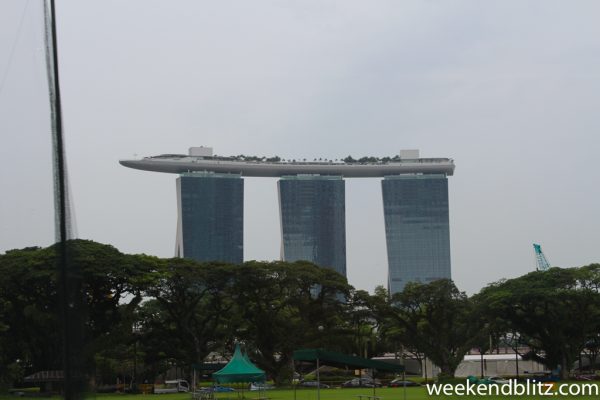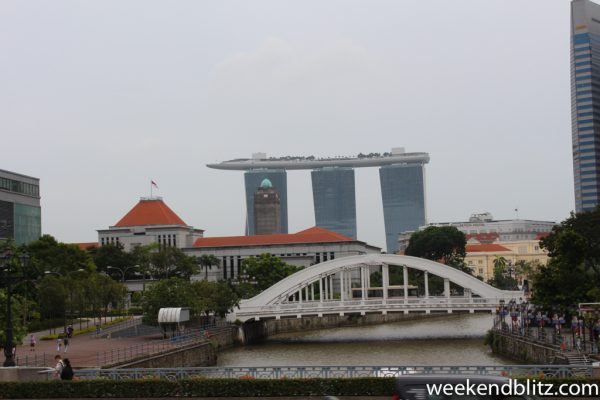 Once we made it back to the City Hall stop, off we went to the metro to make it back for our connecting flight. We factored in some extra time to make sure we didn't run into any issues and we were able to make it through customs easily with no problems.
Our short time in Singapore was awesome (despite the rain) and we're excited to visit again for a longer time. Some things we learned: the city is very clean – even chewing gum is not allowed! – and it's very, very expensive. It's fun to compare huge Asian hubs like Singapore, Hong Kong, Tokyo, etc. and we're adding more to our bucket list to keep seeing the similarities and differences between these large world-class cities!