Le Méridien Philadelphia Hotel Review
We made a very last minute, overnight trip to Philadelphia a few weeks ago and needed a place to stay. We were looking for a place in the heart of the city (within walking distance to everything) and decided on Le Méridien Philadelphia.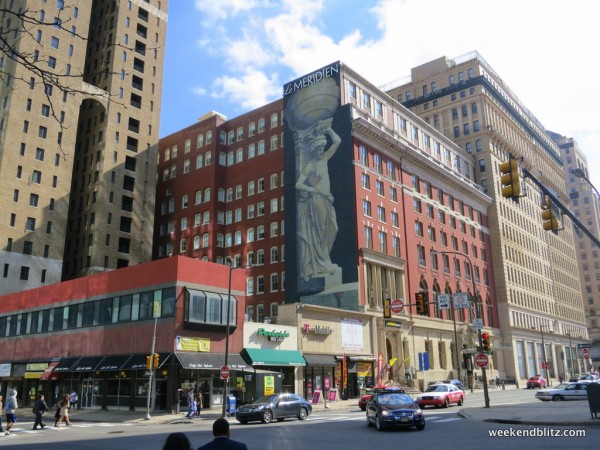 BOOKING
I made a booking the day before check-in after planning our last minute trip to Philadelphia. When I looked on Monday, literally every hotel in the city was sold out. Nothing at Starwood, Hyatt or Marriott. Worried that our only option was going to be the airport hotels, I kept checking back a few times a day. By Tuesday, some availability opened up at a Hyatt property and I jumped on it using 12,000 Hyatt GP points. Still not satisfied, I kept checking back. On Friday, the day before check-in, I hopped on the SPG website and found the LM Philly to have availability. Either $405 for a standard or 12,000 Starpoints—that's an easy one! I also noticed that, despite possibly being nearly sold out, many room types were available, including suites. I applied a Suite Night Award and a few hours later got an email that my SNA had been cancelled…? It implied that I cancelled it myself, but, when I went on SPG.com to reapply, it gave me the standard "cannot apply SNAs to this reservation." Confused, I called the property and explained the situation. The front desk agent was extremely polite and said, "no problem, those SNAs can be difficult; I'll just go ahead and block off the suite for you and the SNA will probably be applied shortly." By the time I checked the app, I saw that he had, in fact, blocked off a "Superior suite, non-smoking room: King Bed, Non-smoking, 500-525 sq ft / 46-49 m², City View, Living Area, Free High-speed Internet, 42 Inch LCD TV." In the end, the SNA was never deducted from my account.
CHECK-IN
We arrived at the hotel around 10am; our room clearly wasn't ready and we were told that, because another SPG Platinum Guest was in room, it could be closer to 4pm. They also confirmed that we were in a suite for the 1-night stay. Oh well, no problem, we planned for that. We dropped our bags with the bellman and hit the road to explore the city. We got a call around 1pm that our room was ready.
The SPG Platinum amenity was either 500 Starpoints or a "continental" breakfast for 2. They explained that, because the LM doesn't have a buffet, the Platinum amenity is a really good deal because you can order à la carte from the menu at Amuse, its restaurant.
I reserved a "Classic Non-smoking Room, Smoke-free • 21 Sq.m/225 Sq.ft – 26 Sq.m/275 Sq.ft • Stocked Refreshment Center • Free High-speed Internet • Contemporary Furnishings • 42 Inch LCD TV Remarks," but we received a "Superior suite, non-smoking room: King Bed, Non-smoking, 500-525 sq ft / 46-49 m², City View, Living Area, Free High-speed Internet, 42 Inch LCD TV."
Classic Room: King or 2 Doubles – 225-300 sq ft – BOOKED
Deluxe Room: King or 2 Doubles – 260-300 sq ft
Executive Room – 

260-300 sq ft

Superior Room – 

275-325 sq ft

Superior Suite: King or 2 Doubles – 500-525 sq ft w/ living room – RECEIVED
In all, we ended up with a 4-tier upgrade, but the first 4 room categories are essentially the same size, just on higher floors with better views.
ROOM
Were put on the top (10th) floor. Interesting design; it appears that the hotel was once open air with balconies and has since been closed off with a roof?
The Superior Suite we were in had a great view facing the "LOVE" statue and Philadelphia City Hall. Entering the room, there is a bathroom with sliding door on the left. Then a small living room area to the left with the bedroom behind a dividing wall. Not that it's necessary, but there is no door separating the living room and the bedroom. In place of a built-in closest, the room has a armoire.
We found this Le Méridien very cozy and pretty modern. I've stayed at a few LMs and this one is definitely on the more modern end of the spectrum. All around, we had a comfortable room and it was very up-to-date. Carpet is plush; walls appear freshly wallpaper-ed/painted. I typically prefer the added character at the LM when compared to a Westin. Also, it's a steal that the LM Philly is 12k/night and the Westin, just around the corner is 16k/night.
BATHROOM
Like the room, the bathroom was fresh and clean. Subway tile in the shower. And, it's shower-only, the most accurate test in determining if a hotel is newly renovated. I mean baths are so 300 BC to 2009 AD…
GYM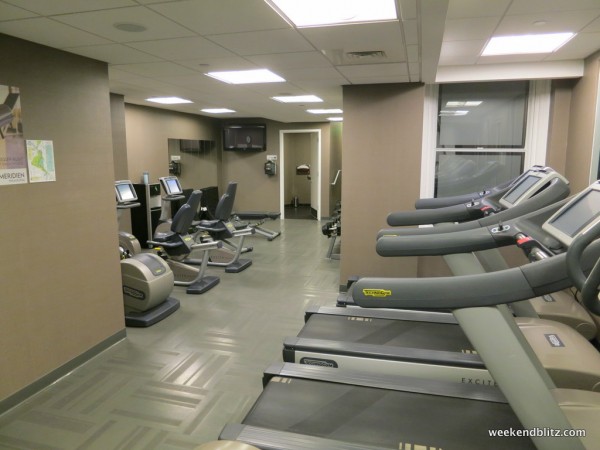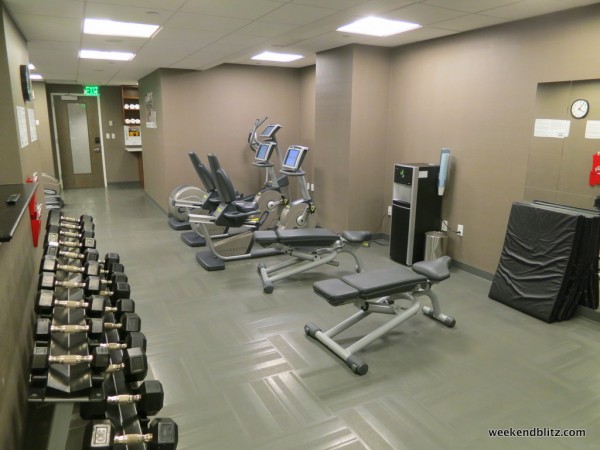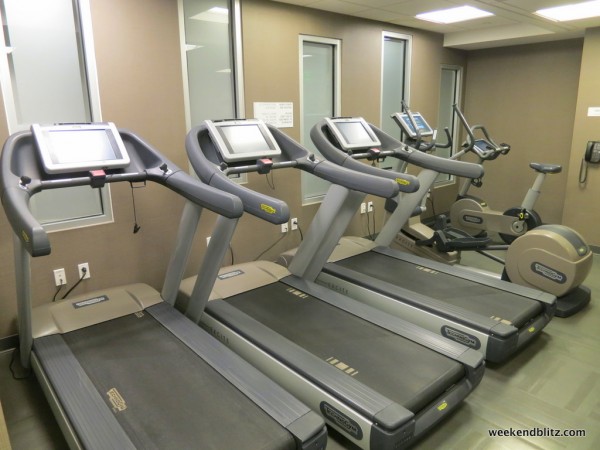 SERVICE
The service was fantastic. The concierge brought our bags up, asked about our stay, gave us tour of the room and asked if he could help with any recommendations. Over and above.
AMUSE RESTAURANT
Since we opted for the breakfast option as our Platinum amenity, it allowed us to enjoy complimentary breakfast at Amuse, Le Méridien Philadelphia's on-site restaurant. Amuse doesn't offer a breakfast buffet or even a "continental breakfast," so the Platinum amenity typically entitles you to the "L'Express American Breakfast" ($18), but, in practice, you're essentially given a $18 credit per person to order anything you wish.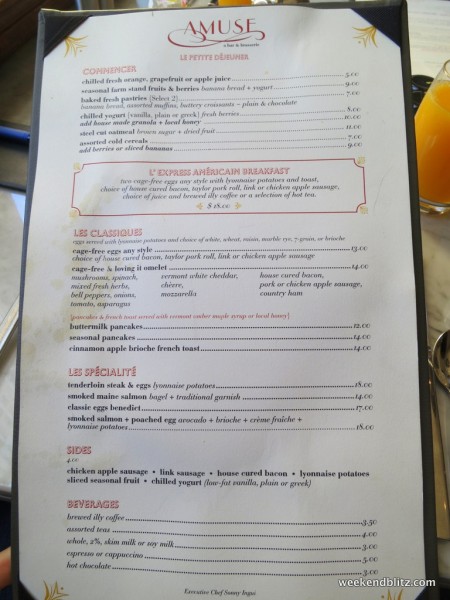 After eyeing the TENDERLOIN STEAK & EGGS but being told it was a little tough, I went with the SMOKED SALMON + POACHED EGG ($18): avocado + brioche + crème fraîche + lyonnaise potatoes.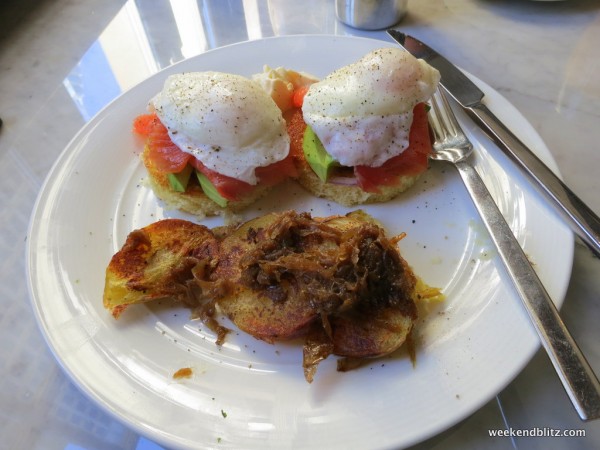 McCown went with the CAGE FREE & LOVING IT OMELET ($14), which includes a choice of 14+ ingredients including:  Vermont white cheddar, chicken apple sausage, asparagus, country ham, etc…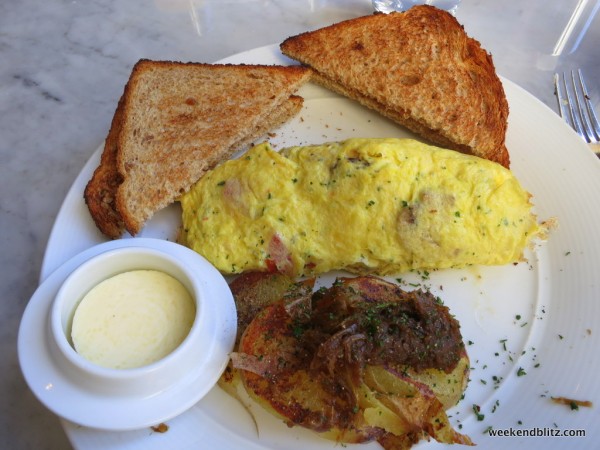 The food was delicious and, again, the service was over and above superb.
BOTTOM LINE
Our stay at the Philadelphia Le Méridien was great. Although the property occupies a historical building, the decor and design is very modern inside. And, given that it will only run you 12k Starpoints/night vs 16k/night for the nearby Westin, it's a great value, too.