La Palapa – Aspen, Colorado – Restaurant Review
La Palapa – Aspen, Colorado – Restaurant Review
308 S Hunter St, Aspen, CO
Lunch, Dinner
$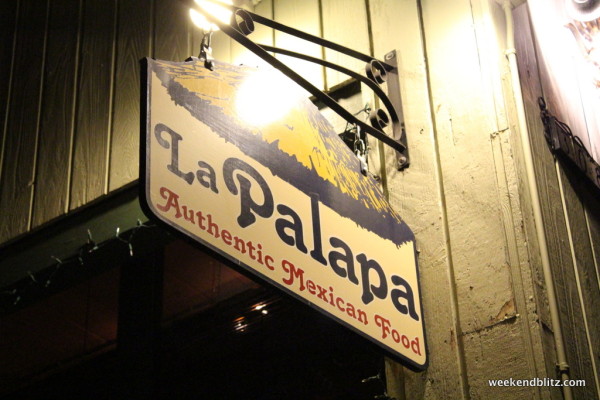 While staying in Snowmass, CO, we caught the free shuttle bus from the "downtown" area of Snowmass to Aspen one evening. More about the free shuttle at the end of this post.
Because our stay in Aspen was very short – only a couple of hours – and it was a freezing cold January night, we decided to do some quick research and pick a restaurant near the shuttle bus stop and one with some atmosphere. After a search on Urban Spoon, we headed just down the road to La Palapa, advertised as an authentic Mexican food joint.
Because we're from SC, we wanted to try some Mexican food in the southwestern US (Colorado counts, right?). It has a reputation for being a bit spicier and a bit more authentic. We were pleasantly surprised with La Palapa.
The place was pretty busy with a lively atmosphere on the Saturday night we visited. Of course, we had to try the obligatory margarita…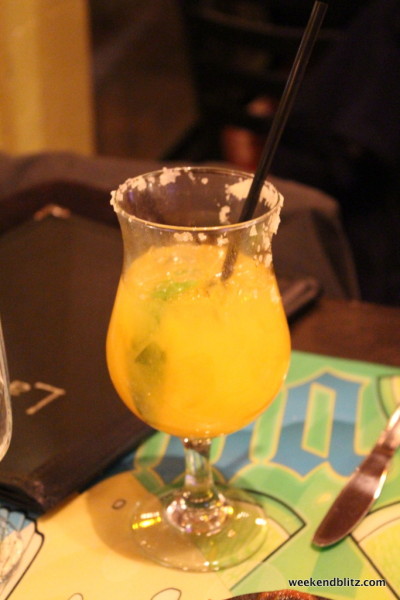 Then, as our starter we went with the ceviche de pescado, the special that night. We first tried ceviche in Costa Rica and, consequently, always compare ceviche to the Costa Rican one…which hasn't yet been beaten. La Palapa's ceviche was good but needed more sauce. The helping was large with a healthy portion of fish.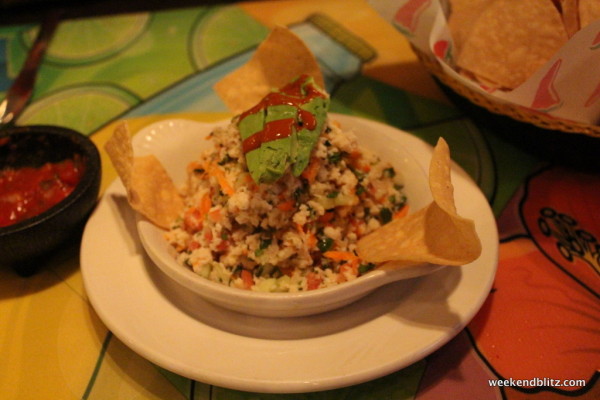 For our main course, we split three tacos (ranging from $1.79 – $3.79 each). We sampled the carnitas, barbacoa & picadillo (made with ground beef) tacos. The tacos were made with small corn tortillas then filled to the brim with fresh, piping hot meat (pork, beef and more beef), then smothered in diced onions and sauces. All three were quite flavorful, but our favorite was the picadillo taco. The tacos came with a side of rice and beans…pretty typical.
After dinner, we briefly explored Aspen, then headed back to take our 30-minute free shuttle ride back to Snowmass. While Snowmass was our main destination for the weekend, it was fun to take a quick (very quick!) side trip to Aspen for the night. The only disappointing thing was that, even on a Saturday, the town was a bit dead and the restaurant had the liveliest atmosphere. Almost no one was outside roaming around… But it sort of suited us just fine because just looking at the picture below of snow piled up on the side of the streets makes this Charlestonian shiver in my boots (that I wear for looks only, not for warmth)!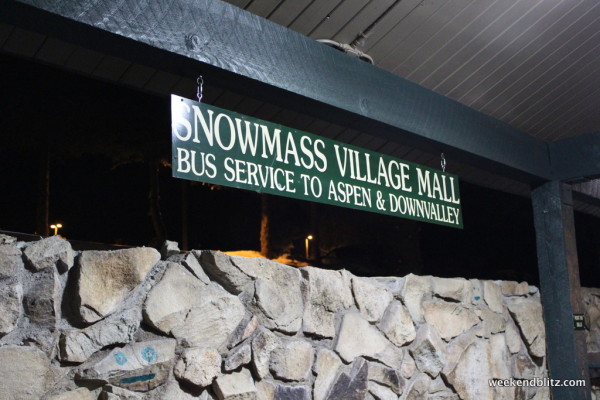 BOTTOM LINE: La Palapa was a tasty & authentic-seeming Mexican restaurant to pop into while in Aspen. The margaritas and tacos were flavorful… All-in-all, though, if you've been to any other "authentic Mexican restaurant" before, you're not going to see anything different here.