How-to Guide: Save Money by Searching for Hidden City Fares with Google Flights
In this post, we'll show you how to save money by using the "Hidden City" trick when purchasing an airline ticket. But first:
What is a "Hidden City"?
First thing to understand:  Non-stop tickets to an airline's hub are often disproportionately expensive. The airline understands that there is a premium to be had for offering more convenience and they try to capture this premium when they can.
Next is that a lot of factors go into pricing airline tickets, the most important 2 to understand for hidden city ticketing is that airlines generally price tickets based upon the market (not the distance flown) and that airlines are highly competitive and will get into pricing wars with competitors that lowers fares for the consumer.
Here's an example:
Let's say that I need to fly from Charleston-CHS to Atlanta-ATL on August 26; the only airline that operates this route non-stop is Delta. A quick search for a one-way fare shows me that I'll be stuck paying $362 for the route:
But, if I price out a one-way flight from Charleston-CHS to Baltimore-BWI with a stop in Atlanta-ATL I'm given the price of $125:
In this example: City A (Charleston) –> City B (Atlanta-airline hub) costs a whopping $362 but by booking a flight from City A (Charleston) –> City C (Baltimore), with a connection in City B (Atlanta-airline hub), I can get the price of $125. So, all I would have to do is ditch the final segment from ATL–>BWI / City-B–>City-C and simply leave the airport when I get to Atlanta. Using this method would have saved me $237 and get me the same ticket for 65% off the original price!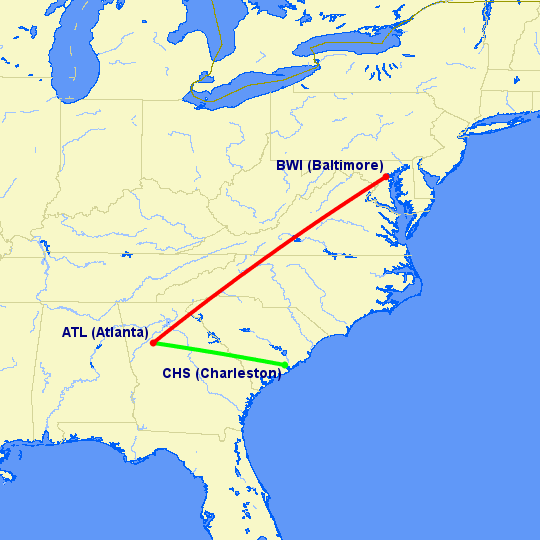 Why is this possible? This pricing makes sense because Southwest flies direct from Charleston-CHS to Baltimore-BWI and JetBlue recently started non-stop service from Charleston-CHS to Washington-DCA. This means that Delta likely chose to price match all fares from Charleston to the Washington D.C. area airports so that they can compete with the discount carriers. But, because Delta doesn't fly any direct flights from Charleston to Washington D.C., most routings go via Atlanta so this has opened up the opportunity trick the system and save money along the way.
How to use Google Flights to search for Hidden City fares
The Google Flights engine has improved tremendously since its inception in September 2011 and their powerful fare-mapping feature is useful for sniffing out hidden city fares.
1. Head to Google.com/Flights
2. Check your desired flight's fare:  We'll do a one-way from Charleston-CHS to Miami-MIA on August 2nd. The cheapest flights with a stop are in the $235-$278 region.

And the cheapest non-stop is $330:

3. Know your airline hubs!
American Airlines: Dallas-DFW, New York-JFK, Los Angeles-LAX, Miami-MIA, Chicago-ORD
Delta Air Lines: Cincinnati-CVG, Detroit-DTW, Atlanta-ATL, New York-JFK/LGA, Los Angeles-LAX, Minneapolis-MSP, Salt Lake City-SLC, Seattle-SEA
United: Denver-DEN, Houston-IAH, Los Angeles-LAX, Newark-EWR, Chicago-ORD, San Francisco-SFO, Washington-IAD
US Airways: Charlotte-CLT, Philadelphia-PHL, Phoenix-PHX, Washington-DCA
4. My goal is to find a cheaper way to get one of the direct flights on American Airlines, so now I'll select that airline, knowing that Miami-MIA is a hub: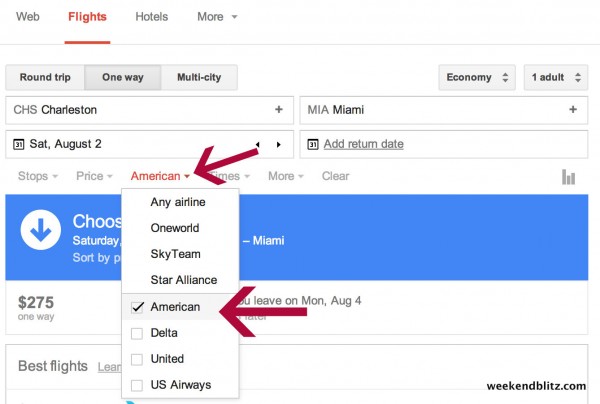 Now, I get a nice map showing my route: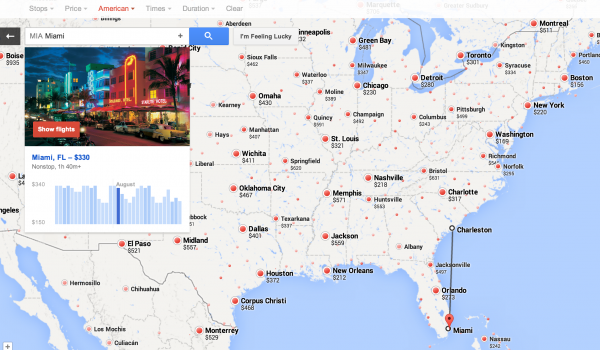 6. Delete your original city from the search and then move the max price slider down:
7. Check to see if what is returned will work.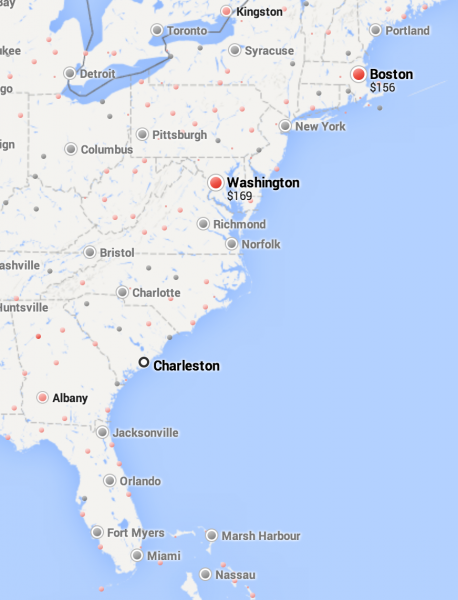 The cheapest flights that were returned in the sub-$200 range were Charleston-Washington and Charleston-Boston, let's see if either include a connection in Miami-MIA on the flight that I want:
We have a winner! The flight from Charleston-CHS to Boston-BOS departs at 5:05pm and connects in Miami-MIA so it puts me on the flight I was hoping for that, if booked without a hidden city, would have been $330. This gives me a savings of $174 (53% off) if I had insisted on the direct flight or a savings of $79 ($235 – $156), or 34%, if having 1-stop was acceptable.
Tips:
This works best for a 1-way flight because ditching a segment on your outbound trip will likely cause you entire return trip to be cancelled.

Workaround: Book 2 one-way flights to prevent your reservation from being cancelled.

It's much harder to pull this off with checked baggage since the airline will probably make you check it all the way to your final ticketed destination.

Workaround: Carry-ons only when ditching flight segments!
BOTTOM LINE: Google Flights is becoming more and more powerful and now it's one of the best tools to help visually search for hidden city fares that can save you big when booking travel to hubs.
Featured image source: http://www.brit.co/how-to-find-cheap-plane-tickets/