Walking Tour of Florence, Italy
Walking Tour of Florence, Italy
Florence, Italy was next up on our trip and I was psyched! I studied abroad in Siena, Italy while in college and was so happy to go back to visit the family I lived with while there. But, before heading to Siena (about an hour's train ride from Florence), we wanted to hit one or two highlights in Tuscany's most famous city.
With appx. 1.5 million people in the metropolitan area, Florence is also the most populous city in Tuscany and a must-visit on any trip to the area. Most visitors stay in Florence and then day-trip to other Tuscan towns. Not that I would suggest that plan… but, then again, I'm biased:  Florence and Siena were equal in size and power in the medieval time. But, because Florence was located on a river and Siena was not, the vital transportation line helped Florence to grow, leading the world into the Renaissance Age, while Siena stayed a charming medieval town.
Florence is perfect for the average traveler because there's everything you're looking for:  gorgeous rolling Tuscan hills, a vibrantly colored Duomo, famous Italian leather for sale … and there's always someone who speaks English right around the corner. The weather in mid-March was mild but still not as warm as our time in Bordeaux, France a few days earlier. Still, the sun always shines in Tuscany.
There's no wonder that Florence is one of the most loved cities in the world. If it's your first time or your 20th, here's a walking guide that will help you explore the city. And, don't worry, it includes a stop for gelato.
Total distance: appx 2.36 miles (or 3.8 km)
Time: Walking straight from point to point will take you about 46 minutes, but, if you're visiting both art galleries and stopping for gelato, I think it will realistically take you much longer. You can even make a day of it!
Day of the week:  Museums in Florence alternate opening and closing days so that not all museums are closed on the same day. Some close on Sundays, others on Mondays and a few others on Tuesdays. My personal favorites, the Uffizi and the Galleria dell'Accademia (you can find Michelangelo's David sculpture here), are both closed on Mondays. And, if you're interested in shopping at the San Lorenzo Market, its usually open Monday – Saturday (closed Sundays).
A. Santa Maria Novella Train Station
Address: Piazza della Stazione
Florence's main train station is located right in the center of Florence, within walking distance to most of the main tourist attractions. The walking tour starts at the station because you'll likely arrive in Florence via a train. If you do, in fact, arrive to Florence's airport…lucky you! The bus that takes you from the airport to downtown drops you off at the bus station (located on Via Santa Caterina da Siena), which is, conveniently, just a block from the train station…
Stazione di Santa Maria Novella is one of Italy's busiest train stations and is used by more than 59 million people each year. One of the best things about this station is that you can store your bags/luggage there if you're just in Florence for a short time. I've used this service multiple times and find it reliable and very, very convenient – saving me from lugging suitcases around the city. For hours and pricing, click here.
B. Gallery of the Academy
Address: Via Bettino Ricasoli, 60
Hours: Tues – Sun 8:00 a.m. – 6:30pm, closed Mon
Price: 6.50 euros at the door; more if you reserve online
From the train station, you'll head immediately to the Gallery of the Academy (Galleria dell'Accademia), where Michelangelo's statue of David is housed. Because lines can literally take all day both here and at the Uffizi, it's best to purchase your tickets ahead of time (even though it costs a small bit more) so you can skip the long wait. You can reserve your tickets to both the Galleria and the Uffizi in advance by visiting the Firenze Musei office, located in the Chiesa di Orsanmichele (Via dei Calzauoli) or online at ItalyGuides.it (for a substantial fee).
The top must-see at the Galleria is Michelangelo's David, but don't miss Botticelli's Madonna and Child. The statue of David is truly astonishing– I was blown away by the size of it!
C.  San Lorenzo Market
Address: Piazza San Lorenzo
Hours: Hours Vary; roughly Mon – Sat 10:00 a.m. -7:00 p.m.
The San Lorenzo Market is a fun experience in Florence, but I can't promise that you'll find anything that you just have to take home. They do have some leather goods, but not any of good quality. But, if you're looking for an Italia T-shirt, you'll find plenty of those…
D. Piazza del Duomo
Price: Access to the Duomo is free; the Bell Tower, Dome and Baptistry all have separate tickets
Hours: Mon – Wed, Fri: 10am – 5pm; Thurs: 10am – 4pm; Sat: 10am – 4:45pm; Sun: 1:30pm – 4:45pm
Dome: Mon – Fri: 8:30am – 6:20pm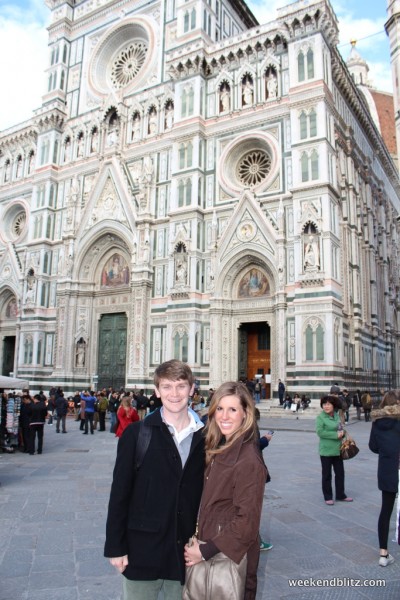 At the very top of my list of places to visit in Florence is Piazza del Duomo. What I like to think of as the heart of the city, the piazza is always full of life and, if you climb to the top of the dome (or bell tower), the very best view of the city. If you're on a really short trip to Florence, the Duomo is a really short walk straight from the train station.
The Duomo's official name is the Basilica di Santa Maria del Fiore, built between 1296 and 1436 with a facade of pink and green marble. Interestingly, the cathedral is one of Italy's largest churches and the dome was the largest in the world for a long time.  It's still the world's largest brick dome.
Once you've marveled at the outward beauty, take a look inside. The interior is beautiful, but no real difference from most other European cathedrals. The real draw here, in my opinion, is the dome. Head up and take a look from there…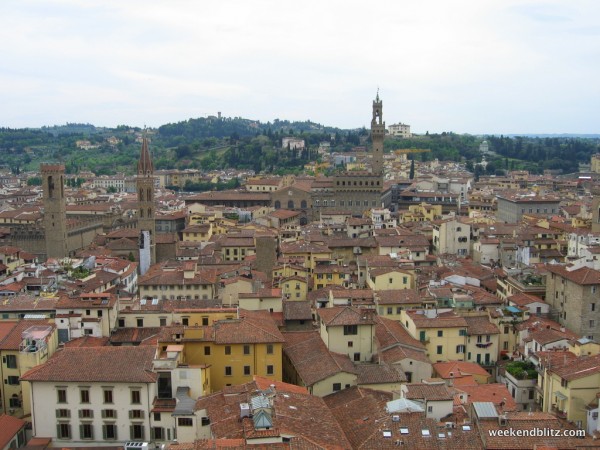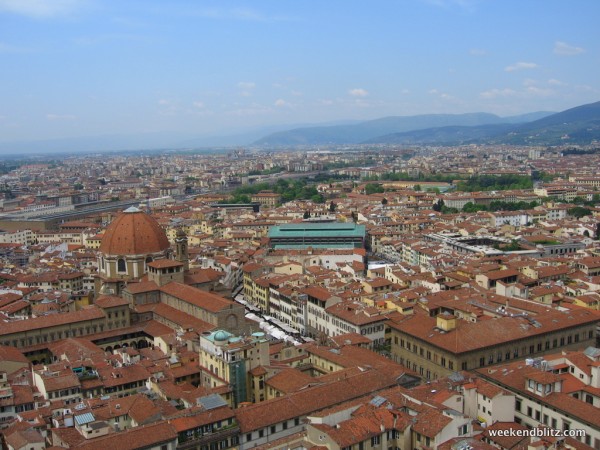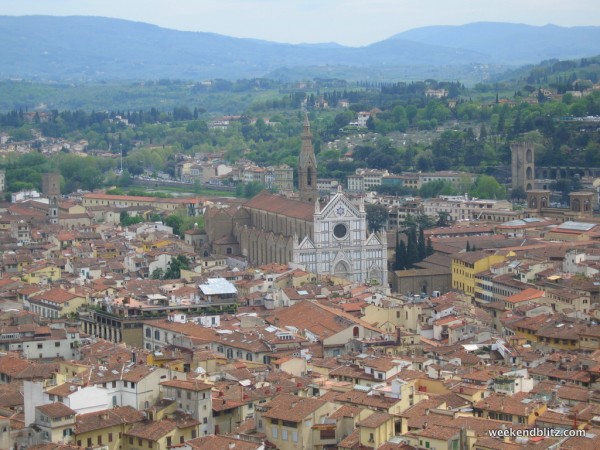 Climb the bell tower and visit the Baptistry if you must, but I'd skip it. You've got gelato to eat!
Next…
E.  Vivoli Gelato
Address: Via Dell'Isola delle Stinche, 7r
Hours: Mon – Sat 7:30am – 12am, Sun 9am – 9pm
Throw any ideas of diets out the window and spring for three scoops of gelato. It'll run you only about 3 euros and might be the most delicious thing you've tasted in decades.
Vivoli is widely known as one of the best gelateris in the city where gelato was invented, so it's literally impossible to go wrong. Vivoli opened in 1932 when brothers began making gelato.
Although it's hidden on a small street, it's only a short walk around the corner to Piazza Santa Croce, so not too far off the beaten path. I tried the tiramisu and cioccolato (chocolate) flavors.
After you've made the hardest decision of your day and chosen your three flavors, head out of the shop and just around the corner to enjoy your gelato in Piazza Santa Croce…
F. Piazza Santa Croce
Price: Free!
The stone benches in one of the main squares of the city seem like they were made for you to sit and eat gelato. And, this snack comes with entertainment, too! There's always someone putting on a show in the crowded piazza. It's the perfect combination of people watching and staring at the cathedral that overlooks the piazza…I could sit there for hours, mesmerized by the beauty of yet another Italian facade.
And, don't miss that the Basilica of Santa Croce is the largest Franciscan church in the world… and, Niccolò Machiavelli is buried here.
G. Uffizi Gallery
Address: Piazzale degli Uffizi, 6
Hours: Tues – Sun 8:15am – 6:50pm, closed Mon
Price: 6.50 euros at the door; 15 euros if you reserve online via their website
Hopefully you can skip the line at the Uffizi and head right in. If not, at least you have some gelato in your belly… (In high season, wait times can be as long as five hours. This is serious stuff.)
The Uffizi is one of the oldest and most famous art museums in Europe and is one of the best places to see history come to life in Florence. The building, which was built beginning in 1560, was first constructed as offices for the Florentine magistrates. Over the years, artwork commissioned by the House of Medici was put on display here, and it's said that artists such as Leonardo da Vinci and Michelangeo gathered at the Uffizi "for beauty, for work and for recreation." 
So, basically what I'm saying is that this place is a must-see for even the most famous artists in the world…
Must-sees in the 45+ rooms:  This obviously depends on your own personal taste, but I'd say da Vinci's work in Room 15 and Michelangelo in Room 25. One of my favorite artists is Botticelli, and he's in Rooms 10-14.
H. Ponte Vecchio
Hours: Most stores along the Ponte Vecchio are open until about 7:30pm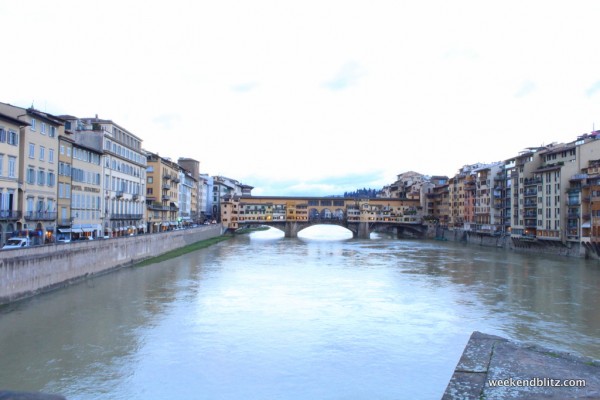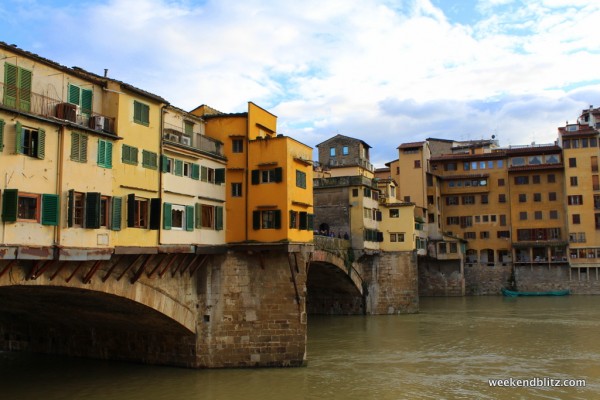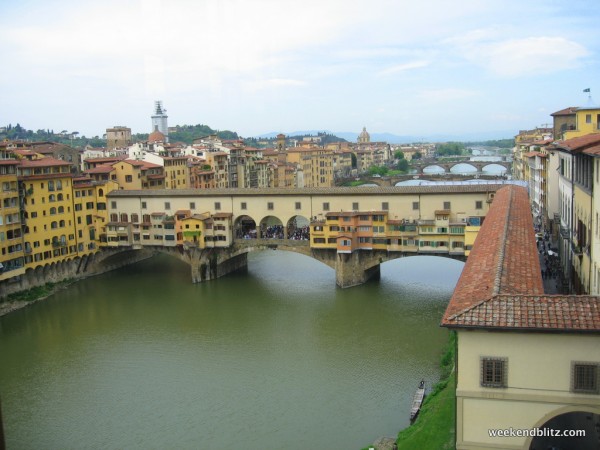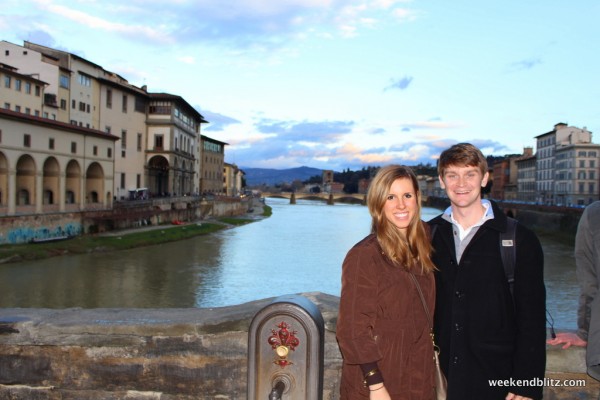 The Ponte Vecchio (old bridge) is famous for its picturesque and traditional jewelry shops, but mostly just as an icon of Florence. I love the Ponte Vecchio, but have found the shops lining it to be over-priced tourist gimmicks, but maybe it's just me…
The bridge itself is a Medieval stone bridge over the Arno River. Back when it was built, shops along the bridge were common. It spans the Arno at its narrowest point and was built in 1117 to replace a Roman bridge made of wood. The current bridge was rebuilt again in 1345.
Two fun facts:
The concept of bankruptcy was (allegedly) started here… When a money-changer could not pay his debts, the table on which he sold his wares (the "banco") was physically broken ("rotto") by soldiers, and this practice was called "bancorotto" (broken table; possibly it can come from "banca rotta" which means "broken bank"). Not having a table anymore, the merchant was not able to sell anything.
And, this was the only bridge in Florence not destroyed by the Germans during their World War II retreat in August 1944.
I. Osteria dei Baroncelli
Address: Chiasso dei Baroncelli, 1
Hours: Lunch & Dinner every day: 12pm – 2:30pm, 6:30pm – 10pm
Jeffrey had visited this little hidden gem when he visited a friend who had studied abroad here more than 5 years ago. The owner still remembered Jeffrey's friend and even grabbed a bottle of Chianti and asked us to give it to him the next time we saw him.
Besides the owner's genuine interest in his patrons, the food is delicious, too (but have you ever tasted bad pasta?). It features typical Tuscan specialties, so there's a different pasta and sauce for every person in your group. Even if you have a party of 20.