Top 6: Awesome Vintage Airline Lounges ON Airplanes
Allegedly, flying used to not be all about getting violated by bureaucratic civil servants at the TSA–it used to be fun, exciting… even downright glamorous… or so I'm told.
We decided to brush up on our aviation history (some of you might consider it a trip down memory lane) and outline some of the most awesome and badass wonders of aviation we've ever seen.
…A time when the flight attendants wore short shorts and bought you liquor drinks two at a time.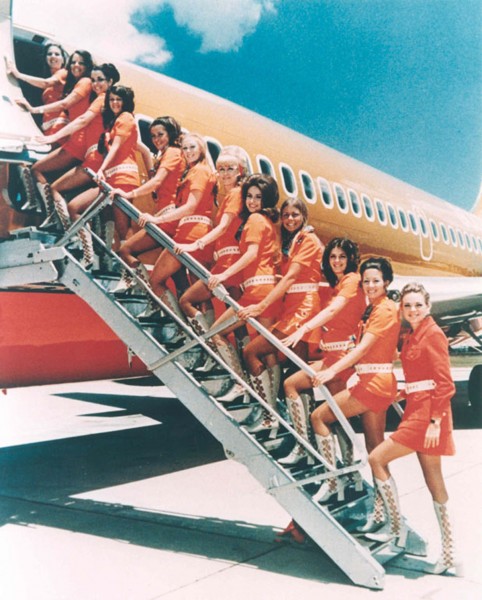 1. The Qantas Captain Cook Lounge – Boeing 747
First up is the Captain Cook lounge aboard Qantas' Boeing 747s. Situated on the top deck, the lounge offered space for a full luxury dining experience.
2. The American Airlines "LuxuryLiner" with Piano Bar and more!
For those (like me) that needed to do a double take for the photo below:  yes, that is a piano installed on a Boeing 747! Sometime around 1972, American Airlines introduced their new "LuxuryLiner" fleet.
American Airlines' new "LuxuryLiner" fleet featured many of their McDonnell Douglas DC-10, Boeing 707 and Boeing 747-100 aircraft. The Boeing 747-100s were probably the coolest in that the airline removed 60 seats and placed a living room-sized lounge and piano bar for its coach passengers to enjoy. Just look at how much fun they're having (in this staged photo by a professional photographer):
The lounges were all equipped with Wurlitzer electronic organs:
And, flying in First Class didn't suck either:  passengers were able to reserve a table for up to 4 people to eat dinner, hangout etc…
Here are a few commercials touting the new "coach lounge":
And even when American Airlines wasn't installing very nice Wurlitzer electric organs in its planes, it didn't skimp out on the awesome lounges: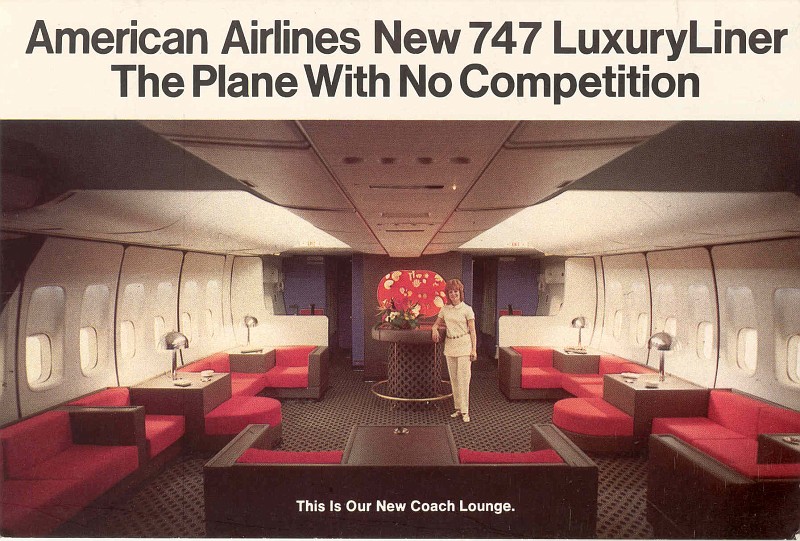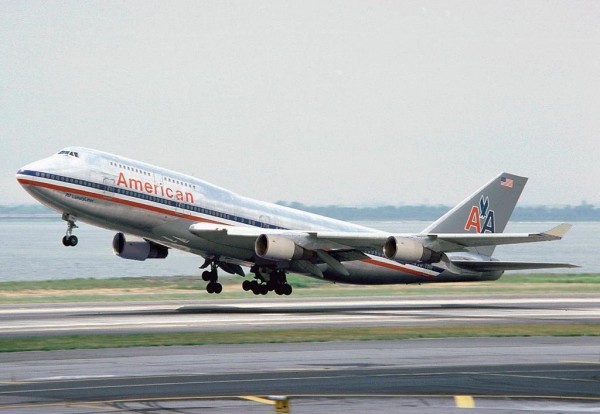 3. Continental Polynesian Pub on the DC-10
Continental first rolled out their new "Polynesian Pub" concept on their fleet of 747s and then, in the early 1970s also included the lounge/bar on their DC-10s. Unfortunately, as a result of the 1973 oil crisis, more seats were needed and the DC-10 pubs were removed.
Either way, looks like a pretty great place to pass the time on a flight. The DC-10 pubs we located in economy class and open to all passengers.
4. TWA's 707 Coach Lounge
"In October of 1971, TWA introduced a coach lounge on its 707-131Bs. This was an extension of the Ambassador service theme, first introduced in November 1970. Note the bar and the coach 'twin seat' with center table folded down. Seat covers 12 (fuschia), 15 (brown) and 9 (gold-orange)."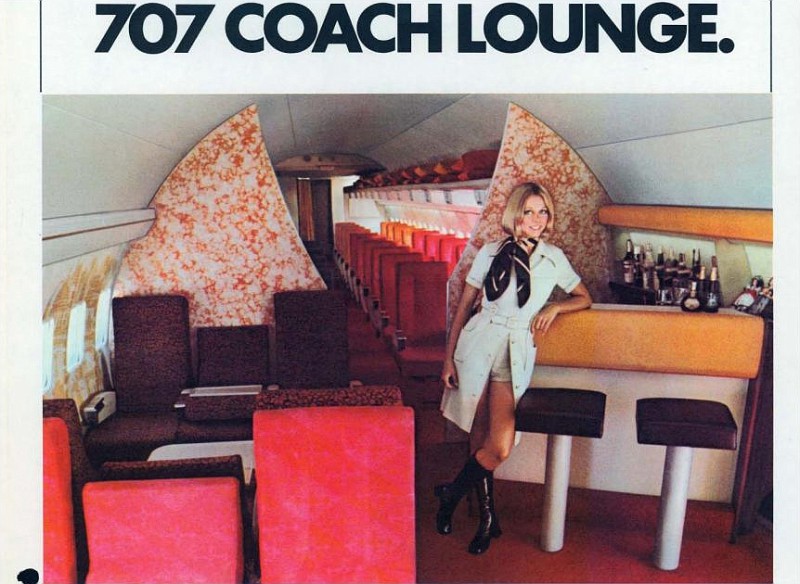 5. Braniff Boeing 747 Upper Deck
"Braniff operated a sole Boeing 747, affectionately titled 'Big Orange' and 'Fat Albert' from 1971 to 1978. The 747 flew exclusively on DFW-Honolulu until the arrival of additional Boeing 747s when it embarked on its fatal deregulation 'route gorge.'
When the Boeing 747 was introduced in the early 1970s during the throes of a recession, passenger capacity exceeded demand. Also, the Upper Deck was not initially certified to carry paying passengers during take-offs and landing. Thus, airlines used them as premium lounges. Continental and American Airlines even added pubs and organs in theirs. Braniff went for a very stylish (for the time) approach. A side note, at the time Braniff's "Big Orange" was the highest utilized Boeing 747 in the world."
Airwaysnews.com
6. Singapore Airlines B747 "Slumberette"
The upper deck lounge on Singapore Airlines' Boeing 747 started in 1976: