Thai Airways Royal First Lounge and Royal Orchid Spa – Bangkok-BKK
Our experience with the Thai Royal First Ground Service was short and speedy — just like it's supposed to be. After touching down from our Frankfurt, Germany to Bangkok, Thailand journey (read more about our flight here: Thai Airways A380 Royal First Class – TG 921 Frankfurt-FRA to Bangkok-BKK) at 6:01am, we were welcomed at the gate by a Thai Airways staff member. Once she gathered us together with one other First Class passenger, she led us to a golf cart and promptly whisked us away through connecting security and masses of other passengers to the First Class lounge. We were inside the lounge (clear across the airport) by 6:25am… that's what you call first class service and record fast speed.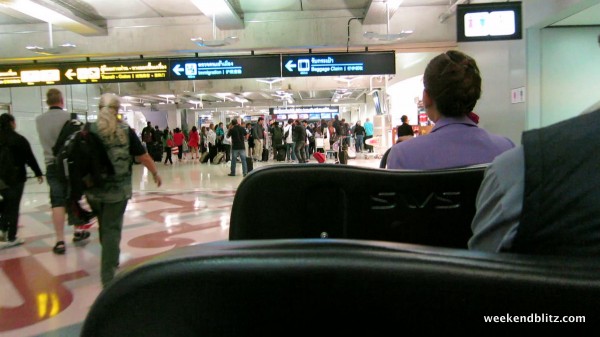 Thai Airways Royal First Lounge
"Royal First Lounge at Concourse D, Level 3 – 1,400 sq.m. has been allocated for Royal First Class passengers with the capacity to accommodate 134 passengers at one time.
Opening hours: 05:00 am. – 01:00 am.
Facilities:
2 VIP Rooms
6 Private Corners
22-seat A-la-Carte Dining Room
Wi-Fi Internet Corner with 2 PCs
Slumber Rooms
Shower Suites
Toilets with Wheelchair Accessibility
TG First Class Check-in Facility
Lounge Access :
Royal First Class passengers departing the same day on TG operating flight

One guest departing same day on any Star Alliance operating flight allowed

First Class passengers departing same day on any Star Alliance operating flight

One guest departing same day on any Star Alliance operating flight allowed

Royal Orchid Plus Platinum card holder departing same day on TG operating international flights

One guest departing same day on TG operating flight allowed"
Once in the lounge, the first question we were asked was, "When do you want your spa treatment? And, do you want a full body massage?" Uh… Yes. And. Yes. So, they said, "OK, we'll come get you at 7:15."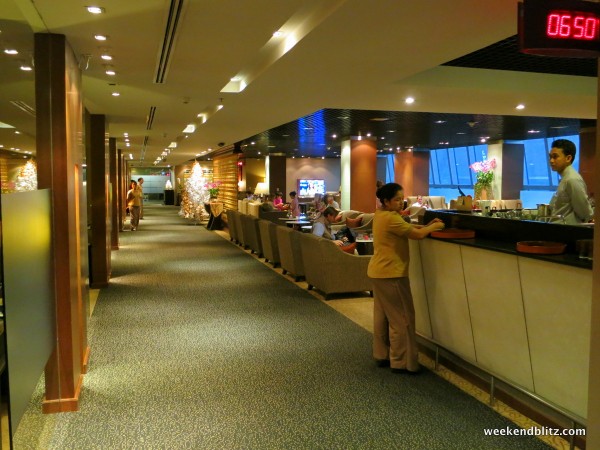 The First Class Lounge is huge and has a gigantic staff. We were seated in the lounge quickly and juice was delivered immediately. They left an iPad with a full menu with us — interestingly, there were very few Thai dishes on the menu, mainly variations of bacon and eggs (maybe this was because it was only 6am?).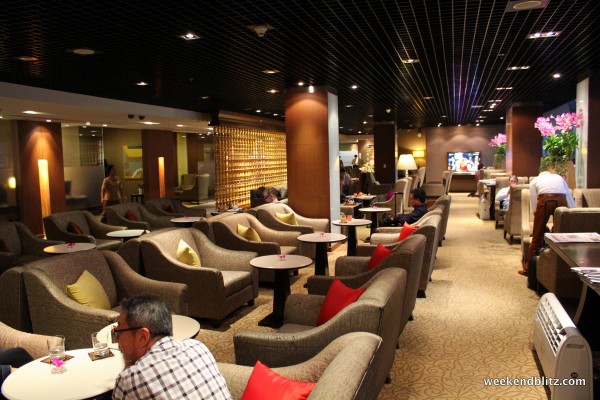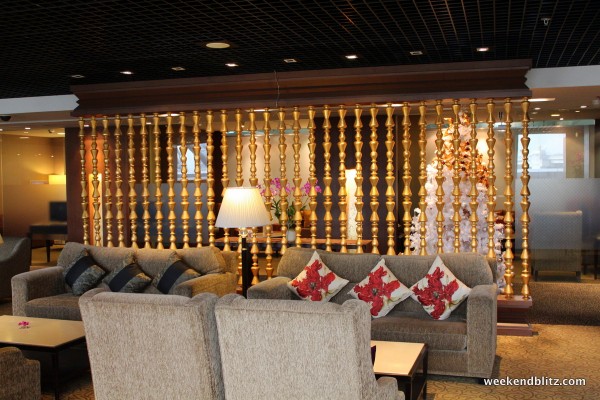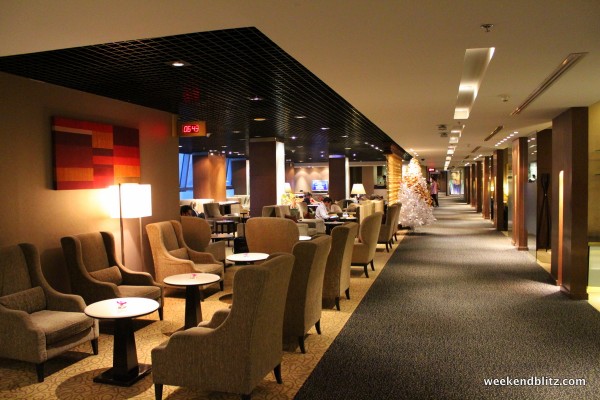 Speaking of 6am, it was very early for Jeffrey's blanket "This is the best travel experience of my life…ever," but he still felt the need to say it… and it hasn't been proven wrong yet.
Following our small waiting time, we were led across the hall to the Royal Orchid Spa, which was, again, huge. After waiting in their waiting area for another 10-15 minutes, the two of us were split up and led to private rooms. Once there, the masseuse asked me to change into a pair of small mesh underwear. She made me feel very comfortable and seemed to take her time– my comfort was her top priority. You just cannot beat a hot oil massage after a long flight!
Thai Airways Royal Orchid Spa
"Royal Orchid Spa at Concourse D, level 3 – 667 sq.m. is primarily designed to serve Royal First and Royal Silk Class passengers with a full range of spa services.
Opening hours: 06:00 am. – 11:30 pm.
Lounge Access:
Royal First Class passengers departing same day on TG-operated international flights
Royal Silk Class passengers departing same day on TG-operating international flights (Neck & Shoulder or Foot Massage only)
No guest allowed"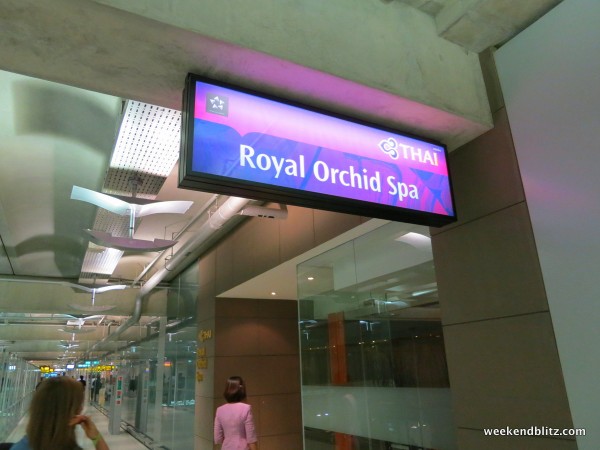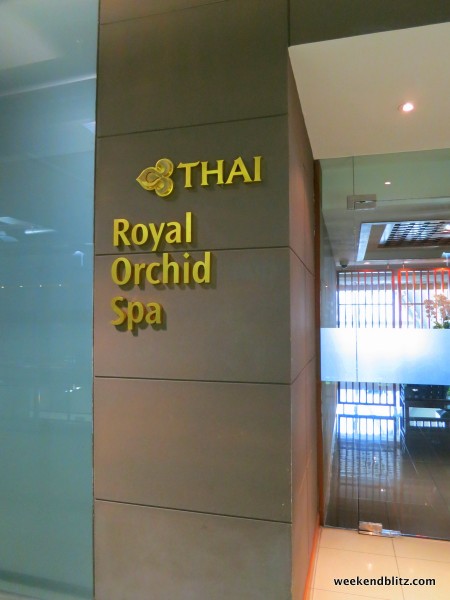 "Treatment Menu:
Touch of Silk (Full Body Oil Massage – 60 minutes for First Class only)
Start your journey with a relaxing Touch of Silk, full-body oil massage. Performed with the unique 'Thai touch', this massage will help to prepare your body for your onward flight by increasing blood circulation as well as relieving muscular tension and helping to provide necessary hydration for your skin. On completion of your Touch of Silk massage, you will be left with an overall sense of well-being and total relaxation.
Royal Thai Massage (Full Body Massage – 60 minutes for First Class only)
Thai massage is perceived as one of the most precious of Thai traditional therapies. Royal Thai Massage helps to stimulate blood circulation, reduces edema caused by travelling and reduces body fatigue. With its unique acupressure techniques, expertly applied to your body, you will find your mind relaxed and muscles relieved, following the stress of your journey.
Neck & Shoulder Massage (30 minutes)
The Neck & Shoulder Massage is a great way to relieve stress which has built up from the rigors of everyday life from working long hours at your computer. Using specific techniques the therapist will work to loosen tight muscles around the neck and shoulders whilst simultaneously assessing how much tension is held in the body and how best to release it. You will board your flight feeling more relaxed and a little lighter around the shoulders.
Foot Massage (30 minutes)
Let's help prepare you for your onward journey, by taking the weight off your feet and giving them a relaxing massage, which they truly deserve. Foot massage is a well-known relaxation therapy to help take care of tired feet. The gentle touch of the therapists hands and the deeper pressure from their fingers, create a sense of overall relaxation and will help to stimulate your vital organs."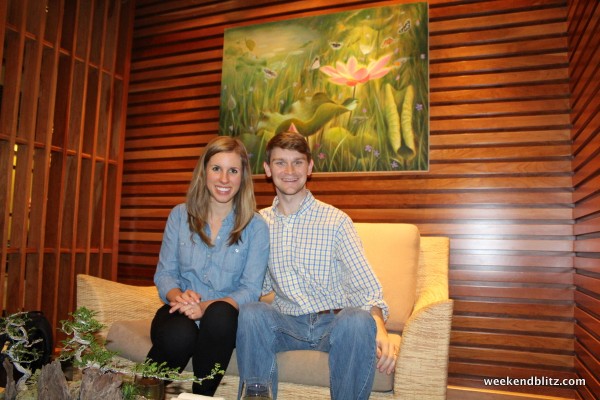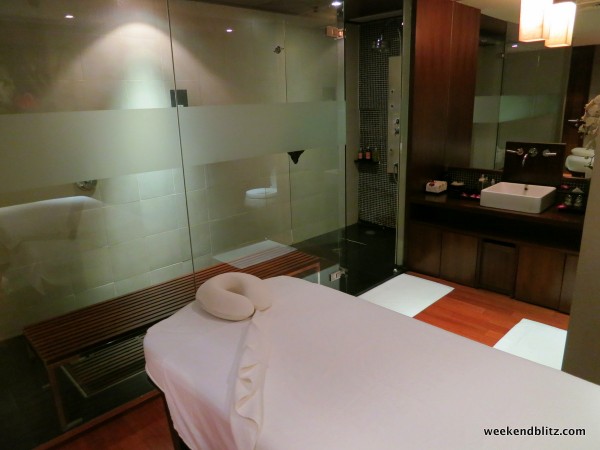 While my experience was nothing short of fantastic, it was Jeffrey's first spa and massage experience, and he came out of his room with his eyes wide open, feeling very awkward. So awkward, in fact, that I'll let him explain it in his own words…
This experience is highly awkward for the first time spa-goer. I entered and was told to take ALL of my clothes off and put on this tiny pack of "underwear." I had to do a double take because it was the size of a single folded sock.

She then tried to enter the room a time or two while I was still naked and changing clothes. Finally, I was ready in just underwear and the spa gown that was left on the bed. The first thing she said to me was to take off the spa gown.

Wait, what? I just put it on!

Then, I realized it's so I can lay down on the table. The massage lasted for 15-20 minutes, while it felt extremely good it also felt rather invasive at times. Lots of very, very upper thigh massaging. But again, I had no other massage experience to compare it to.

In fact, by the end of it I got the sneaking suspicion that most First Class men are solo business travelers and might be interested in a little more than what I had ordered…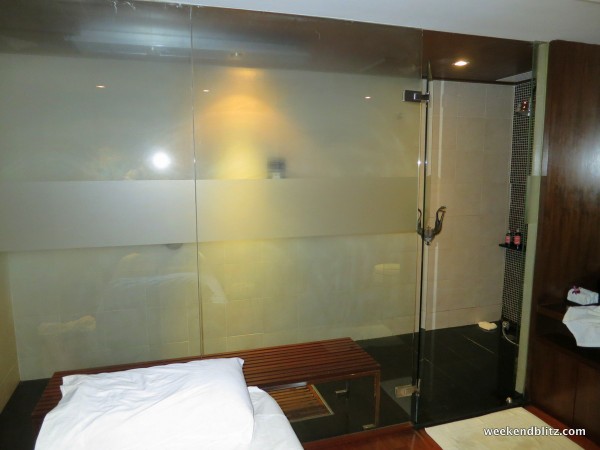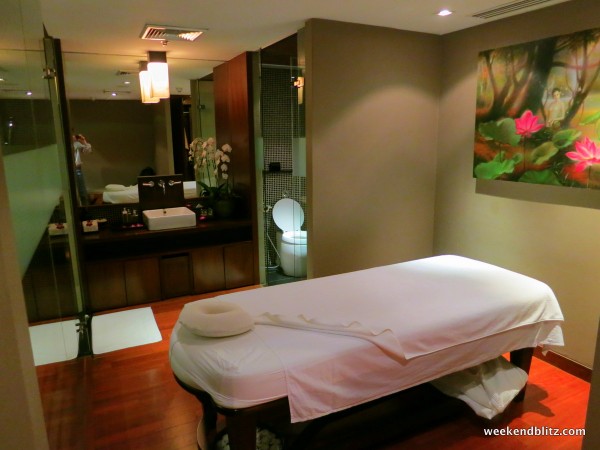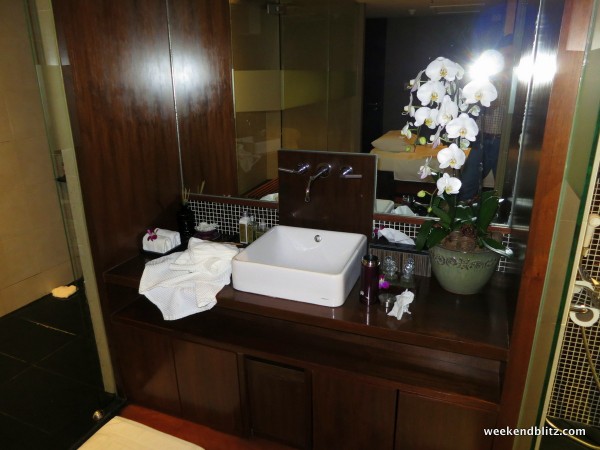 Once I showered and came out of my room, Jeffrey was waiting on me at the front desk of the spa. They had called for our flight and were rushing to get us to the boarding area on time for boarding. Because we had spent all of our time in the spa, we weren't able to try any of the food from across the hall in the lounge, but the massage left us feeling relaxed and ready for our next long plane ride.
BOTTOM LINE:  If you're flying First Class into BKK with a layover, RUN (or, more realistically, allow the friendly Thai Airways staff to zoom you via golf cart) to the Royal Orchid Spa! The massages are first rate and are the perfect remedy to jet lag and fatigue. The service of Thai Airways never fails to be some of the best air service in the world.