Thai Airways A380 Royal First Class – TG 921 Frankfurt-FRA to Bangkok-BKK
Fresh out of the Lufthansa First Class lounge at Frankfurt's Terminal B, we headed around the corner to board the flight we'd been looking forward to the most:  Thai Airways Royal First on their new Airbus A380-800.
CHECK-IN
We took the train in from Frankfurt after having spent the night in the city for a ~24 hour layover (read: Bratwursts Galore! Sightseeing around Frankfurt, Germany and Westin Grand Frankfurt Hotel Review – Frankfurt, Germany). The good news is that Frankurt's airport is a short and very easy 15-20 minute subway ride from the center of town.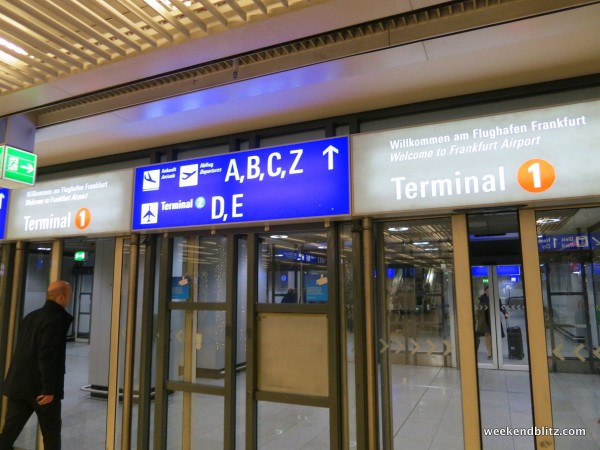 Thai Airways actually has 2x daily non-stops to Bangkok: a 9pm/10pm departure on a Boeing 747 and a 2pm/3pm departure on an Airbus A380. And this is in addition to Lufthansa's daily flight on an Airbus A340–that's a ton of seats per day! This might explain why we were able to find first class Star Alliance award space.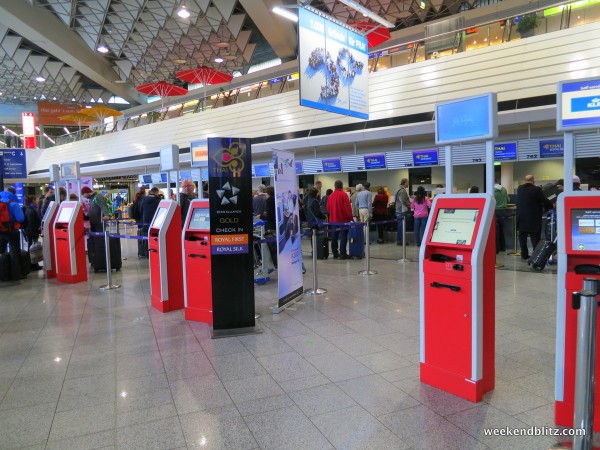 There was a dedicated lane for Thai Royal First Class: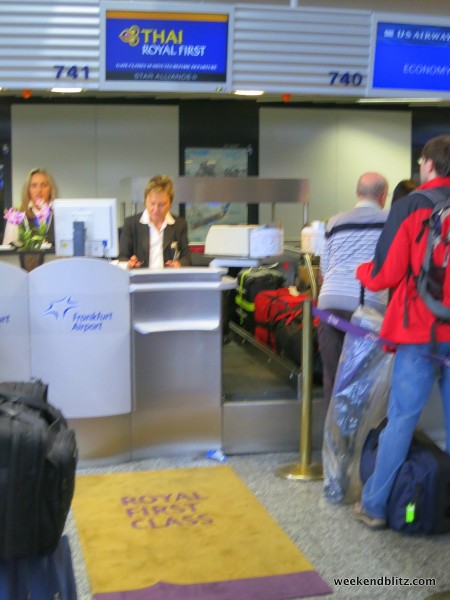 BOARDING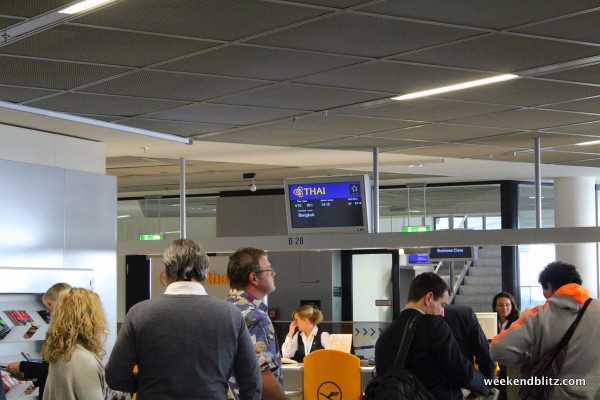 We got to the gate around 1pm for a scheduled boarding time of 1:15pm and scheduled departure at 2:10pm. It was evident that boarding was going to be a bit delayed and so we killed our final few minutes in Germany for the foreseeable future. During our short wait, we saw plenty of weird German things, including but not limited to a skinny girl in a Santa suit wandering around passing out candy from her "toy bag."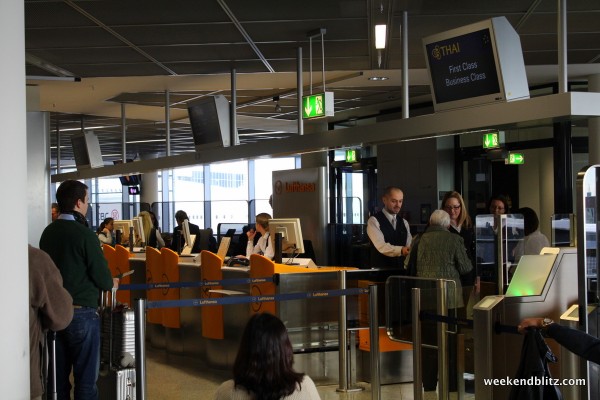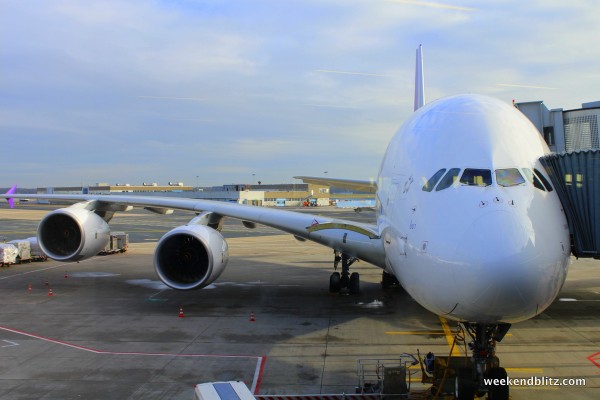 By 1:50pm, it was time to board and we were greeted with another first: taking an escalator up a level to board directly on the upper deck. As with all other carriers, First and Business class was announced to board first.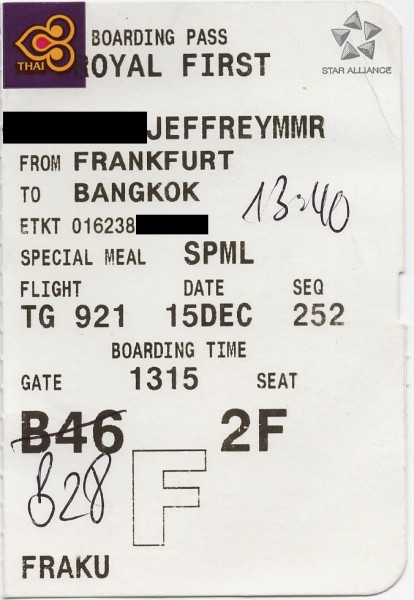 Since the A380 is such a monster of a plane, it is almost always boarded using multiple doors to cut down on ground time. Thai Airways has both First and Business class on the upper deck, so up an escalator we go.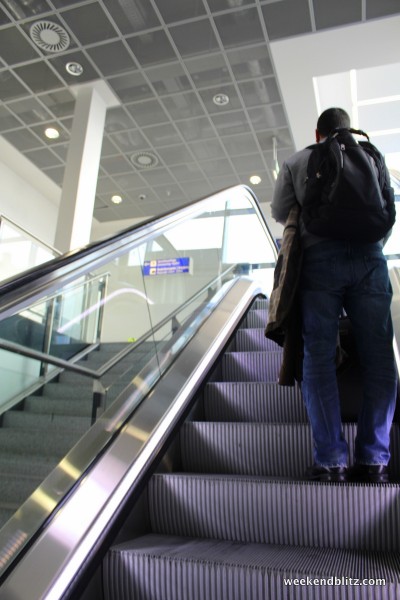 We passed through the boarding door and were greeted by an army of Thai flight attendants dressed in the traditional Thai garb. We were escorted to our seats and began the utter sensory overload of examining every single button, gadget and compartment at our disposal on the plane.
PRE-DEPARTURE SERVICE
After allowing us a few moments to get settled in, a FA came by to announce my pre-departure selection: the Lobster Thermidor. We flew Thai Royal First about 2 years ago and the man sitting next to us kept raving about how it's a crime to not order their "signature dish." I didn't want to make the same mistake again but I did find it quite difficult to pass up a spicy Thai curry dish.
Next up, the pre-departure champagne was flowing. I don't know what was better, that technically this was honeymoon champagne, that it was Dom Perignon (and I'm accustomed to drinking the cheap stuff) or that it was being served to us at the beginning of our Thai Royal First experience… but this stuff tasted tasted extra good.
While sipping 'champ in up front, waiting for take-off, I was browsing through the Thai Airways magazine and was surprised to see that Thai flies to 13 different European cities.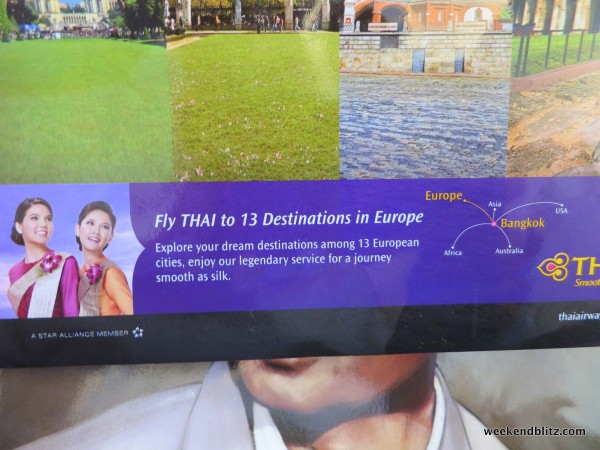 And they're growing quite rapidly, adding 17 new planes in 2013, including three A380s.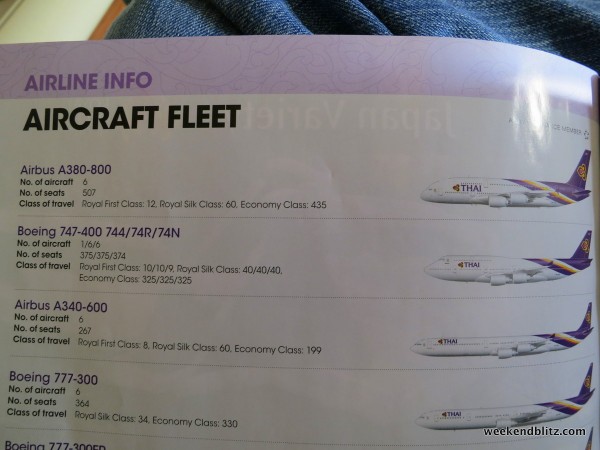 The seat is filled with magazines to read (including a Cosmo in German for McCown), pajamas, slippers, 2 comfortable pillows, headphones and an amenity kit. The Thai amenity kit was the same as 2 years ago and sort of weak:  it was essentially the same exact case as Lufthansa but a little nicer.
Also, if you want a good idea of just-how-freakin-enormous this plane is, check out the picture below that reveals the 16 emergency exit slides!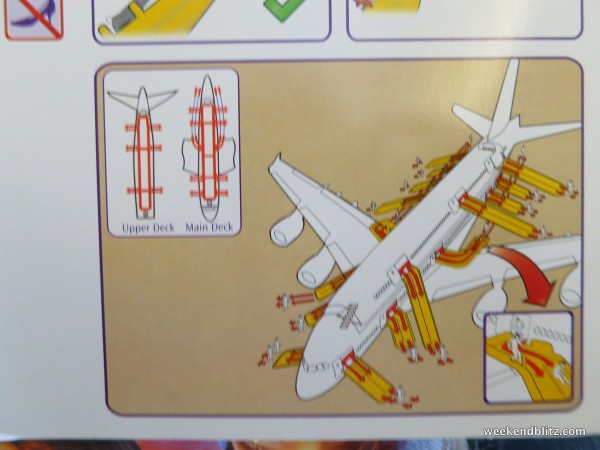 Take off was VERY bumpy; the A380 is a big ass vessel that really shakes as it hits every bump on the runway.
THE SEAT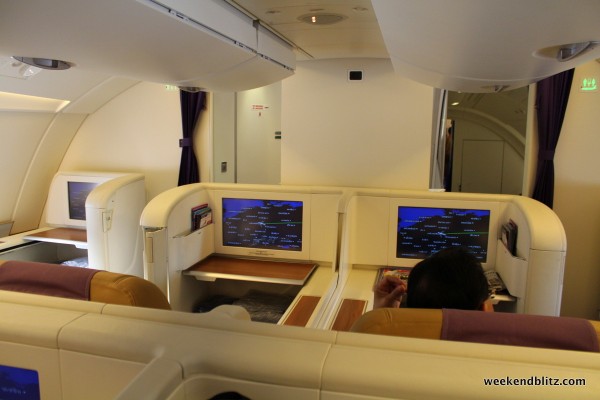 This beast can hold up to 507 passengers. Luckily, we were in the cabin that held a max of 12: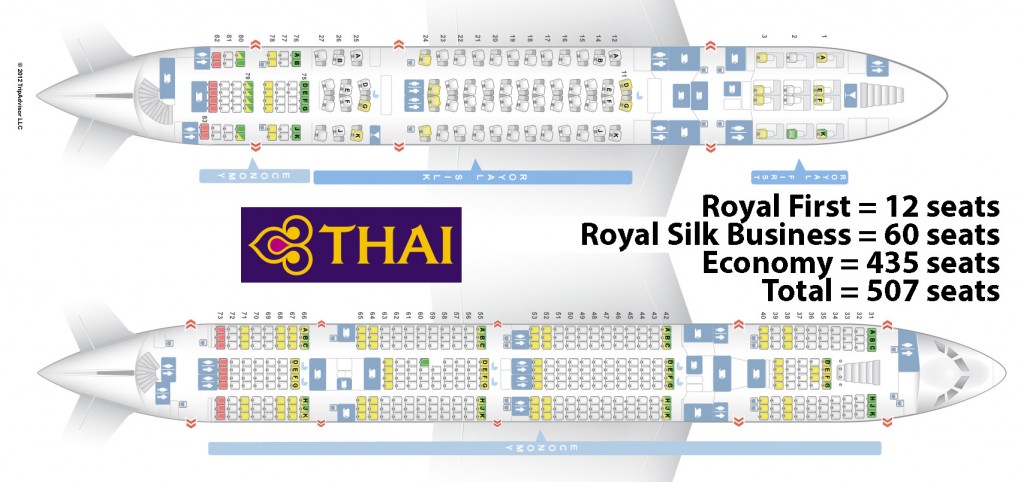 Thai Royal First on the Airbus A380 is the carrier's newest cabin and features cubby-style seats that give you a good bit of privacy when lounging and sleeping.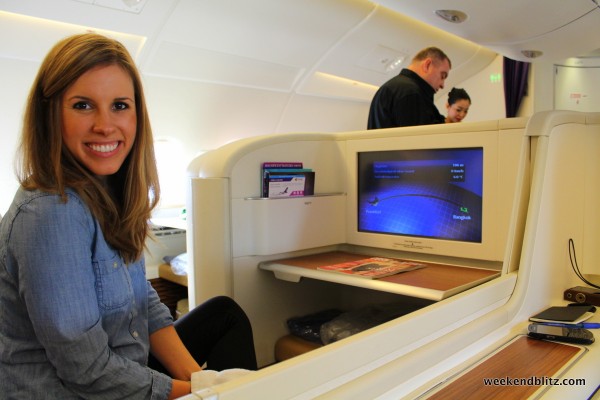 This cubby-style seating makes it great when traveling alone but not as great if you've got some company. In fact, the 1 x 2 x 1 configuration and the distance between seats makes it virtually impossible to effectively communicate if you're seated in anything other than the middle aisle that is 2x seats side-by-side.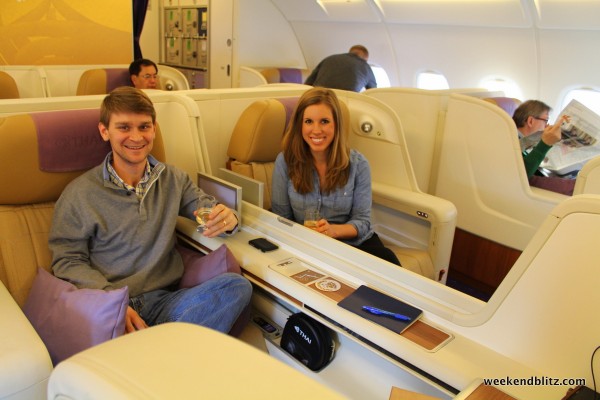 There was a multidirectional seat control that let you situate yourself in just about any position humanly possible/desirable.
There's no need to worry about staying charged throughout the flight between the 2 USB ports and 1 international power convertor that could accept just about any plug.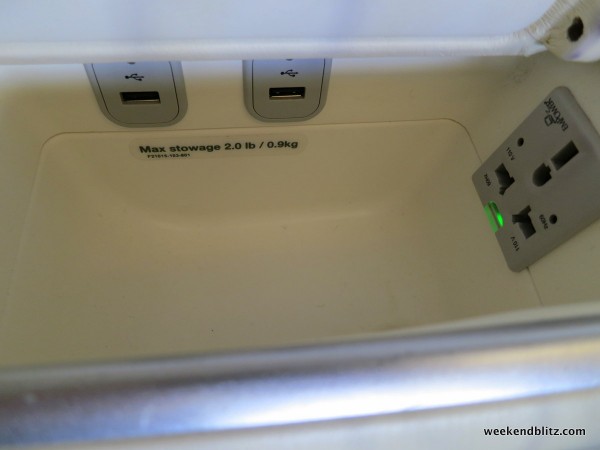 The cubby design also has a hidden coat closet. No coat? If you elect to use the pajamas (and why wouldn't you?!), this will make a great place to hang your clothes.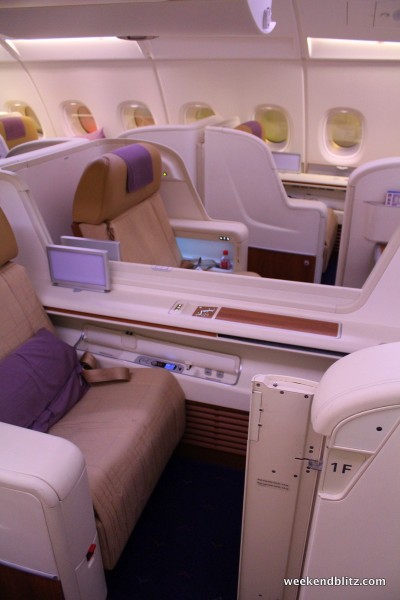 IFE: In-flight Entertainment
The headphones were basically Bose knockoffs and, while they looked very similar to the Bose noise canceling headphones, the quality was very far from being authentic Bose quality. The noise canceling features did not work very well and the sound quality left a lot to be desired.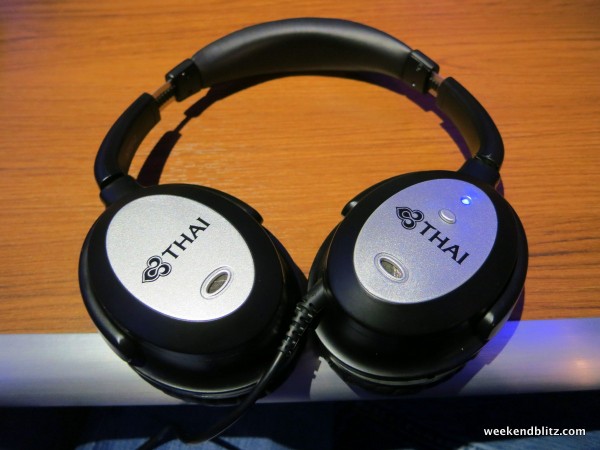 With the only bad part out of the way, on to the good: the screens are huge! They're easily 24″ and maybe bigger? The HD widescreen quality was excellent.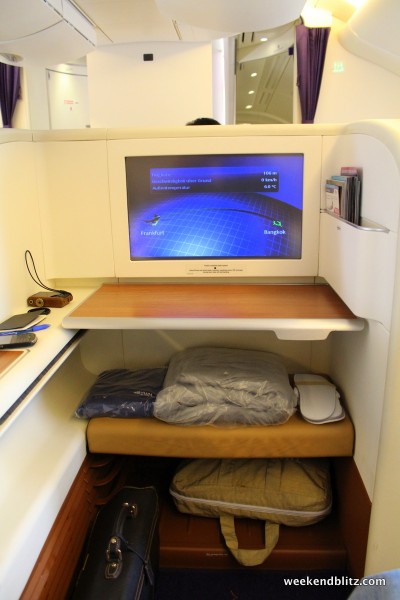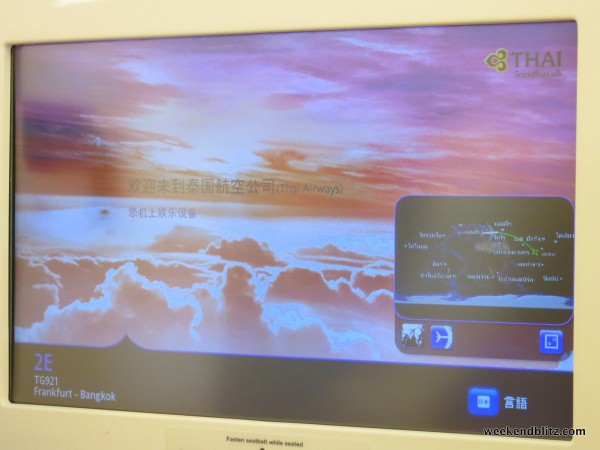 And what better to go with a nice big screen? An awesome selection of programs! The entertainment selection –movies but especially the TV shows– were great. They had entire seasons of many popular shows: Mad Men, Breaking Bad, etc…
The controls were great; the handset remote was very easy to use and the screens were easy to navigate.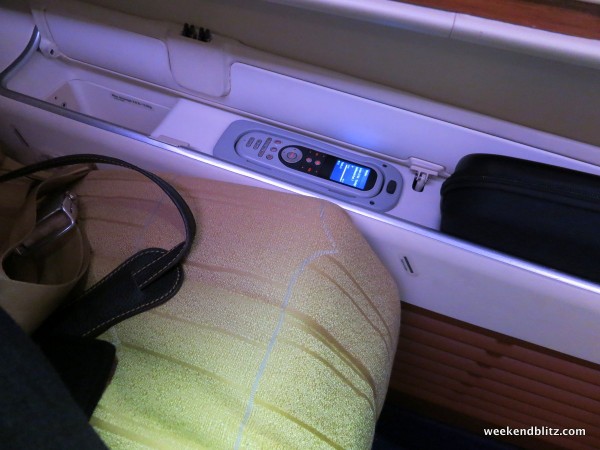 The only other negative on the entertainment system, apart from the crappy headphones, was that both of our screens froze twice during the flight, mid-movie. This required calling the FA over who then had to go manually reset the computer and let it reboot for 10-20 mins.
Another qualm: the A380 fleet was supposed to have inflight WiFi installed but, after trying repeatedly, I could never get a connection out: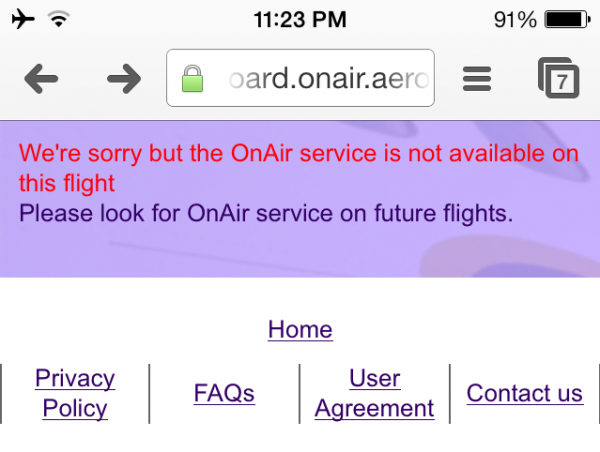 What gives, Thai Airways?
DINNER MEAL SERVICE
~40 mins after take off: Once we were at cruising altitude and wasting no time, the crew came around to distribute the "First Serving": Canapés.
The canapés consisted of: very thinly sliced parmesan cheese on a slice of French bread, a scallop and a sliced meat (prosciutto?) wrapped around asparagus with a pesto or olive oil and herbs garnish.
~ 1 hr after take off, around 3:35pm, our first plates were cleared and tables were set.
The delicious caviar cart making it's way around: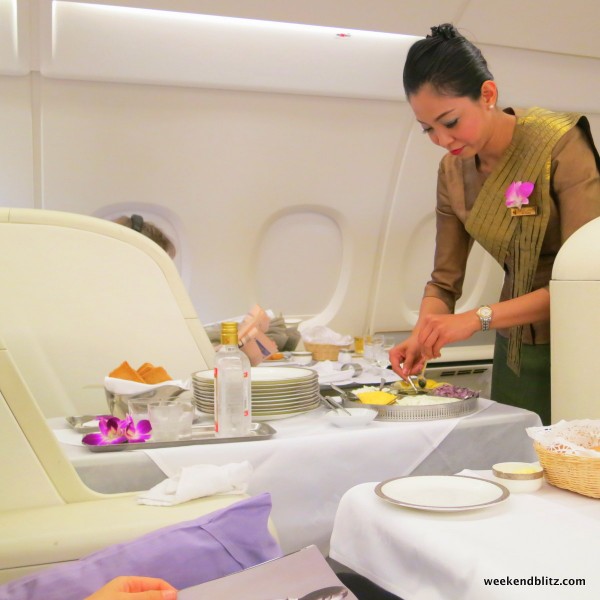 ~1.5 hours after departure: Well, with 2 rounds of "First Servings" down, now time for the actual appetizer, or "First Course".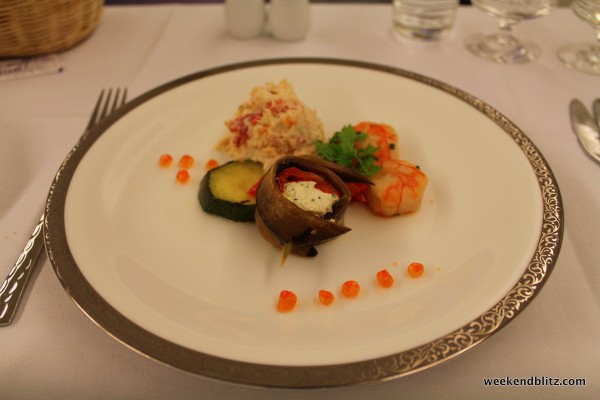 This one was another cold dish with a Rillette of crab meat, grilled shrimp, portabello wrapped cheese and roasted pepper and salmon roe.
After wolfing that course down, it was Lobster Thermidor time: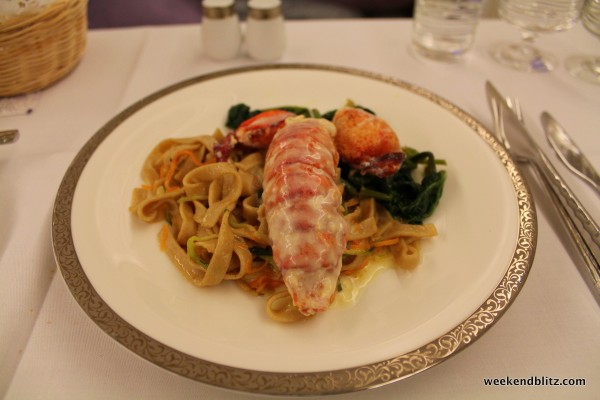 Served with pasta and spinach, there was a decent-sized lobster tail and claw meat. Apart from being a little on the tough side, the dish was excellent with great flavor.
McCown ordered the "Chicken with Eggplant in Green Curry, Steamed Thai Hom Mali Rice, Mixed Vegetables":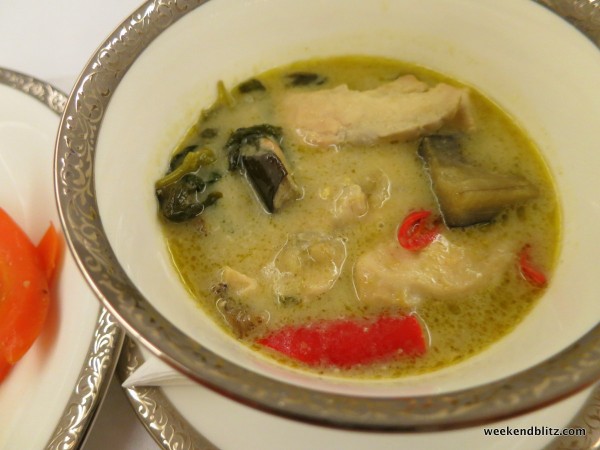 This dish was, as McCown puts it "awesome! Very spicy with chicken and lots of broth…very spicy and very, very tasty. Full of green curry flavor and is making me think we might need to skip our next flight and just stay in Thailand!" I had a bite, too, and secretly wished I ordered it over the lobster — but that might just be my love of Thai food clouding my judgement.
4:35pm (~2 hrs after departure): Within about 20 mins, this 4th, main course was cleared and it was on to the cheese, fruit and port selections. For simplicity of choosing, they wheeled the cart around again:
I ended up trying a "small piece" of just about all of them. There were 4 types of cheese but the one that stood out the most was the blue cheese that had a great flavor. There were then kiwi, cantaloupes and strawberries. Finally, it was all washed down with the Cockburn's Special Reserve port wine.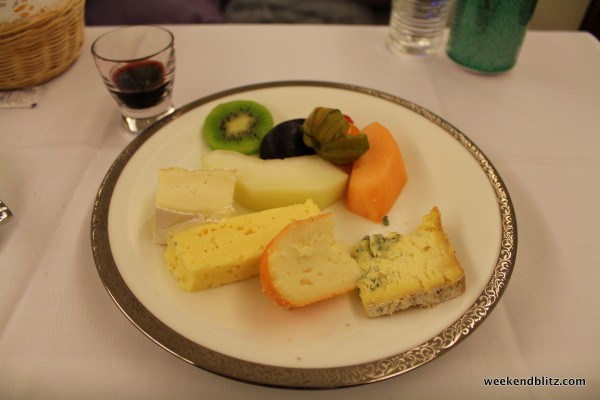 And, last but not least: an apple crumble for dessert! (as if we hadn't been served enough food already…)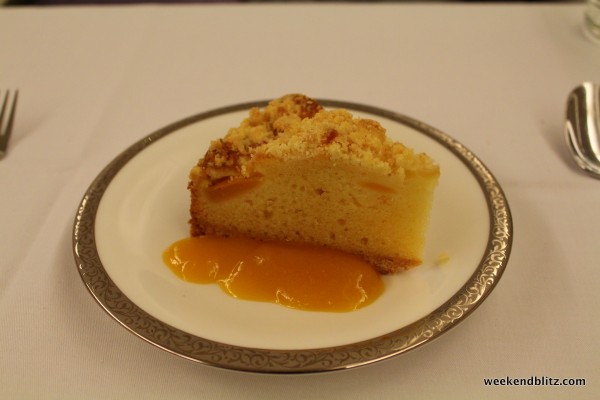 (And here they come with the 3rd hot towel of the flight) 
So how was the meal service overall? Since we'd just flown Lufthansa First Class the day before, we naturally drew all of our comparisons between the two carriers. Compared to the Lufthansa First Class experience, our Thai Royal First meal service felt a little rushed and mechanical. However, we found the Thai Airways flight attendants much friendlier and pleasant but that might just be my experience with Germans vs Thais.
With our dinner (lunch?) service over, it was now time to catch some shut eye but we needed to clear out for a few minutes so that the FAs could make our beds. We took this opportunity to explore the rest of the plane, starting with the First Class cabin.
ROYAL FIRST A380 CABIN
There's a decent-sized "first class lounge" in the far right corner of the cabin– although, in practice it was empty and seemed quite awkward to use. Maybe if they had some food or drinks in there?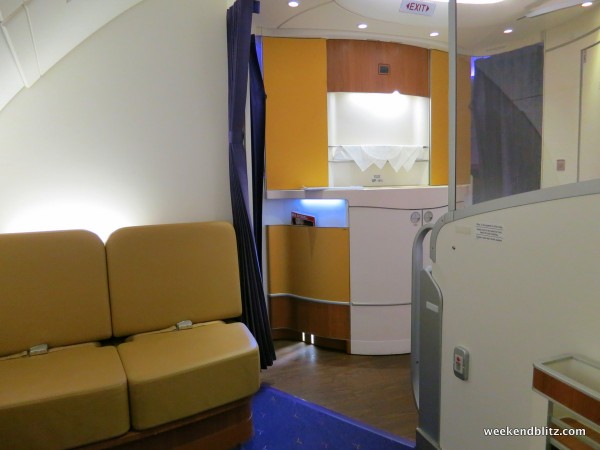 The bathroom was possibly the highlight of the trip. I've just never imaged one so spacious on an airplane. As you walk in, there is a small seating area and full length mirror. As I understand it, this is the space that a shower would have been installed, had Thai Airways opted to include one at the factory.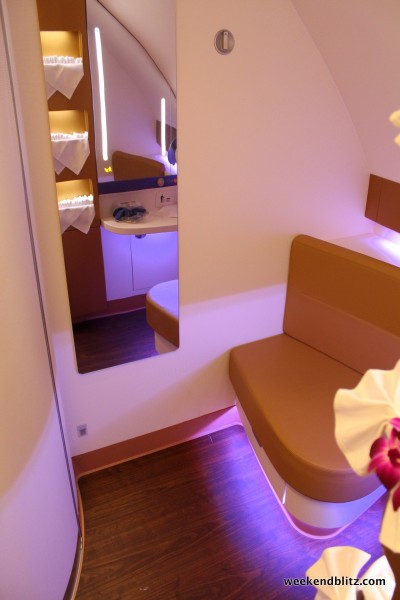 There were also lots of perfumes, lotions and plugs (even 110 volt for fixing your hair etc):
ECONOMY CABIN
We then ventured for a lap through the plane, starting with economy. We first had to head down the stairs: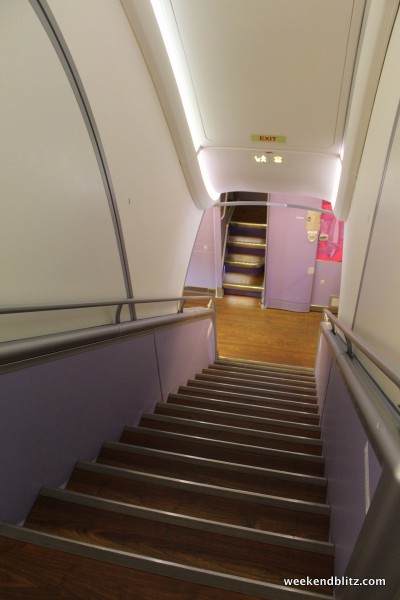 For all of the reasons that First Class was awesome, Economy looked miserable. Those seats just weren't made for average-sized people to spend 10+ hours on a flight.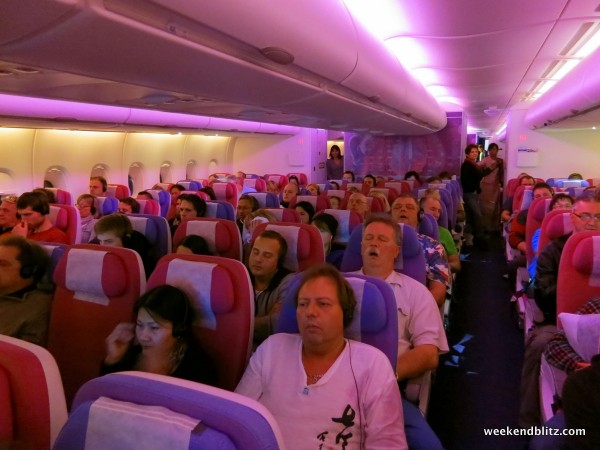 Packing them in: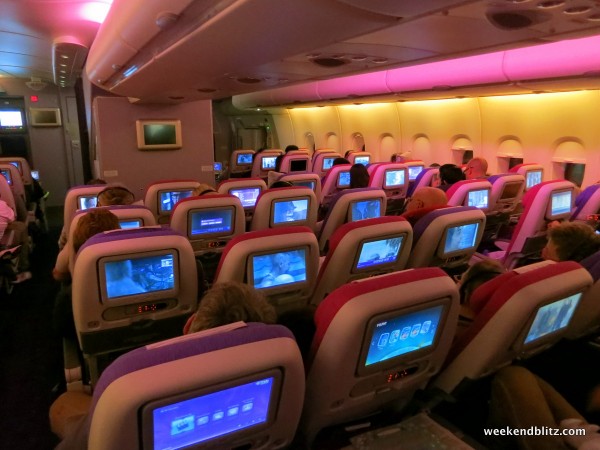 ROYAL SILK BUSINESS
Business Class looked nice, the A380 configuration uses cubbies similar to Royal First and makes great use of space by staggering the seats to accommodate more passengers but still permit lie flat beds.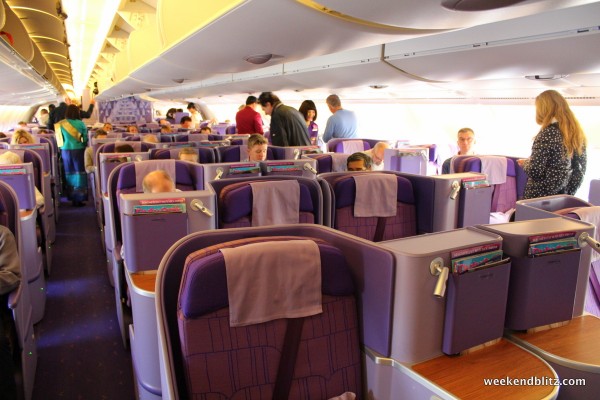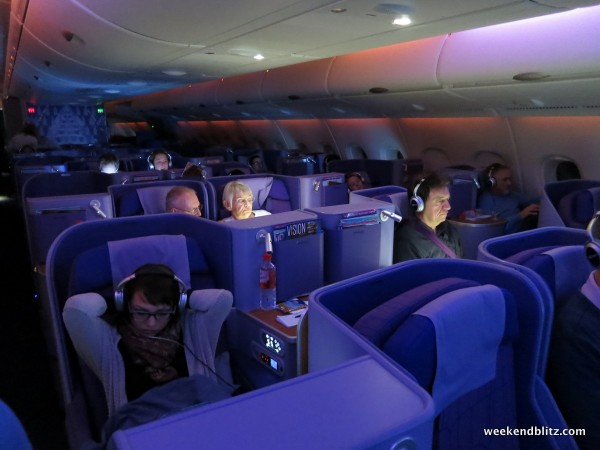 ROYAL FIRST BED
We came back to find a very inviting bed: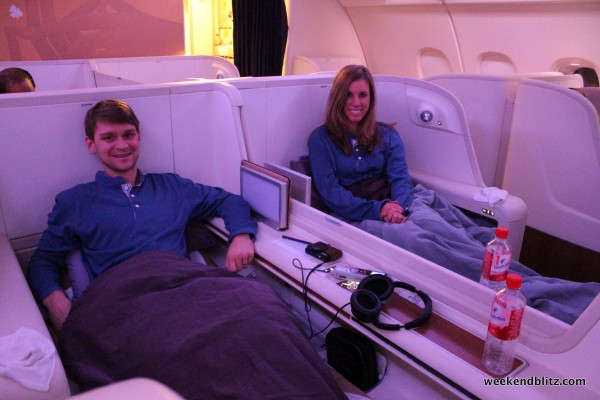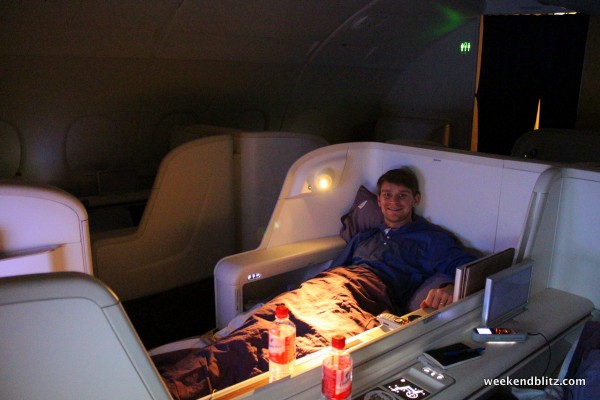 At 5:05pm (Frankfurt time), appx 2.5 hours into the flight, the lights in the cabin were dimmed to nearly 0%. A quick glance at the in-flight map showed me that we had 6 hr 50 mins of flying time before reaching Bangkok.
~5 hours later, around 10:05pm Frankfurt time, it was "morning" according to Thai Airways. The lights were back on and beds were being made. And, as if we were even mildly hungry, it was breakfast time as well.
BREAKFAST MEAL SERVICE
For this "Second Serving," we enjoyed a first course of fresh fruits, yogurts, cereals and fresh juice. To our flight attendant, apparently asking for a "little bit of fruit" actually meant "give me an entire fricken pineapple."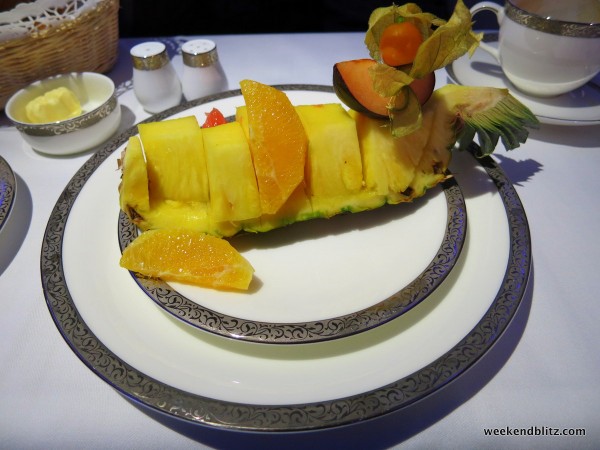 A+ for presentation, however. For the Main Course, we had the following choices: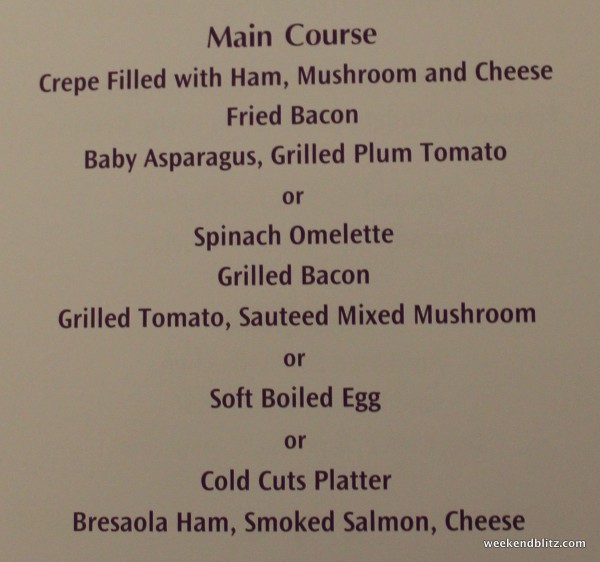 McCown ordered the "Crepe Filled with Ham, Mushroom and Cheese" which came with friend bacon, asparagus and a grilled plum tomato.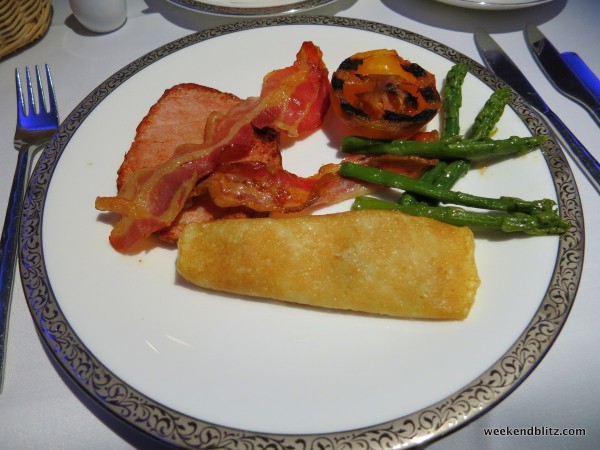 Not really feeling the soft boiled egg or cold cuts platter, I went with the most American version of breakfast and settled on the "Spinach Omelette" with grilled bacon, grilled tomato and sautéed mixed mushrooms.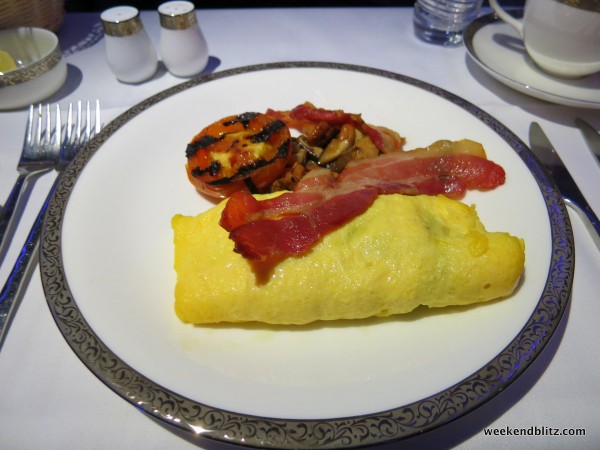 (And here comes our 5th hot towel of the flight…where do they keep getting these things?)
With breakfast (and all eating that I'd need to do for the next 3 days) out of the way, the flight attendants came around with souvenirs: Thai Airways A380 Playing Cards! I wonder if Airbus threw those in for free or if they had to pay for them on top of the $414.4 million for the plane.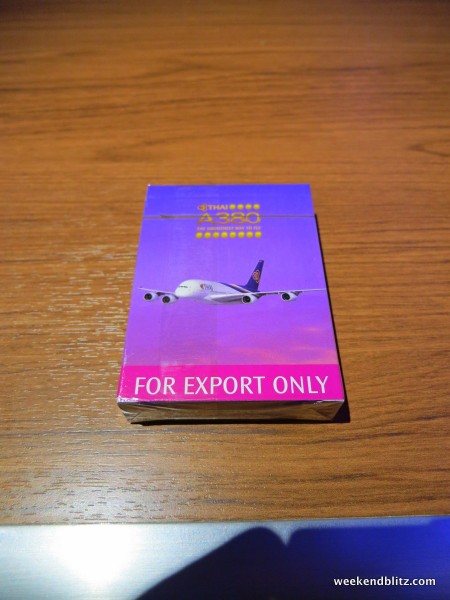 And then, as quickly as it began our flight came to a screeching halt as we touched down at Bangkok's Suvarnabhumi Airport with a wheels down time of 12:01am Frankfurt time, 6:01am Bangkok time.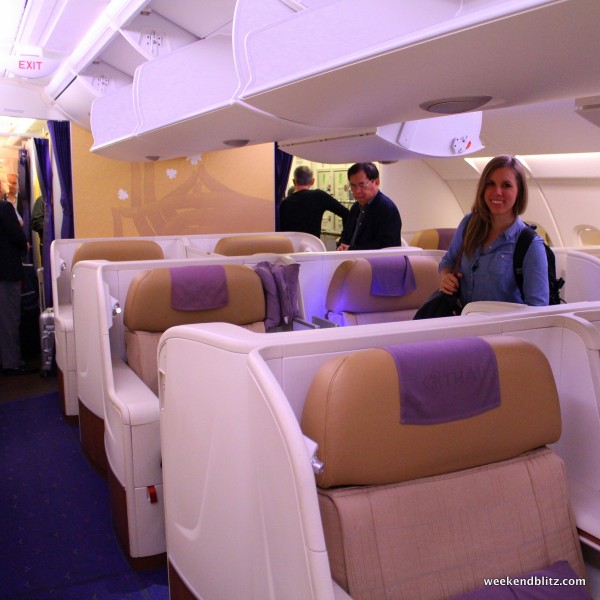 Here are a few more comparisons to Lufthansa First:
Cabin: Lufthansa was much more spacious:  in about the same space, Thai had 12 seats vs the 8 seats on Lufthansa. The Thai seat area felt cramped compared to Lufthansa.
IFE: Thai won in the in-flight entertainment department. Widescreen on Thai vs 4:3 on Lufthansa and much higher resolution on Thai. Not to mention that Lufthansa had far fewer programming choices.
Bed: The Lufthansa bed was leaps and bounds better. Thai, while flat still felt like a seat turned into a bed bed. It got pretty hot in the Thai cabin, too.
Service: the service was much friendlier on Thai, Lufthansa was great and very professional but the Thai people just have a way about them that makes them seem so much friendlier. Also, the service felt relatively more rushed on the Thai flight.
Summary: I just can't say enough good things about the Lufthansa bed!
THAI ROYAL FIRST GROUND SERVICE
After arriving at the gate, we were whisked off the plane and were escorted down the jet bridge to a golf cart that whisked us away to the lounge.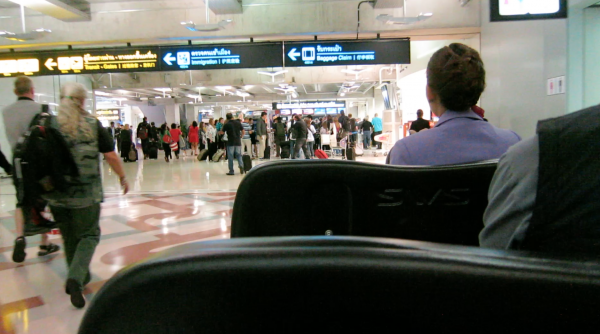 We went from touchdown at 6:01am to sitting in the lounge at 6:26am, a record 25 minutes! Thai Airways Royal First ground service is simply unrivaled.
BOTTOM LINE: Thai Airways First Class continues to stand out as world class for both hard product and service. Despite feeling slightly rushed, the 6-course meal was decadent and impressive. The A380 cabin was neat to experience, from the giant bathroom to the private cubby-style seats. All of this was topped off by impeccable ground service in Bangkok.
—————————————–