Shwedagon Pagoda + Surrounding Area
The gleaming, gilded pagoda is your first spectacular view of Yangon on arrival, dominating the city's skyline and commanding your instant attention (especially at night time!). Up on a hill, this 2,600 year old Buddhist temple is a sight to behold, towering over Myanmar's largest city and reminding you of ancient times while connecting you to a very real, present-day Yangon. The number one site in Yangon (and probably all of Myanmar) is known as the Crown of Burma and is the country's most revered shrine, a sprawling temple that boasts eight hairs plucked from Buddha.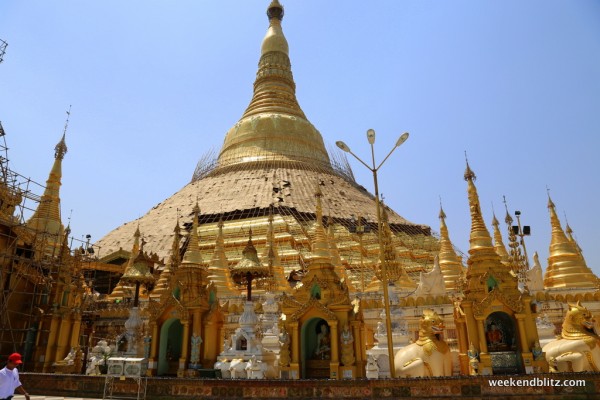 Although legend holds that the stupa is more than 2,600 years old, some historians believe it was actually built by the Mon people between the 6th and 10th Centuries. During the 14th and 15th Centuries, King Binnya U and Queen Binnya Thau (respectively) rebuilt and added to the pagoda. Queen Binnya Thau donated her weight in gold (88 lbs.!) to the temple, starting the tradition that continues to this day of people donating gold to maintain the temple.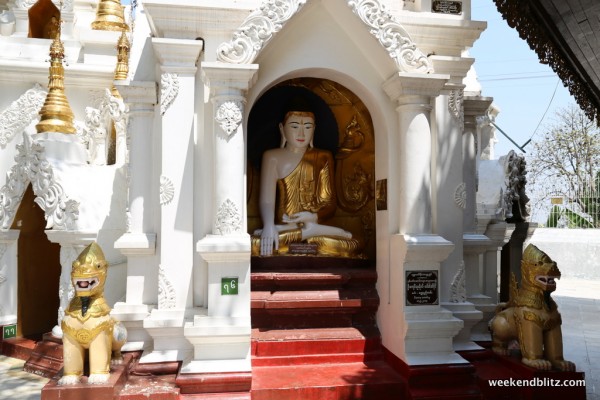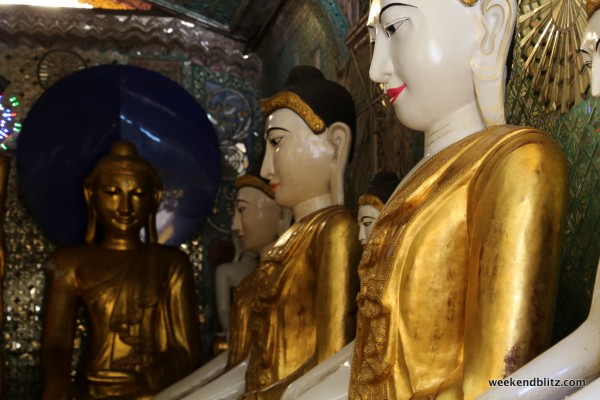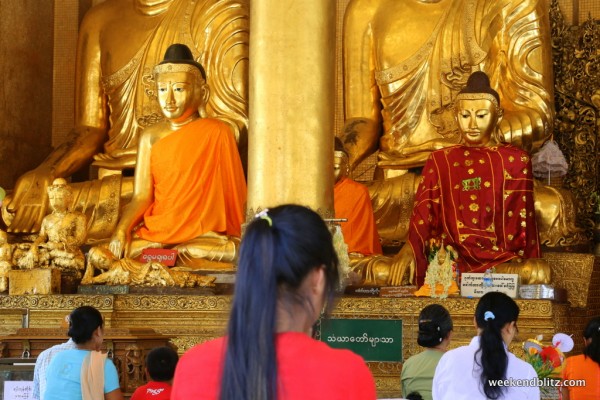 Now, the temple still stands, beckoning visitors and locals alike to its grand and golden stature. Although visitors pay an 8,000 kyat entrance fee (~$8 USD), Burmese do not, so the temple grounds are a meeting place for friends, with families congregating in the shady spots, letting their babies crawl around the cool marble slabs while they exchange stories. It's very much a part of current-day, every-day Yangon and not an abandoned site like many temples and churches in other cities and countries.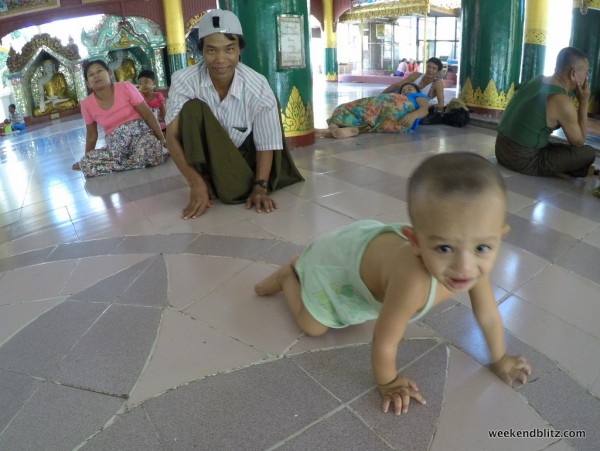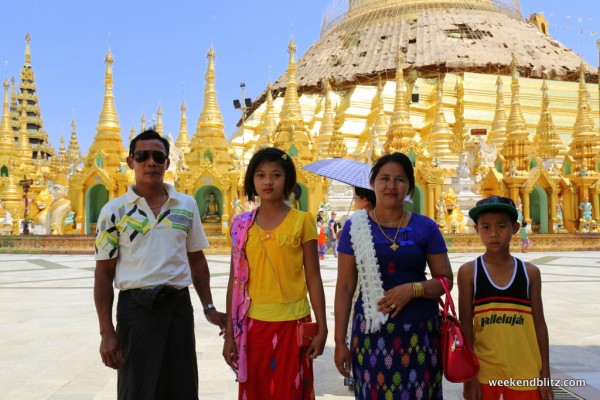 All of the guides I found online suggested either visiting at dawn (to avoid the crowds) or at sunset, but we decided to go around 10am. When we arrived, we were told to take off our shoes – no one said it in the guides, but surely the reason to go pre- or post-sun is because your feet will get scorched! No socks, stockings or shoes are allowed and the hot tile floors around the temple quickly bake in the 104 degree heat. I think Jeffrey and I both lost several layers of skin on our feet from visiting this pagoda mid-day.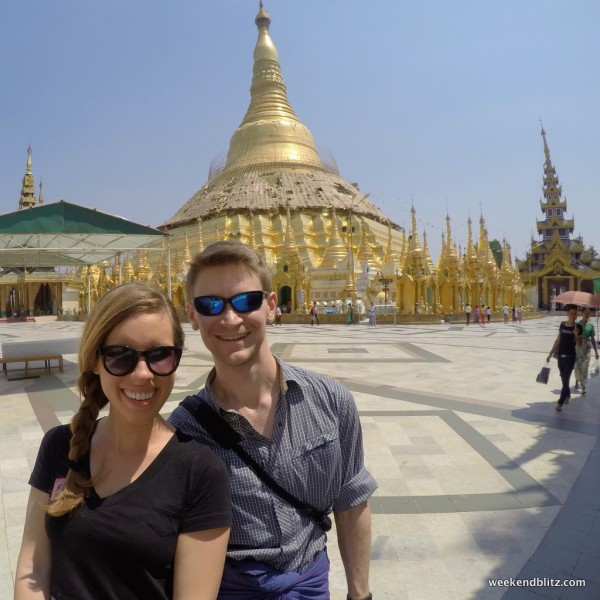 These temple grounds have more than 27 metric tons of gold and thousands of precious gems (including diamonds). The temple dates back to more than 2,600 years ago, making it the oldest Buddhist stupa in the world, and it is truly a must-see in Yangon, in Myanmar and in Southeast Asia as a whole. It reminded me most of the Grand Palace in Bangkok with shimmering gold details on everything, my first foray into golden temples with gems dotting every column (an experience that's stuck with me!).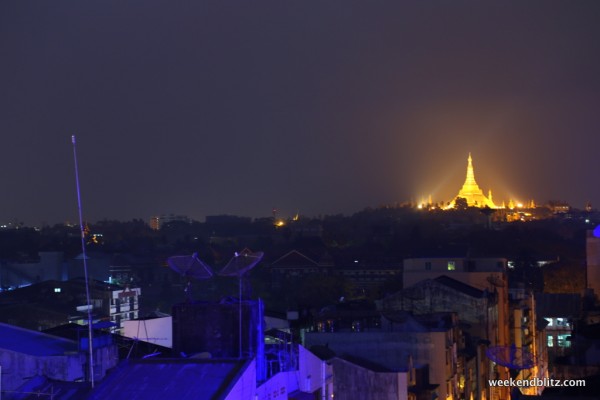 After spending several hours in the pagoda, we descended the steps to the outside world.
"Gangnam Style" then the Black Eyed Peas blared through a brightly colored blue metal contraction next to the street vendors offering ice cream. We'd stumbled straight into Happy World, a children's amusement park just across the street from Shwedagon Pagoda. Bright lights and swings excited the children as they posed next to plastic monsters and super heroes. Then, we entered the dimly lit arcade and immediately were transported to Chuckie Cheese (just without the hassle of collecting tickets to win "awesome" prizes). We stepped into the outdoor café and ordered a lunch of fried cauliflower, som tam salad and kim chi rice with chicken – all for less that $5 USD total.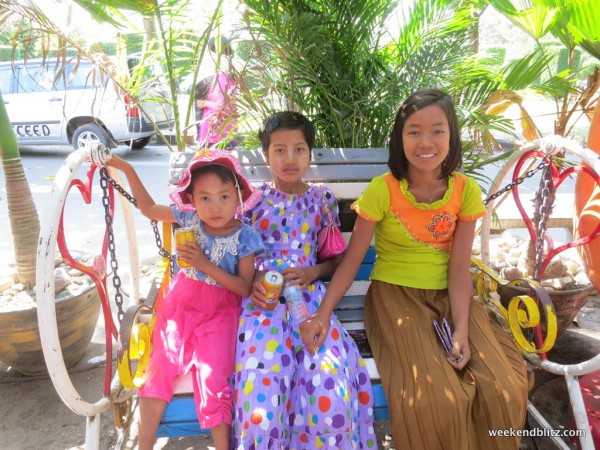 The Shwedagon Pagoda is truly awe-inspiring, a perfect introduction to Yangon, Myanmar and the Burmese people. Like in Yangon as a whole, inside the pagoda grounds, you'll find a collection of tranquil monks resting on the cooled stone steps in the shadows mingled with energetic little ones dancing in the doorways and couples (us included!) taking selfies on our iPhones. This glimpse into Burmese life – both its future and its shimmering, golden past – was the perfect welcome to our first stop in Myanmar.
Check out more of our photos from our visit to the Shwedagon Pagoda and its surrounding area below!