Secret Travel Trick: Free Istanbul City Tour During Turkish Airlines Layover
Here's a pretty cool travel "trick":  Turkish Airlines will either put you up in a hotel for the night or give you a free tour of the city if you have a long enough layover in Istanbul-IST. We covered the details on the free hotel room here (Secret Travel Trick: Free Hotel Layover in Istanbul with Turkish Airlines), now for the free city tour:
The Deal
You can participate in Turkish Airlines' "TourIstanbul" for free by meeting the following requirements (can be a paid or award ticket):

You're flying Turkish Airlines into and out of Istanbul
You're just passing through Turkey, your origin and destination is international
Your layover is between 6 hours and 24 hours
Must be able to fit into one of the 3 following tour schedules:

Whole day, 9am to 6pm tour: arrive IST before 8am and connecting flight must be after 7:30pm
Half day, 9am to 3pm tour: arrive IST before 8am and connecting flight must be after 4:30pm
Half day, 12pm to 6pm tour: arrive IST before 11am and connecting flight must be after 7:30pm
How to Get It
Compared to the free hotel, the free Istanbul city tour has a lot fewer strings attached. Since the only requirement is to have a minimum of 6 hours connection time on your international Turkish Airlines transfer, there aren't too many technicalities that might exclude you.
If you have time for the full day tour, here's a sample of what you'll be able to see:

You must be an international transit passenger of Turkish Airlines.

Your connection should not be longer than 24 hours.

Our scheduled tours are everyday from 09:00 to 18:00, from 09:00 to 15:00 and from 12:00 to 18:00. Thus, your departure and arrival time of your flight should be compatible with our scheduled tours.

a – For 09:00 /18:00 Tour
Arrival time must be 08:00 or earlier than 08:00
Departure time must be 19:30 or later than 19:30

b – For 09:00/15:00 Tour
Your Arrival time must be 08:00 or earlier than 08:00
Departure time must be 16:30 or later than 16:30

c – For 12:00/18:00 Tour
Your Arrival time must be 11:00 or earlier
Departure time must be 19:30 or later than 19:30

Your arrival time should be enough to be ready at the Hotel Desk half hour before the tour starts. For instance for our 09:00 tour, we kindly ask you to be ready in front of Hotel Desk at 08:30 am. For the 12:00 tour, this is 11:30am.

Secondly, we expect our passengers to be ready for boarding and pass the passport and custom control minimum 1 hour before their scheduled departure time. For instance if we assume that your departure is at 18:30pm, we may only suggest tours ending at 15:00.
Where to Go
When you get to Istanbul, you'll have to clear customs and immigration (and, if you're a US citizen, pay $20 US in cash for a visa). Once out of customs, you'll be on the Arrivals floor; turn right and walk to the end and you'll find the Turkish Airlines Hotel Desk/TourIstanbul Meeting Point right next to Starbucks.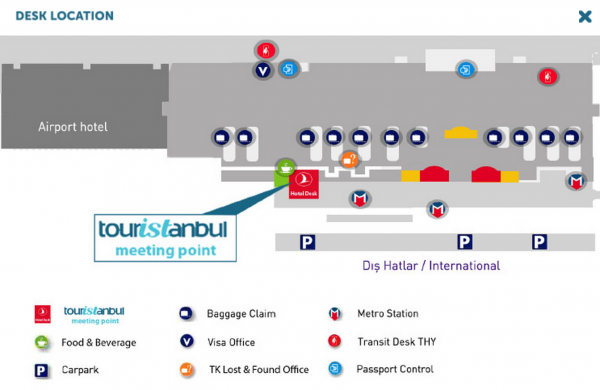 Details:
Free food! "Will we pay for the meals in the touri̇stanbul programme? — No, you are our guest. The food service is for free. We will introduce you with Ottoman cuisine and Turkish hospitality."
Check out the full details here: http://www.istanbulinhours.com/
The tour itineraries vary slightly based upon day of the week due to the operating hours of some attractions
You must be able to obtain a Turkish visa to leave the airport when transiting internationally.
You cannot have both the free night and the tour during the same layover; however, you could schedule your flights so that on the inbound you participate in the free tour and on the return you make use of the free hotel
This is available for both paid and award bookings or don't forget that Turkish Airlines is a Star Alliance member so you can use United miles for this trick, as well.
Contact info for the Hotel Desk is +90 212 463 63 63 / ext. 12426-15532 or touristanbul@thy.com and hoteldesk@thy.com.
BOTTOM LINE: Have a long layover in Istanbul? Turkish Airlines, the country's national airline, wants to show you a good time and promote tourism to the region all while (hopefully) keeping you as a more satisfied customer by taking you on a free tour of the city.
Featured image source: by lonjemoko on pichost.me