W Retreat & Spa Bali Seminyak – Bali, Indonesia – Hotel Review Part 2
Everything about the W Retreat & Spa Bali Seminyak was fun, lively and the perfect place to begin our honeymoon. As I've covered in a previous post about the hotel (you can read it here), our very own pool villa was everything I always wanted in a honeymoon + more.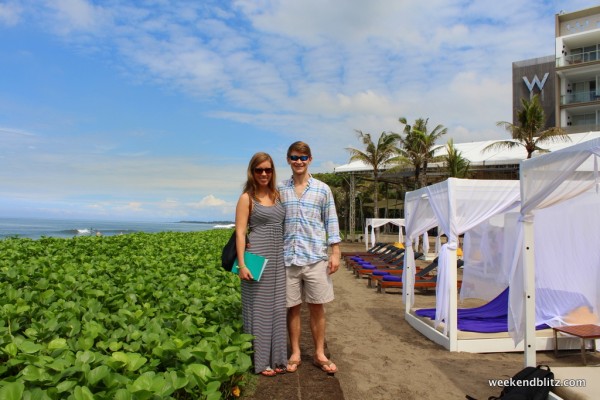 But, when we ventured away from the private pool and quiet oasis of our villa, the rest of the W always had a lot going on and plenty to experience. There was always a lively party, plenty of Balinese culture to take in and rum drinks overflowing by the pool – no matter what time of day or night. Much of the crowd was always gathered at one of the two on-site restaurants, so this post will cover all the details and our experience at both dining options.
ON-SITE RESTAURANTS OVERVIEW
The W Bali has two on-site restaurants: Starfish Bloo and FIRE. There's also a handful of bars (the Woobar, the Ice Bar, the Chill Bar…), but the only two kitchens that serve breakfast are Starfish Bloo and FIRE.
Both Starfish Bloo and FIRE are indoor/outdoor, so the experience can either be a more casual outdoor meal or a bit fancier indoors. Either way, the views are phenomenal and the music is bumpin' with the W soundtrack.
The Starfish Bloo restaurant serves Pan-Asian cuisine with a more stylish vibe. The decor is a bit fancier than FIRE's — with huge, round wooden booths that weren't so great great for privacy but did add to the quirky, hip-ness of the W (as if that needed any additions). Starfish Bloo serves breakfast, lunch and dinner.
FIRE is more grill-centric and meat-centric, a nice coupling to Starfish Bloo's seafood focus. The atmosphere is a bit more casual. What FIRE lacks in decor (compared with Starfish Bloo), it makes up for in flavor. Every dish we tried from the grill was fresh and flavor-packed.
STARFISH BLOO DINNER
Our first experience at either of the two restaurants was at Starfish Bloo, where we headed just after check-in for a late dinner. We were fighting days and days of jetlag, but wanted to stay awake long enough to enjoy a Balinese meal and take in some of the hotel.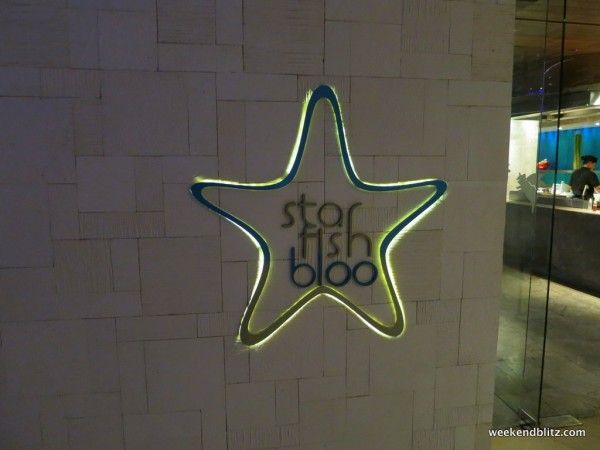 The tasting menu is 450 rup = $40 USD. We were able to split one tasting menu because we weren't too hungry– we'd each had about 4 too many airplane "breakfasts" at 3am. As part of the tasting menu, we tried the ASINON BOGOR (a Balinese tuna "sambal matah"), the AYAM BETUTU "GILLMONUK" (an awesome curry chicken spice dish) and the SEMUR DAGING SAPI (coconut milk beef). Our waitress was helpful in suggesting dishes and we really enjoyed our first taste of Balinese food.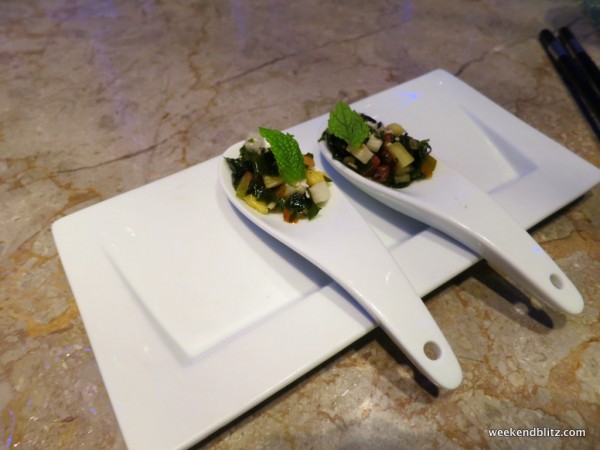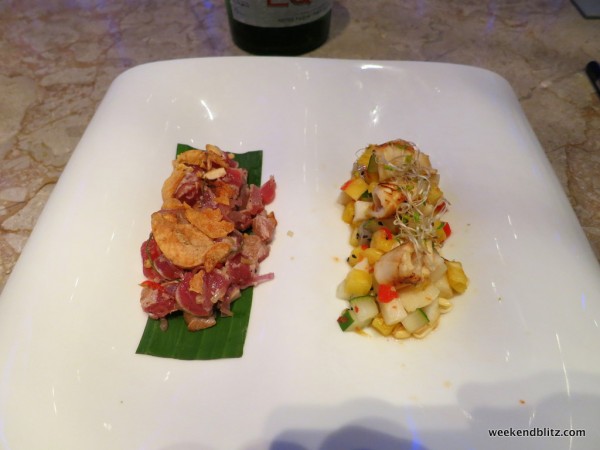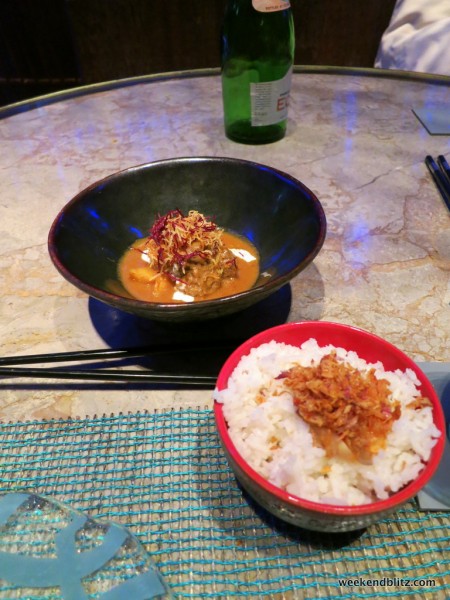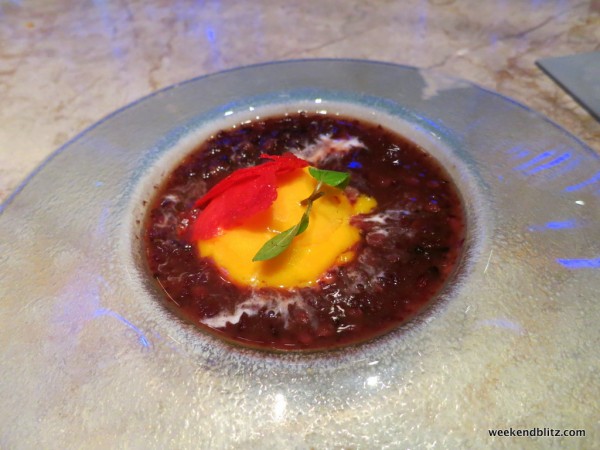 We soon realized how quickly the food adds up– even when splitting! The tasting menu provided the perfect amount of food to split and we were glad to try three dishes right off the bat. Our waitress also kindly brought us a mango sorbet to finish — what a delightful surprise! Our first sample of  Bali's food was a success. You just have make the decision to have the "we're on vacation" mindset so your jaw doesn't drop at every. single. price. at the W.
As far as drinks go, we weren't too surprised to find that they were way too sugary and weak — all for about $15/drink. Dually noted. And, again, you've got to get that vacation mindset before you go around pinching pennies at the W.
FIRE BREAKFAST
Next up, we chose FIRE as our first breakfast experience. Before ordering, we confirmed that, with the Platinum Amenity, anything — buffet or a la carte (or both) — is included. Jackpot.
So, when in Rome, right? We first sized up the buffet and, although we usually skip the buffet and order from a la carte, this is, quite possibly, the only buffet that I've ever deemed worthy of going back for seconds. I mean… this place knows how to cook up a delectable buffet: there was a huge selection of cured meats and fruit. Then, we saw the Indonesian food area with vegetable curry and sausage dishes. Next, we found the Indian food area, THEN the make-your-own-omelette area and FINALLY the pastry area.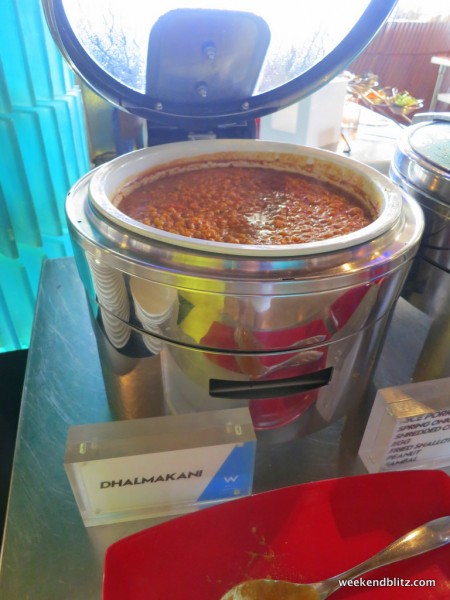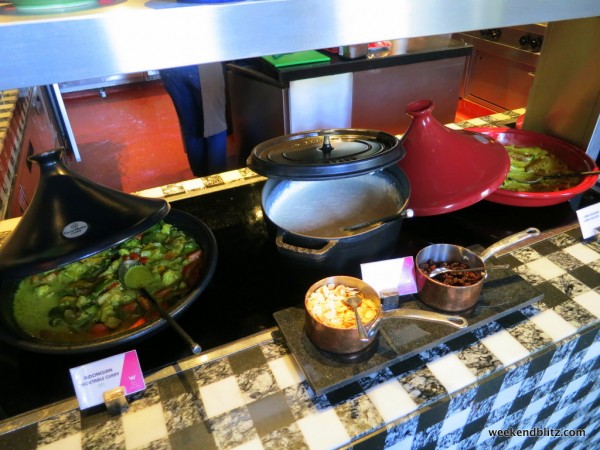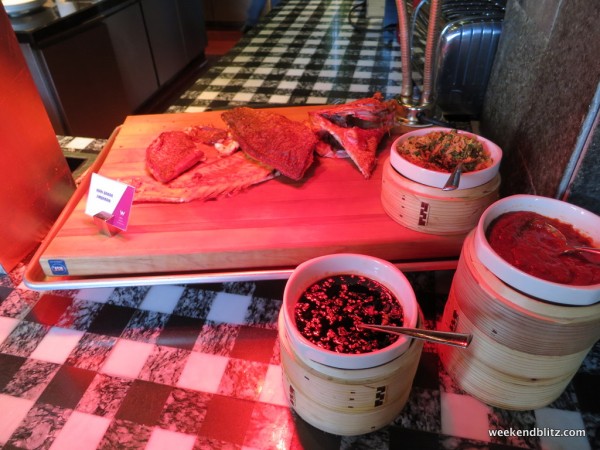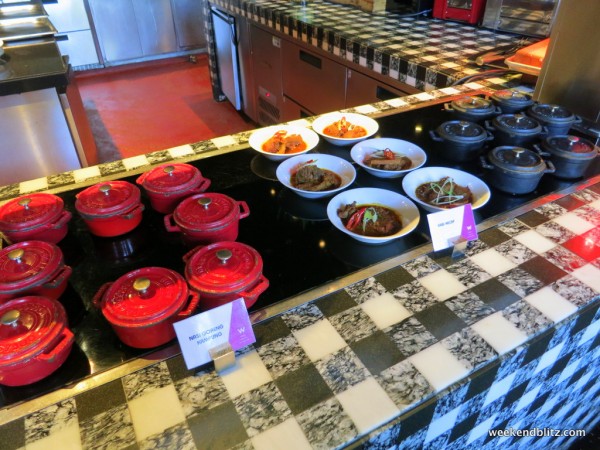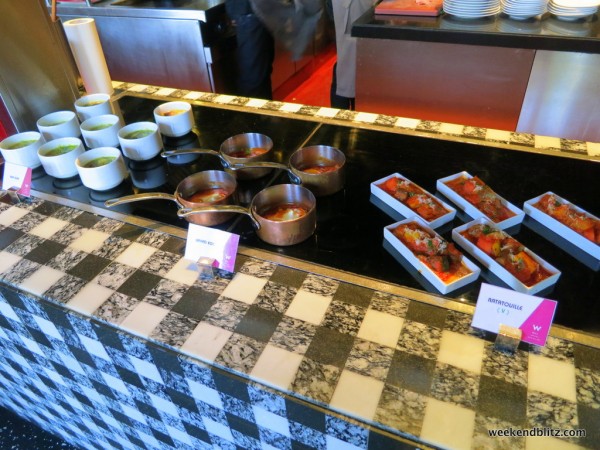 That just covered the buffet — the a la carte menu offered even more delicacies, including seared foie gras. Yes, we'll have some of that, too.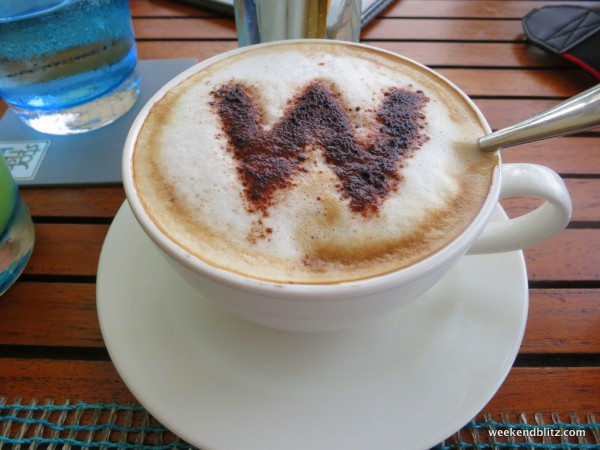 Each dish we tried tasted better than the last– and, the servers were at our table often to offer us freshly squeezed juice and cappuccinos with a "W" dripped on top in chocolate. The fantastic service and the never-ending options had me contemplating staying at the breakfast table for our entire time in Bali. This, my friends, is the definition of vacation.
STARFISH BLOO BREAKFAST
The next day, to be fair, we had our breakfast at Starfish Bloo. Starfish Bloo is a bit more elite and only serves villa and suite guests at breakfast. I guess breakfast is usually included in those rates and they just send you here? We sat outside with a view of the ocean and were promptly offered coffees and freshly squeezed juices. We again opted for the buffet– another illustrious, never-ending buffet but this one didn't quite fit our tastes as much as FIRE did. There were many more seafood and Asian options and, frankly, I'm just not super pumped about have sushi before 9am. Let me make it clear that this buffet was not worse, it just wasn't what I would prefer as much as someone else might.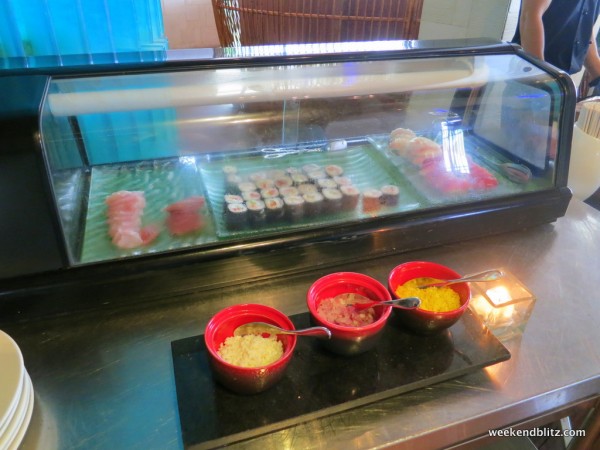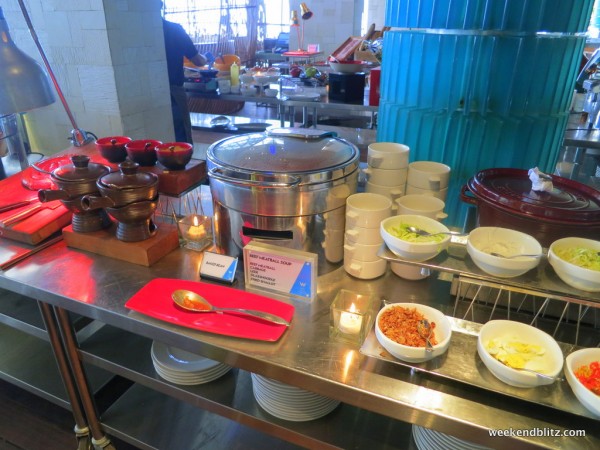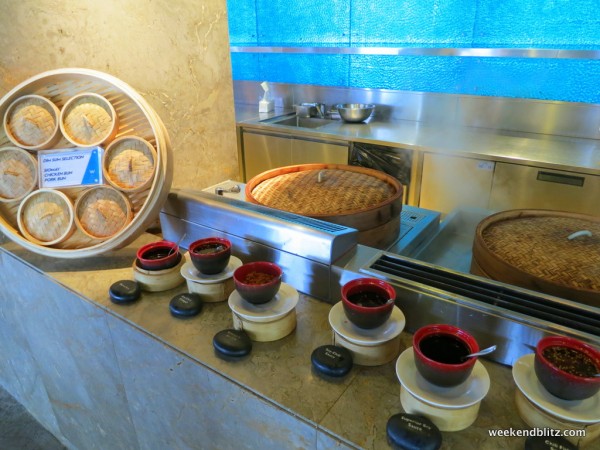 Apart from the typical continental breakfast, the buffet also had a dim sum station, a sushi station and then the standard pancake, french toast…American options. Although everything was delicious and very fancy, FIRE was the clear breakfast winner in my book because it had so many unusual and delicious options (like Indian and Indonesian choices) that I couldn't get at an American hotel.
As a side note, it was interesting to note the price of alcohol (extremely, extremely expensive) vs. the price of sushi — they had sashimi tuna and snapper sitting out at the buffet. Although (slightly) tempting, we opted to skip the Vanilla Bellini at 220K = $20USD!
BOTTOM LINE: Although we tried nearby local restaurants, the variety of options available at the W restaurants was unmatched. Although the hotel restaurants were a little pricy (such is life at hotel restaurants), they were tasty and delicious, which is more than I can say for the majority of on-site restaurants in many other hotels. Plus, the free breakfast buffets could not have been better.