Renting E-Bikes in Bagan, Myanmar
The old town of Bagan is fascinating and maybe one of the top places in the world to see the sunset over the thousands of pagodas.
Although there are 2,000+ pagodas still standing, the crumbling temples are each unique with different shapes, sizes and designs (some are filled with ancient paintings while others have multiple tiers to keep climbing til you reach the very tip top). Some of our friends said they'd spend a few days less in Bagan because, by this point in their trip they were "pagoda'd out", but I'd argue that I could spend days and days in this sleepy + dusty town, just popping from one pagoda to the next and watching the sun change colors.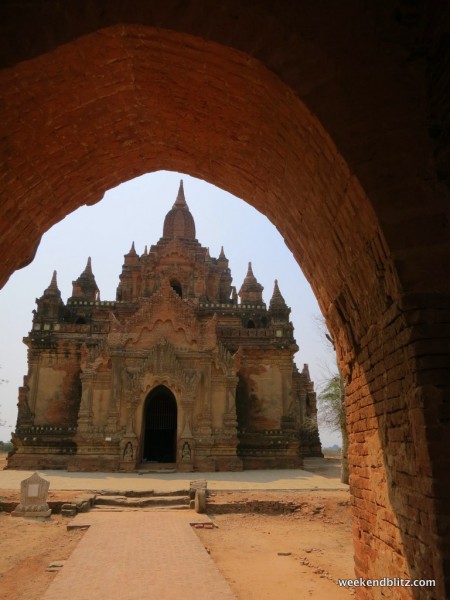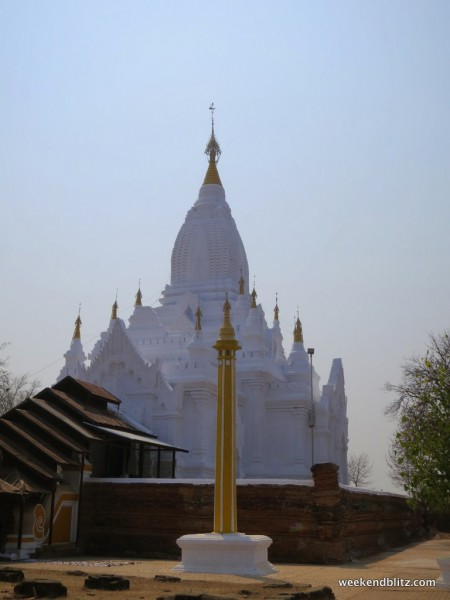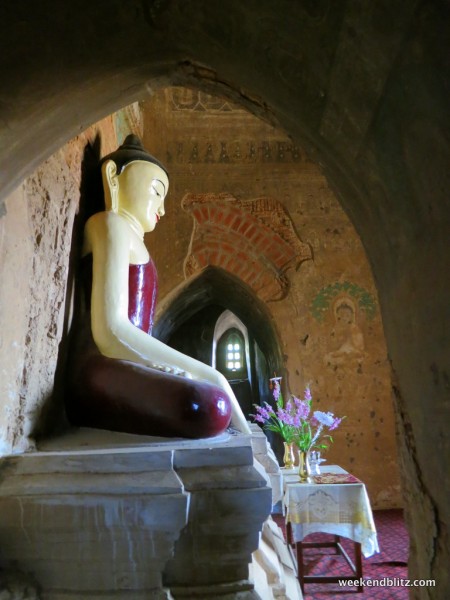 Renting an e-bike is a MUST in Bagan and is really the only thing to do while you're here. Most hotels rent e-bikes, but we found a better deal at the little stop right outside the gates of Old Bagan (when you're exiting the gates from Old Bagan, the bikes are lined up on the left). For just $15 (yes, they quoted and charged in USD although they accepted kyat at a rate of $1 US = 1,000 MMK), you can rent an e-bike for the day (or as long as your 8-hour battery will last you).
We picked up our e-bike around 11am because we wanted to make sure we'd have it through the sunset (they offer all-day rentals but the battery only lasts about 8 hours). Armed with an old-timey map of the pagodas and an open mind (we were sure we'd be getting lost a bit), we took off. If you're ready to follow our path, be warned: it leads you through a dirt road with sand so thick that you'll be pushing your e-bike instead of riding for a short while. The bonus is that the sandy road ends at a cluster of tiny, forgotten pagodas that you can explore on your own – it was my very favorite stop of the day and one of my favorite memories from our trip.
If you're not up for the challenge of pushing your e-bike through the thick sand, we've outlined a more preferred e-bike route that meets up with that sandy road right at the cluster of pagodas!
Our Route Map:
(our stops are pinned + our must sees are starred on the map below)
NOTE: Water salesmen along this route are few and far between, so pack plenty of your own water and, when you find someone willing to sell you a bottle, buy two!
Our Must Sees:
Shwe zi gone Pagoda
Shwe zi gone was our very first stop on our e-bike and one of the largest compounds of the day! This beautiful, gold-leafed pagoda was packed with locals praying, applying gold leaf and just getting some shade from the hot morning sun.

It's fun to see the smaller, deserted pagodas, but it's just as beautiful to see the larger pagodas that are full of life with many Burmese (and, surprisingly, not so many tourists!).

Cluster of deserted pagodas at the end of the sandy road
We only had a semi-detailed map in our hands when we set off, so we didn't really know what to expect. But, after getting to the end of the sandy road we encountered, we were rewarded with my favorite stop of the day– a cluster of unnamed-to-me pagodas that were completed deserted and absolutely gorgeous.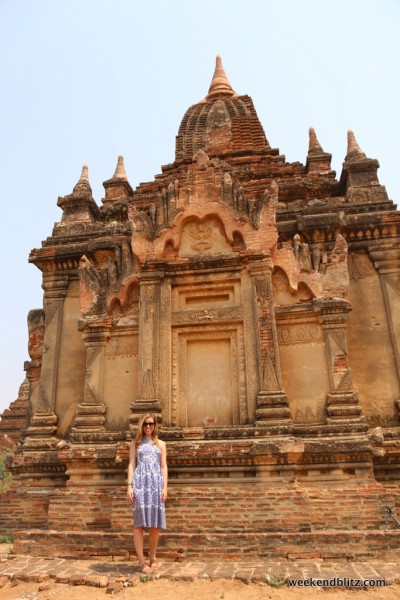 An oasis offering a cool drink
Our mouths felt like they were filled with sand with this point, so we were THRILLED to find this cafe at the entrance to a small village! We also checked out their silver shop and drove into the village to see some signs of daily life.
Thisa-Wadi Pagoda
This pagoda is all but deserted AND you can climb to the top! You'll find not one but two staircases (they're very narrow!) and then one of the most spectacular views of Bagan with no crowds. You may even want to hang out here for the sunset and just avoid the crowds all together.
Sunset at Shwe San Daw Pagoda
Located just outside the walls of Old Bagan, this pagoda is one of the largest and is perfect for climbing to the top because of its multiple tiers. Be warned! This is the only place all day that we encountered hoards of other tourists. The pagoda is packed, but it truly is the best place to watch the sun go down! One more note about Shwe San Daw: it was the only place we were asked to show our Bagan entry ticket. We hadn't purchased one, but somehow they let us slip in… we're still not sure how!