Parc du Mont-Royal (Mount Royal Park) – Montreal, Québec
Parc du Mont-Royal (Mount Royal Park) – Montreal, Québec
After a fantastic meal at Schwartz's (link to review), we continued our trek on foot to the corner of Avenue des Pins and Rue Peel (link to specific address, I suggest opening on your phone when you're ready to go) to take a hike up Mont Royal and check out the park and view of the city.
All in all a pretty nice light walk on a beautiful day.
The steps were daunting, but not even a tenth of what we climbed to see a temple in Thailand–now that was grueling. At the top of the 200 hectare (appx 495 acres) park is a huge chalet–Chalet du Mont-Royal–with a nice, large viewing area that overlooks downtown Montreal.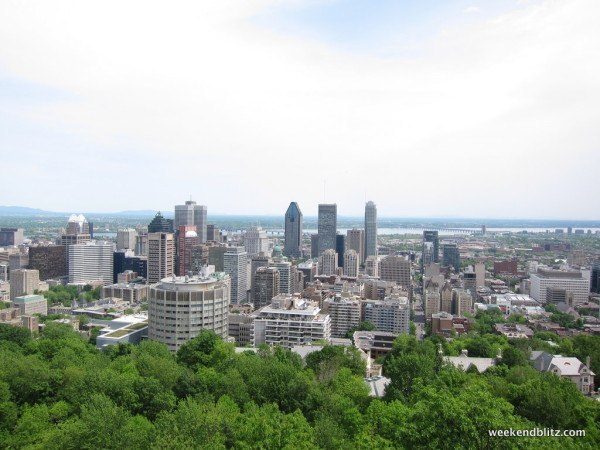 Given we did this on a Sunday in the late spring, the place was packed, but we managed to find a place to take the obligatory photo with the city behind us.
Spring/Summer Activities
There's no shortage of trails throughout the park with plenty of see along the way. Here's a handy map highlighting the walking trails:
The park is also home to some great cycling trails, head to cyclingfunmontreal.blogspot.com for more info: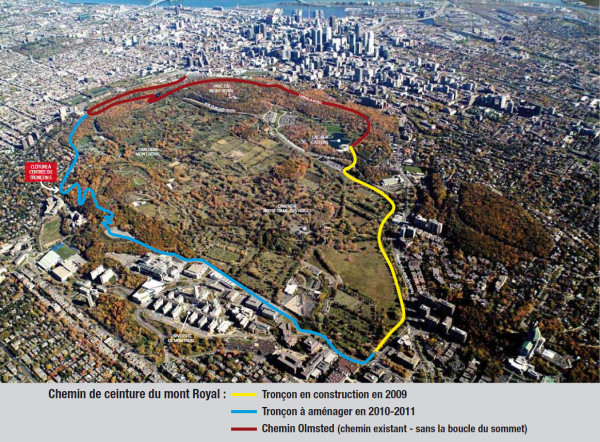 Winter Activites
Think that you'd just stay in for the winter if you live this far north? Well, leave it to the Canadians to find a way to entertain themselves in the miserable cold. In the snowy months, you'll find tubing, ice skating, tobogganing (sounds made up) and 22km of cross-country skiing!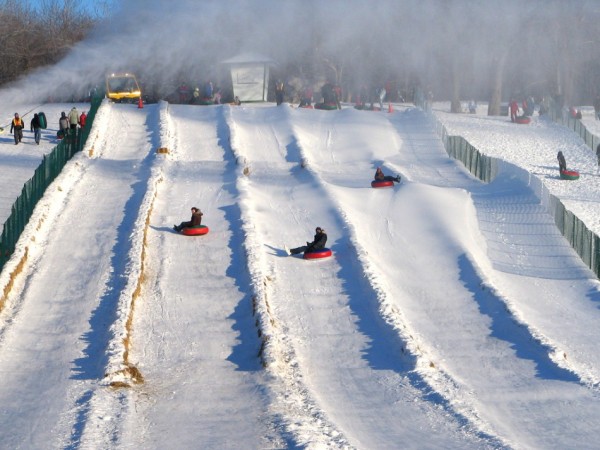 Park Mont Royal Self-Guided Walking Tour and Podcasts
Lemontroyal.qc.ca has published an excellent self-guided walking tour complete with audio/video podcast giving you a narrator for the tour! All of the contents can be found here: "Mount Royal, A Territory to Discover"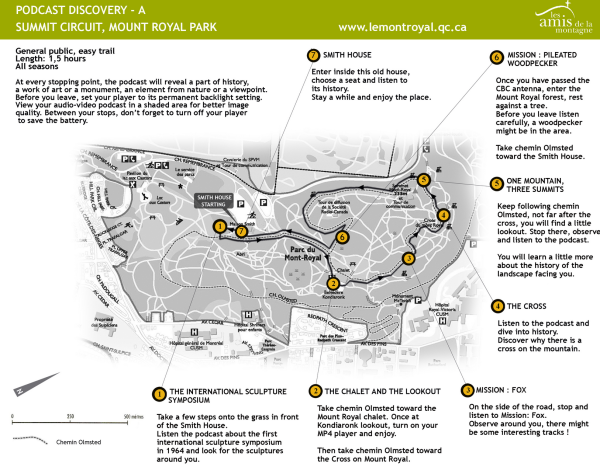 After the "super strenuous" hike—sorry McCown, I apologize that you refuse to pack appropriate footwear on every trip we go on—we headed down the hill/mountain to the Hertz Rental Car location on Alymer Avenue. We grabbed our Toyota Camry to drive for the next two days and confirmed with the attendant that we could leave the car in their lot for free overnight until we were ready to hit the road Monday morning–thanks, Hertz!