Mandalay Palace
Mandalay is Myanmar's second largest city, home to roughly 1.5 million people and steeped in Burmese history. Boasting a reputation of being Burma's cultural + educational hub, the city is often overlooked by tourists who are more interested in relaxing at Inle Lake. This bustling city offers a look into Burma's past – before the tourists + even before the Brits' arrival.
One of the city's main attractions is Mandalay Palace, a walled and moated "city" that now hosts military officials and families. When you're walking around the city, it's hard to miss this huge complex, smack in the middle of the city and surrounded by a huge moat and gigantic walls. There's only one bridge to enter and a long dirt road once you're inside the walls, but the formidable palace is a site to see and worth the extra long trip to its center.
Like much of Myanmar, the local people live just on the outskirts of these royal and holy sites. Vendors are selling waters, cokes, sugar cane juice and tchotchkes on the steps of the pagoda — spirituality closely mixed with the secular — but, isn't that how life is meant to be?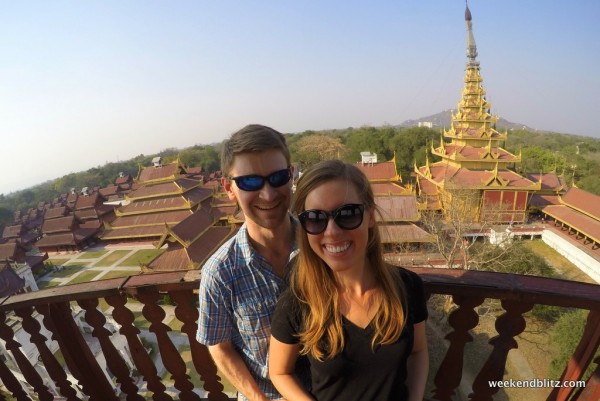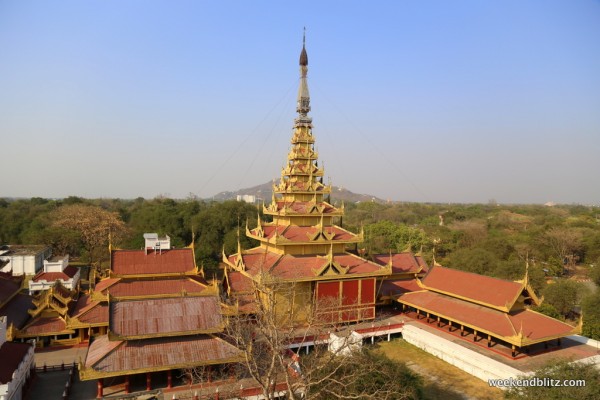 The palace was built in the 1850s and was the seat of the last royal capital before the city– and the Burmese — fell to British rule.What you're actually seeing is a 1990s reconstruction of the palace, as most of it was bombed during World War II by the Allied Forces. It's not really what you think of when you think of a "palace." It's nothing like Buckingham Palace and certainly not as over-the-top as Bangkok's Grand Palace. Nevertheless, it's a peaceful, quiet, fort-like compound, surrounded by 40 small, timber buildings and a small watch tower that offers a good view of the palace grounds.  The most impressive part is the throne room, which also holds many accouterments of gold cups and gilded royal possessions. Most other rooms are empty, but King Thibaw's bed is on display in his "bedroom."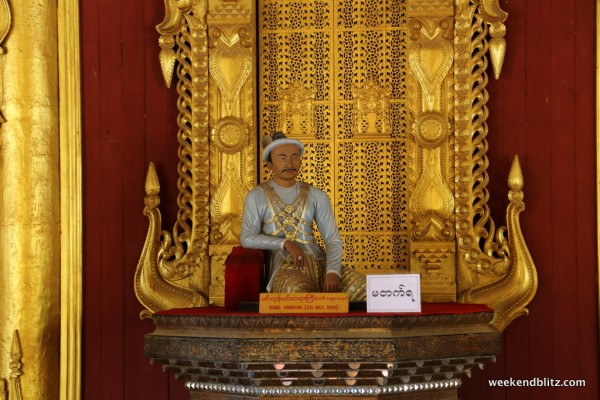 It's no Shwedagon Pagoda, but Mandalay Palace offers a decidedly different look at Burma's varied history. It may not be 2,600 years old, but the palace is saturated in history, nevertheless. And, it offers a nice view of the town — that is, until you catch a glimpse from the top of Mandalay Hill (make that your next stop!).