Lufthansa First Class Lounge Review – Frankfurt-FRA Terminal B
Even though we had a full night's layover in Frankfurt (see our adventures in Frankfurt here), Jeffrey casanova'd our way into the First Class Lounge at Frankfurt's airport, duh. Be forewarned that we had just visited the Lufthansa First Class lounge in New York-JFK and this post will make lots of comparisons: Lufthansa First Class Lounge – New York-JFK Airport.
Frankfurt Airport is one of the three mega-hubs in Europe, with more than 52 million passengers/year, 60% of which are Lufthansa travelers (that's about 100,000 Lufthansa travelers per day!).
Given the above stats, it's not surprising that they're a bit stingy with access to the true First Class lounge. In fact, here is the short list of ways you can gain entry:
Passengers with a same day Lufthansa or Swiss First Class tickets
For those traveling on other Star Alliance airlines, even in First Class, you'll get the secondary treatment and have to go to the Senator Lounge. Even though we weren't technically traveling on a "same day" Lufthansa First Class ticket, we managed to be a bit pushy and get in anyway. At the lounge reception desk, we passed over our Thai Airways First Class tickets for the flight departing in a few hours. She scanned them and said, "so sorry, but this lounge is for Lufthansa First Class passengers only, you'll have to go down the hall to the Senator lounge for partner flights." I explained that we had arrived on Lufthansa First Class and we were simply connecting in Frankfurt-FRA and handed her our boarding passes from the prior day. Upon scanning them she said that, because the tickets we not from the same day, we wouldn't be allowed in. I further explained that, due to the weather in New York, we were "forced" to depart a day early and also had a forced overnight layover in Frankfurt and that we should have actually arrived on a same day Lufthansa flight. She acted as if we were the first ones she'd ever encountered in this predicament. After chatting with her colleague, she apologized profusely for the mix up and led us in.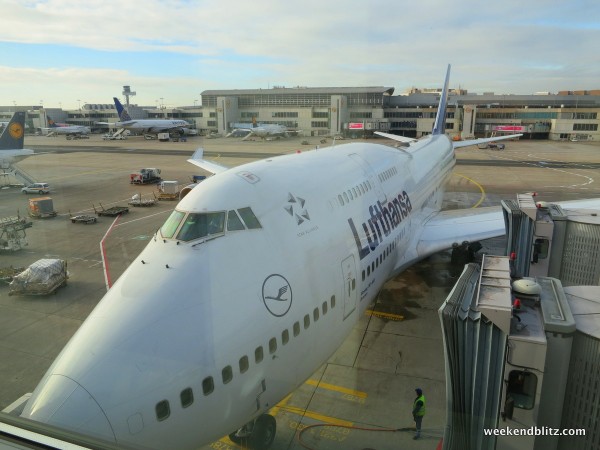 It was a rather large lounge with an average amount of people– definitely not over-crowded like many lounges we've visited. There were many options of where to sit:  close-quartered comfortable chairs, a business area, plush leather chairs to give individual travelers their own spaces.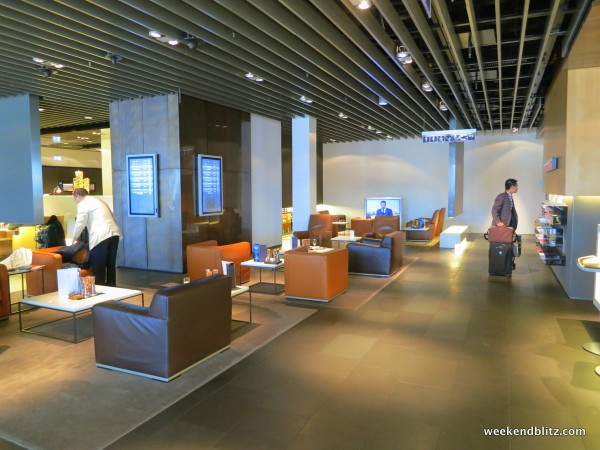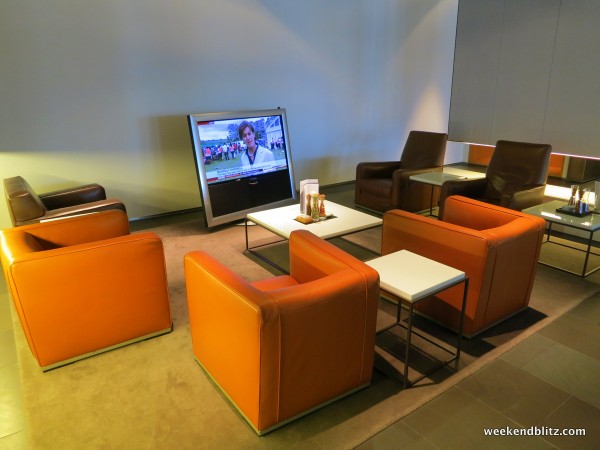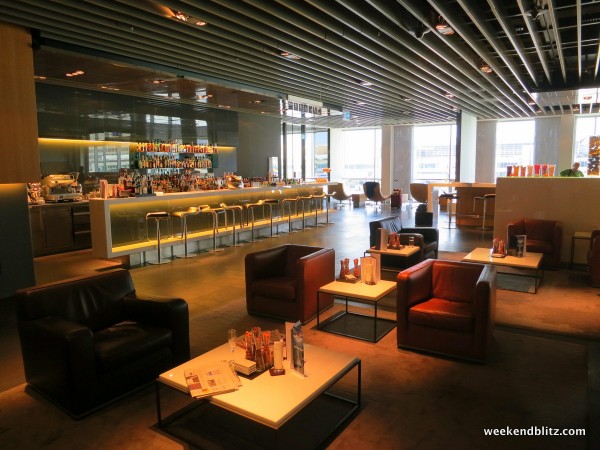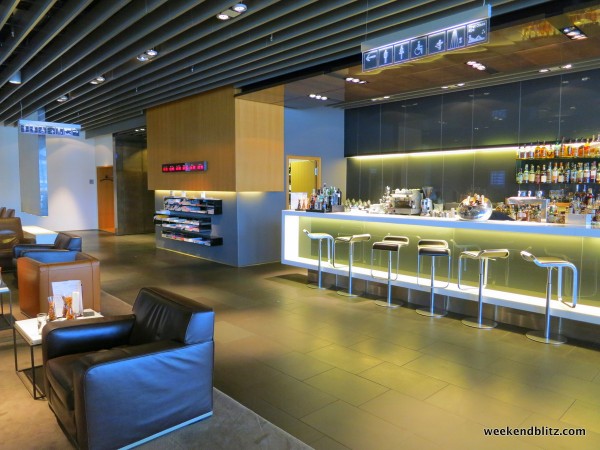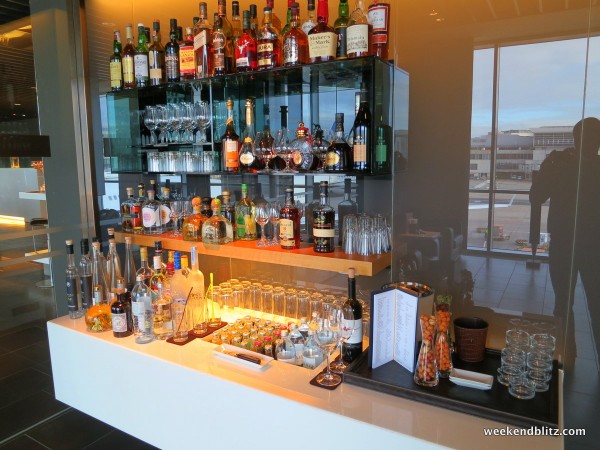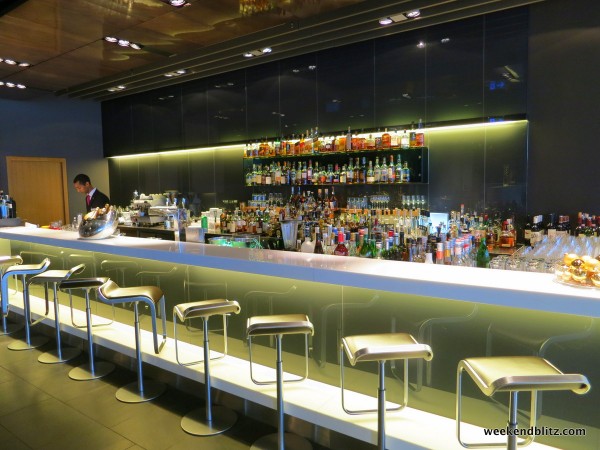 Of course, we headed straight for the food area. Whereas many other lounges have food buffets and then you can sit wherever you want, this lounge has a distinct food area, where the buffet and tables are clustered together and there's not much eating going on in other areas of the lounge.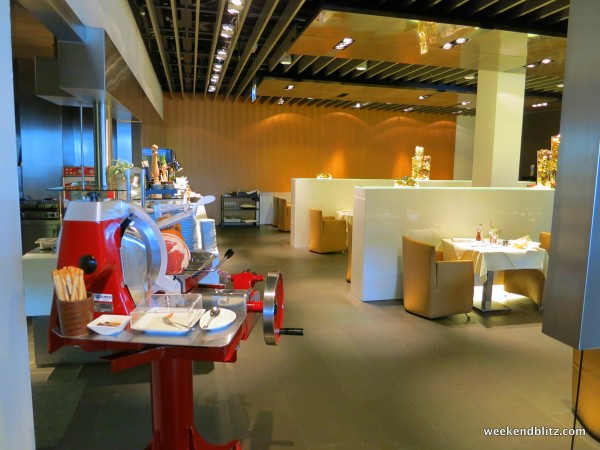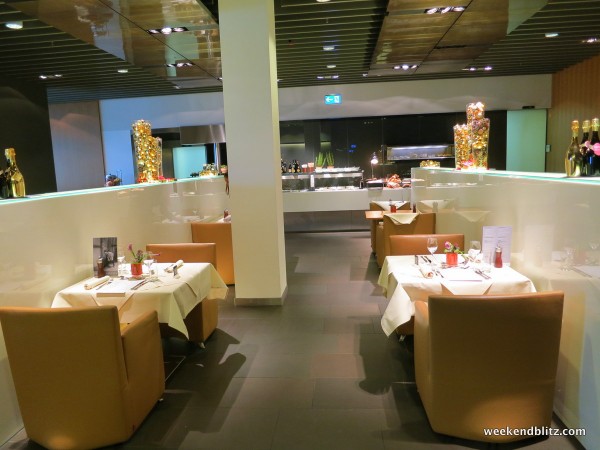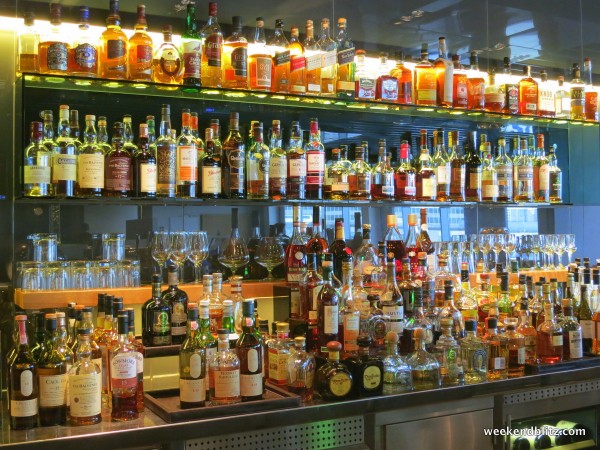 Lots of delicious foods were on display:  all sorts of cheeses, meats, truffled ravioli, Thai beef dishes, etc. These international varieties were all on the buffet; there was a special order menu, too. All of this was free, so the name of the game here (at least for us) is to sample as much as you can.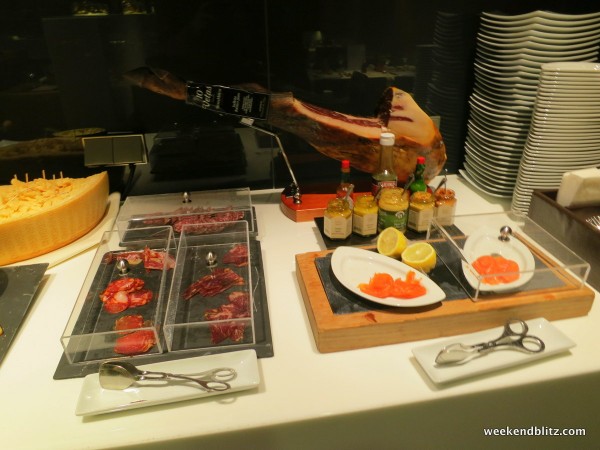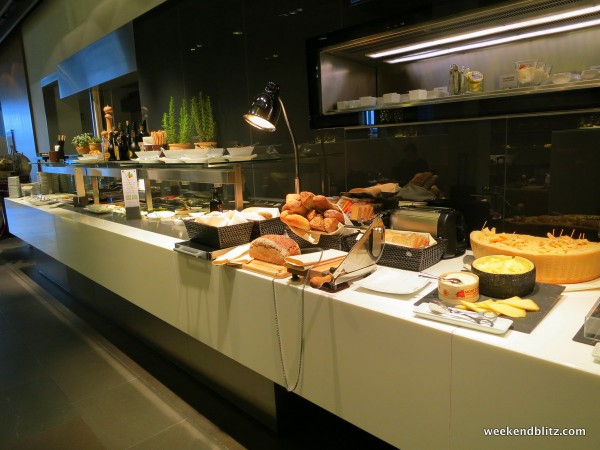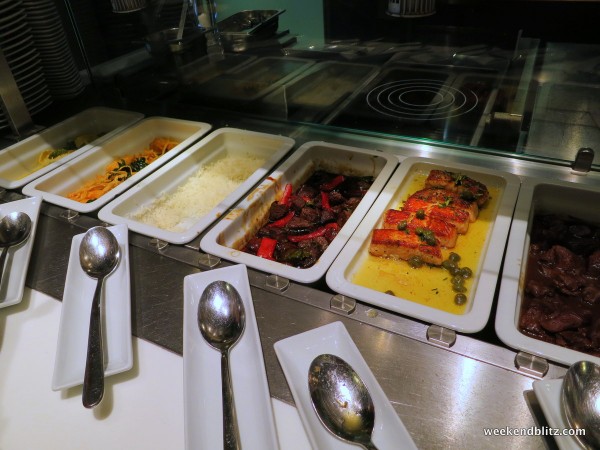 And, did I mention that there was a real real Jamon Iberico machine on display, alongside all the meats. It really made the meat selection seem a bit fresher… and mostly added to the decor and fun vibe, giving the food area a little more character.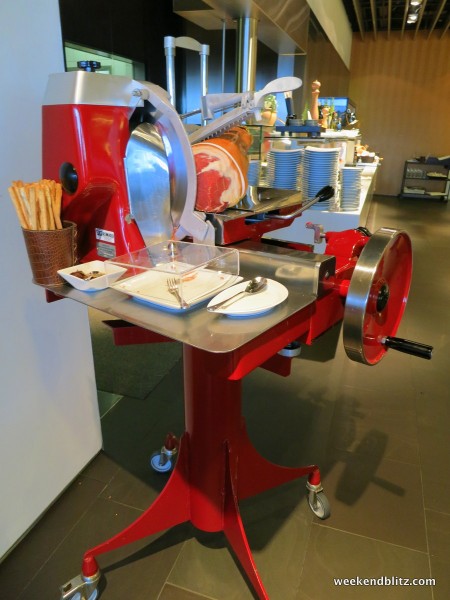 While I sampled the buffet, Jeffrey ordered the VEAL CARPACCIO with FOIE GRAS off of the special order menu.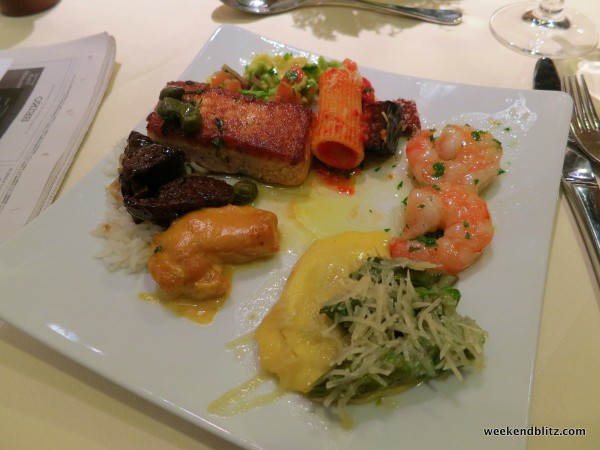 The food was delicious, plenty varied and had a great presentation, but, truthfully, this Lufthansa Lounge's food just didn't compare to the Lufthansa First Lounge at JFK. The service was impeccable at JFK and just seemed a bit more "first class" than at the Frankfurt lounge, which seemed just like a typical restaurant service.
Then, there was a dessert bar with all sorts and types of dessert:  cakes, pies, pastries, things I didn't recognize. You name it, it was offered here in this decadent selection. This food area really had an international flair — in case you were missing home (wherever that may be, to an extent), a familiar food was available.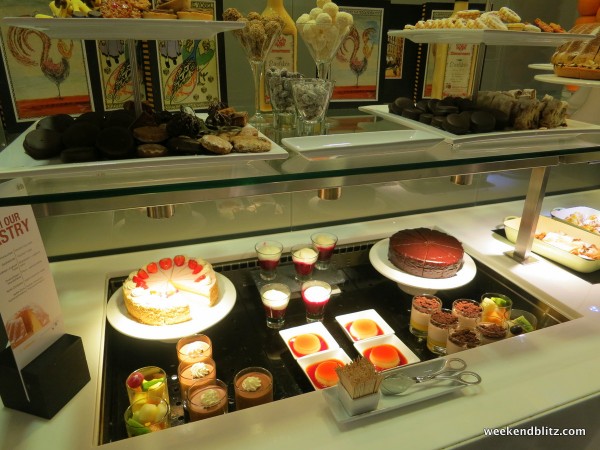 I still haven't mentioned one of the most intriguing aspects of the food area:  the water bar. Yes, a water bar. How elite is that? Bottled water from around the world…if you just can't accept the taste of other…water. #FWP all the way.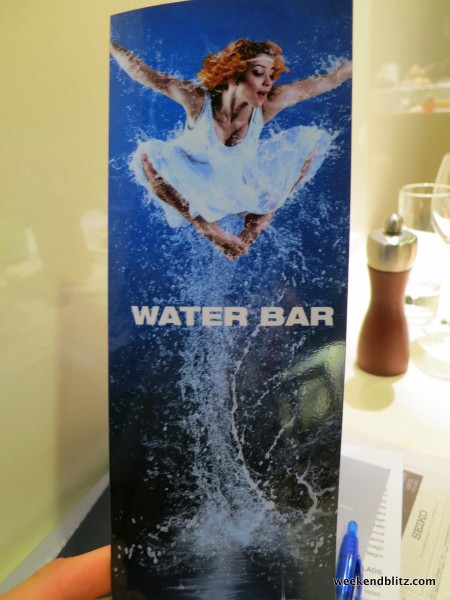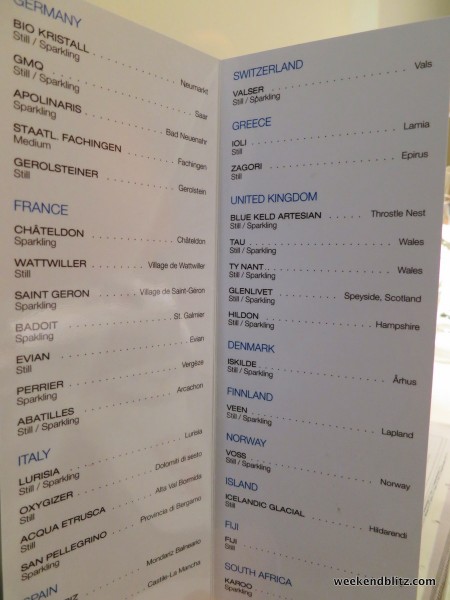 Although we weren't there long enough to do a true sampling, there was also a massage area if you had some extra time to kill.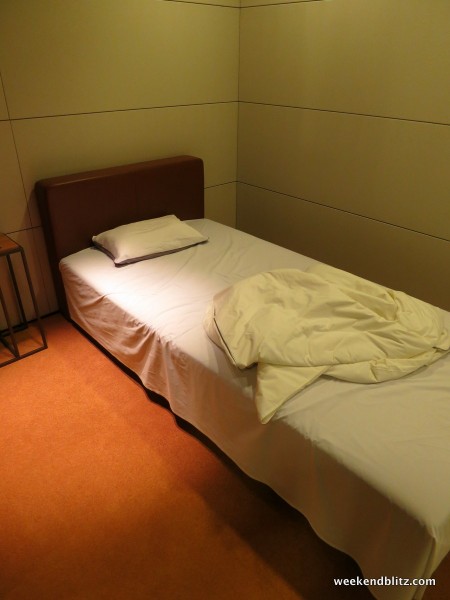 Now, it's time for your typical bathroom photos… no big deal. The best part is clearly the marbled shower (it'll make you forget you in an airport), or maybe it's the marbled tub? Toss up.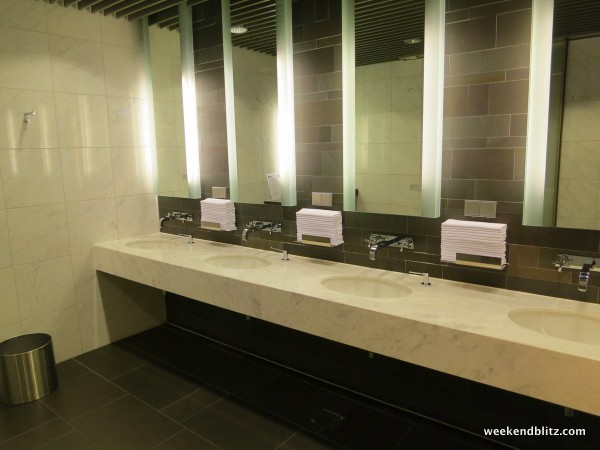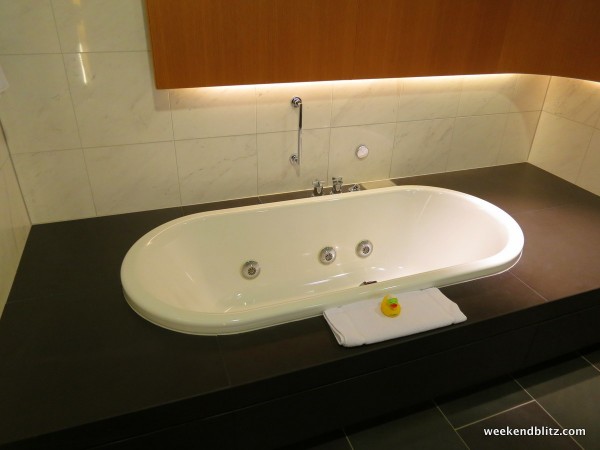 Lastly, tucked away in the huge lounge is also a Cigar Lounge… a lounge within a lounge. Luckily, they make sure all the doors are tightly closed so no smoke leaks out!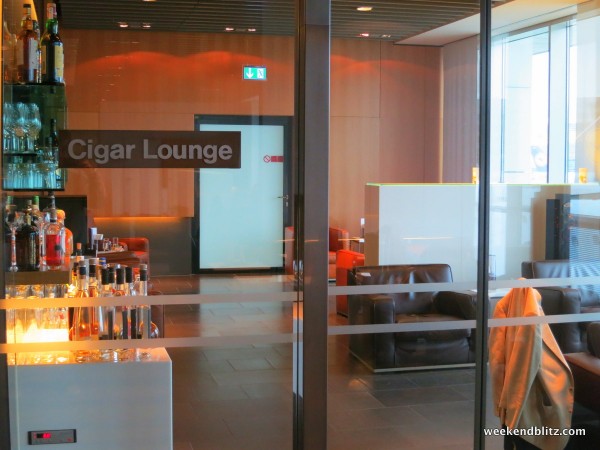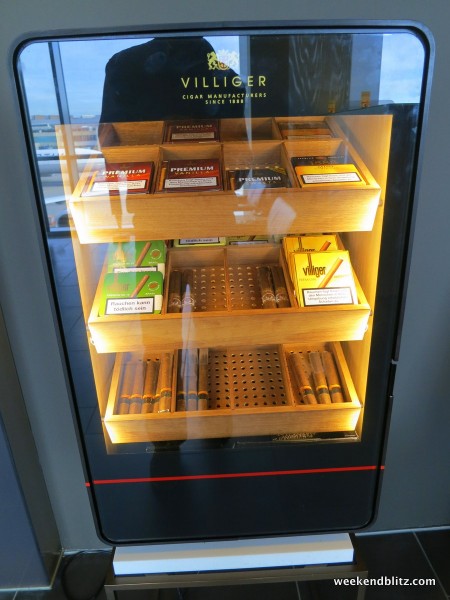 BOTTOM LINE (McCown):  Maybe it was the smaller, more intimate setting at JFK's Lufthansa First lounge or maybe it was just the adrenaline rush from just beginning our trip, but I'd say the JFK Lufthansa Lounge is hands-down better than the Frankfurt Lounge — from service to food choices — but the Frankfurt Lounge is still top-notch and offers more selections of food — and water — than most other lounges I've been lucky enough to visit.
BOTTOM LINE (Jeffrey): I completely disagree with McCown's assessment and can say that the Lufthansa First Class lounge in Frankfurt-FRA was much better than the New York-JFK lounge. I mean with a full Cigar Lounge, water bar (how over the top "first world" is that?) and a jamon iberico machine, how can you go wrong? The JFK lounge might have felt a bit more personal given that they might only deal with a few dozen First Class passengers a day, but the over-the-top amenities in Frankfurt more than make up for the less personal touch.