Lufthansa First Class Lounge – New York-JFK Airport
Lufthansa First Class Lounge JFK After our heads were left spinning as we realized we a) had narrowly missed getting stuck in the winter storm taking over New York and b) now were leaving a day early for our honeymoon AND flying Lufthansa AND somehow had gotten Lufthansa First Class Award seats (Jeffrey tells me this almost never happens–Check out: Finagling our way into Lufthansa First Class with VERY last minute changes), we found ourselves walking towards the Lufthansa Lounge at JFK.
When we walked in, the front desk attendants were expecting us ("the honeymoon couple") and seemed genuinely excited to see us. The Lufthansa Lounge is broken up into three levels: the Business Class area of the Lounge is downstairs, right past the check in desk. On the second level, they have the Senator Lounge, which is for Star Gold Members and First Class passengers. Then, the third level is the dining area for First Class passengers only. The friendly front desk attendants whisked us right past the first two levels and escorted us onto the nearby elevator and dropped us off upstairs on the third level, where the spread of serve-yourself-food was tantalizing. Jackpot. And our heads were still spinning.
Picture any typical airport lounge and then multiply your expectations by 100. At least. First of all, we were the only people in the First Class area of the lounge, a semi-private dining area with seats for about 20 people. Then, we were seated at a table with a white tablecloth and quickly learned that, at 10pm, we better be ready for a five course meal… to then prepare for our five course meal onboard our flight a few short hours later. Our very own waiter was so friendly and very eager to please. He, too, caught wind that it was our honeymoon and immediately brought us rose champagne to celebrate! #fancy And, the A+++ service continued throughout our entire meal.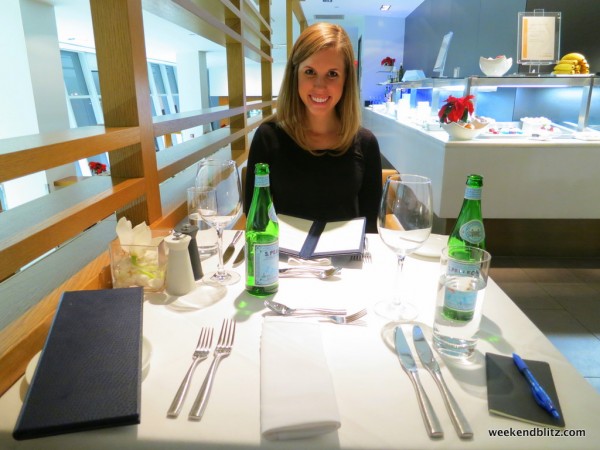 Once seated, our waiter came to take our drink orders and offered us a menu. Besides what they offered at the well-stocked buffet, you could also order a small-portion, à la carte dishes by request. Although we weren't very hungry, we couldn't pass up the opportunity to try everything on the buffet and something off the menu, too. It's probably about this point in the evening that they could tell we were on award tickets and not actually paying for the rest and relaxation that comes with a paid First Class ticket. The good news is that, now, we can tell you that everything, whether you choose the buffet or à la carte or both, is top caliber and certainly does not fit into any description of airport food.
Jeffrey ordered the ROASTED MARINATED PORK LOIN, which came with a goat cheese-rosemary bread pudding. It was excellent and the goat cheese and rosemary paired with the bread pudding texture was exquisite. No disappointments yet.
I went with the WILD MUSHROOM RISOTTO with roasted cauliflower, basil and mascarpone – because I can never pass up a mushroom risotto. Although the mushroom flavor was milder than other mushroom risottos I've tasted, I really enjoyed it but had to resist filling up on it because I just had to try so many other things!
Now, for the buffet…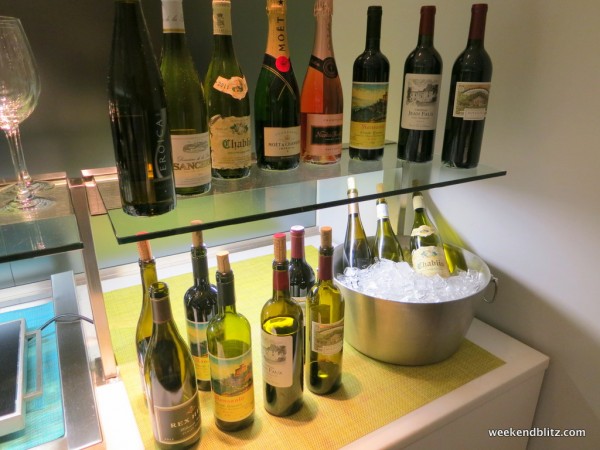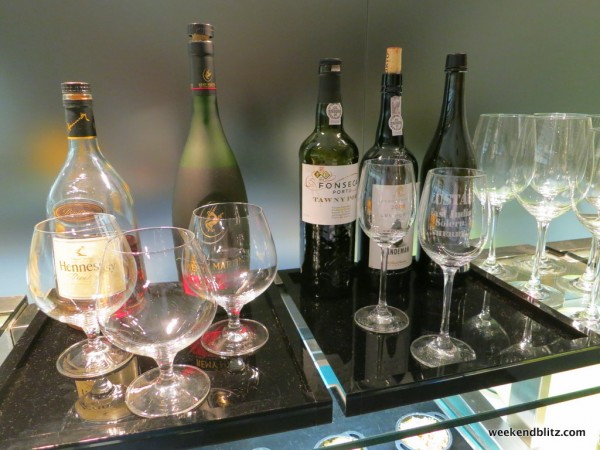 THEN… As if that weren't enough food to literally feed an army, AND if you just didn't feel quite satisfied with the dessert options on the buffet, you could order a dessert off of the menu. So, when in Rome, right?
BOTTOM LINE:  If there's any possible way that you can find your way into this lounge, it is far and away the very best lounge we've ever visited. The exquisite service is matched only by the way-above-average "airport" food.