Did you know? Renewing Global Entry Memberships
It's no secret that the TSA wait lines are historically out of control right now and are forecast only to get worse throughout the summer. A quick Google News search on "tsa wait times" reveals 120+ articles that have been written in the past 30 days on the subject: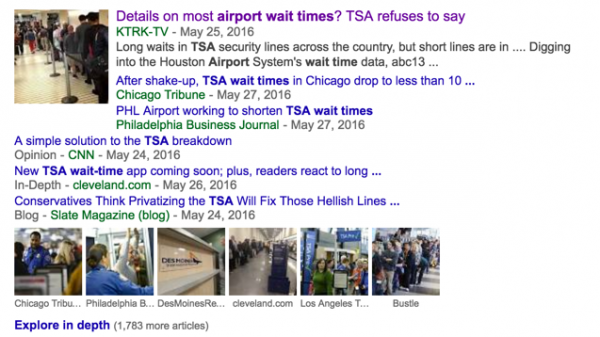 "So far in 2016, more than 70,000 passengers have missed flights and over 40,000 checked bags."
"TSA airport incompetence hit an all-time high this year."
"The TSA has achieved breathtaking new levels of inconvenience in 2016, with wait times sometimes as high as 120 minutes."
The best way to beat the long lines this summer is to have access to TSA Precheck, which is obtainable on of the following ways:
TSA Pre✓ – $85
Global Entry – $100
SENTRI – $122.25
NEXUS – $50
U.S. active duty military, National Guard and reserve members
DoD civilian employees and certain other federal officials, such as those with certain security clearances
I think by far the best way to get TSA Pre✓ for 5 years is by applying for the CBP's Global Entry Program. Best of all, many credit card companies will refund you the cost of your Global Entry fee ($100)! Here's a list of credit cards that participate: How to Get Free Global Entry.
---
How to renew your Global Entry status
The Global Entry program has been around for 8+ years now, and since the initial application to the program only lasts for five years, many passengers will be coming up for renewal soon. Fortunately, renewing is a breeze!
Head to the CBP's website to start the renewal process: https://goes-app.cbp.dhs.gov/main/goes
Once you're all logged in, you should see the option to renew your existing membership

The program will have most of your data saved; you'll just need to fill in any updates such as countries visited in the last five years, account for every place you've lived over the last five years and detail current and past employers.
Wait! Oh yes, the fun part, waiting. Plan to wait for a few weeks, I applied on 5/18 and received an email on 6/4 that my account had a status change, so it took 2.5 weeks to hear back.
Typically one of 3 things will happen:

You have been approved with no additional requirements. Congrats!
You have received a conditional approval, and will be required to schedule an interview within 30 days of receiving the email
Your application has been denied. You can take steps to resubmit or appeal. Since it's a renewal and you've already been approved once, I would imagine this is a rare result. Or it would at least be expected.
When I logged into my account, I found the answer I was hoping for: "We are pleased to inform you that your U. S. Customs and Border Protection (CBP), Global Entry program membership has been approved. You can begin using the program immediately."
And for the best news, I applied using my AMEX Business Platinum Card and found that my $100 application fee was returned within 3 days.

Do you have to schedule an interview for a Global Entry renewal?
Maybe. See # 5 above; there's a good chance that you WILL NOT have to be interviewed. I applied and was approved without a follow-up interview.
How long is the second Global Entry pass valid for?
If you are approved for your renewal immediately, without the need for a 2nd interview, the validity of your pass will be for five years from your next birthday. So anywhere from 5 years + 1 day to 5 years + 364 days depending on when you renew.
Need more info or have specific questions? 
Try this Flyertalk thread: Global Entry – renewal after 5 years coming in a few months