Inle Resort & Spa: Photo Gallery and Review – Inle Lake, Myanmar
Inle Resort & Spa: Photo Gallery and Review – Inle Lake, Myanmar
If one word describes Inle Lake as a whole – and, more specifically, Inle Resort & Spa, it's peaceful. Time stands still as you find yourself captivated by the Inle fisherman on the lake and the morning fog slowly giving way to the mountains. We spent most of our time at Inle Lake relaxing and enjoying the beautiful views. The slower speed was welcome after spending time in the "big city" of Yangon with honking cars and busy people.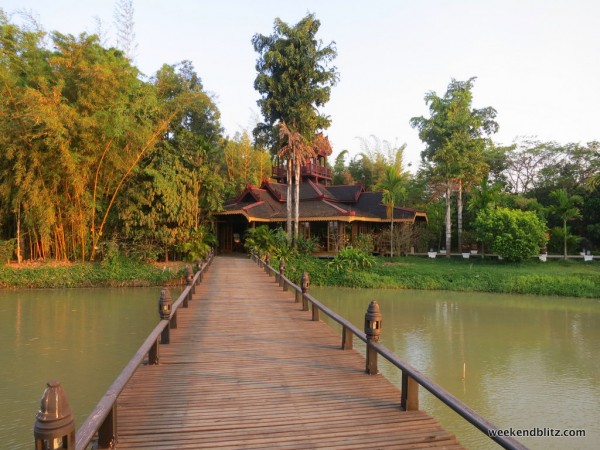 After about an hour's drive from the airport, we arrived at Inle Resort & Spa, which is right on the lake's edge. It's just off the main road of the "town" and feels very secluded. After we were greeted by the manager when our car dropped us off, the driver pointed us towards the check-in desk and bid us goodbye. The check-in desk overlooks the lake, so we were able to walk past the main restaurant as well much of the hotel grounds on our way to check in. The hotel is sprawling, with many covered walkways and plenty of lush greenery. It's a huge property and – at least while we were there – there's not many guests at any given time, so it makes you feel like you have plenty of space.
AROUND THE HOTEL
Our favorite part of the hotel was the spectacular view of Inle Lake. The main dock had several smaller tables jutting out into the water, so there was plenty of space for guests to sit and watch the sunset over the lake while the boats head home for the day. It was such a perfect way to end each evening, and we found ourselves taking pictures of the beautiful sunsets each night—each sunset outshined the previous night's.
Although there was a stocked tiki bar, we never saw a bartender or any guests lounging in that area. Most guests congregated either in the restaurant or on the dock to enjoy the views.
The one negative about this hotel was their lack of a pool. It's billed as a resort, so I'd venture to say that most of the guests come here to relax and enjoy the slower pace of life. Although they do feature a spa, we're not as into spas as most travelers might be, so we found ourselves a little bored by Day 4 – if you're not going on a lake excursion, your options are pretty limited as far as daytime activities at the hotel.
ROOM
Jeffrey surprised me and booked us in an over-the-lake bungalow! Of the 60 rooms at the hotel, 18 are Royal Villas with a Lake-Front View, 20 are Royal Villas with a Private Pond View, and 22 are Garden Cottages.
We were lucky to get one of the better "Lake-Front Views" and were just a few steps from the sunset dock – but we got our very own private porch made just for sunset-viewing. We spent hours of our days on the porch—to say it was serene is the understatement of the century.
Not only were the porches freaking awesome, but the room was kind of jaw-dropping, too. We're coming from tiny little windowless hotel rooms, so the 80 sq. meters (861 sq. feet) seemed like a palace to us! The dark wood was soothing, and the views out of our windows were phenomenal. Let me just say again: our rain shower was bigger than our previous hotel rooms, so we were in heaven! The big, luxurious suites were intimate, romantic and – again – peaceful. I could live in this place forever.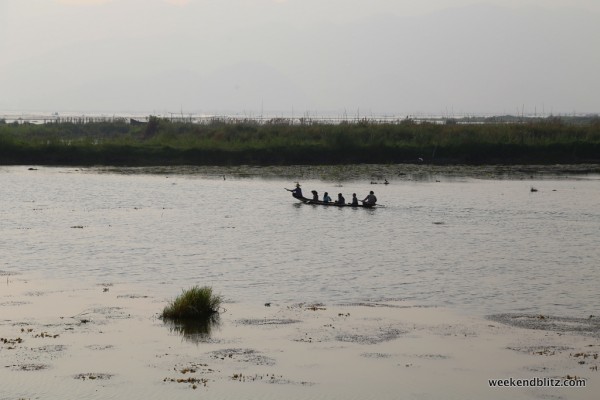 WI-FI
One of the most important aspects of our stay at this resort was the wi-fi, which was spotty to say the least. Fortunately, we were able to get our work done, but we had to wait until parts of the day when other guests weren't uploading photos… i.e., right before or after dinner time, it was nearly impossible to get anything done. I think it was a problem of too many users and not enough bandwidth.
RESTAURANT
The dining room is centrally located and enormous. Some may say it feels empty even when all the hotel guests are eating dinner, but we loved the privacy it offered—you didn't feel like you were rubbing elbows with the other diners.
The restaurant is open 24 hours/day, and prices vary from a little high to extremely reasonable depending on what you order. Because the hotel is down a long dirt road, most of the hotel guests eat breakfast, lunch and dinner in this restaurant, so it has a good bit of variety. They have a few fantastic Burmese dishes, like our favorite dish: Shan Noodles, that provide an enormous amount of food for just $5 – traveling on a budget? For $5 + $1 for water + 10% for tax/tip, two people can eat for $6.60 and have plenty of food, especially given that bread is provided with every meal.
The Shan Noodles were probably the best food we had in all of Myanmar, and we had to fight to keep from ordering them for every meal. Just enough richness and spice to satisfy and not enough to leave you feeling tired, we honestly looked forward to splitting this noodle bowl every day (and made ourselves try other dishes for our other meal, despite wanting to eat this 2x/day).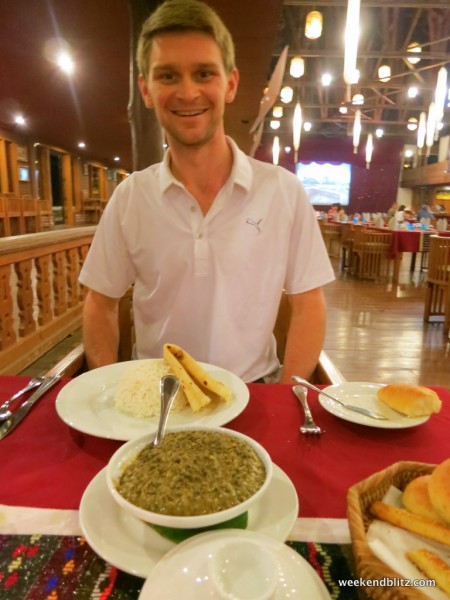 EXCURSIONS
Life happens out on the lake, so our primary activities were renting the boat and heading out to explore: check out our adventures here and here.
The hotel has a small stock of bikes that guests can rent for only $1/hour ($3/4 hours, $5/8 hours). While the village nearby is easily walkable, the bikes are perfect for exploring just a little further away – and Red Mountain Vineyards is the best destination. The hilltop vineyard is about 1.5 hours round-trip (not including stops). It's a relaxing place to grab a bite to eat and do a wine tasting (with four wines) for 2,000 MMK (~$1).
Nyuanshwe is the main town – and the best place to stay on a budget. It's got more of a hostel-type vibe, with young tourists walking the streets and the highest chance for a nightlife experience. In Nyuanshwe, we were finally able to find a sunscreen that didn't look like it would permanently bleach our faces (the Burmese like to stay very, very white, so "bleaching lotions" are popular). Almost all of the sunscreen for sale brags about it's "whitening" properties, so it's a little ironic that we were shopping for a sunscreen with a low SPF to get a bit darker. It's interesting to learn what different cultures seek.
NEARBY THE HOTEL
One of our favorite parts about traveling is exploring areas where the locals live. Eating where the locals eat, checking out what they do and see – these adventures are always at the top of our list when visiting a new place. We got the sense that most (if not all) of the other hotel guests stayed within the confines of the hotel at all times – not so for us. I think the hotel staff was shocked to see us trekking up the dirt road back to the hotel carrying armloads of bottled water that we'd purchased up the road for $1/bottle (the hotel was charging $3/bottle).
We found some cheap roadside restaurants where we popped in for lunches to switch things up from the hotel on some days. The people were (of course) friendly and welcoming – and many of the locals were pretty amused to see us coming in. While eating at these street restaurants, we saw many ox-drawn carts bringing the farmers to and from the nearby fields.
Walking nearby the hotel was pretty uneventful, but it was fun to see what's going on by the shores of the lake—we found out most of the activity is happening on the lake itself!