Exploring Istanbul: A Tour of Turkish Food
One of the many wonderful things about Turkey is the food that you find just about everywhere… street stalls, cafes, fine dining… it is all, without a doubt, the tastiest food. Just like the diversity of people, the food is a clash between Mediterranean, Eastern Europe and the Middle East. Couple Mediterranean food with Middle Eastern food and BAM: a sensory treat you just can't get enough of…
So, even if we weren't hungry, we were popping into every street stall getting a taste of everything:  stuffed grape leaves, olives, grilled corn, pomegranate juice – yes, anything and everything.
What we've experienced in many other countries held true for Turkey:  men will stand outside of their restaurants and basically try to seduce you into eating there. Cat-calling, singing…any salesman technique you can think of (and then some you can't think of), they'll use to pull you in. Typically (probably because we're just not used to the system), we believe that any restaurant that needs to lure you in probably is desperate. Because we've never tried one, we can't say one way or the other. Just an FYI of what to expect.
One of the few places not audibly demanding our business was MEAT HOUSE. It turned out to be a (shocker) delicious meal with a real mix of Mediterranean style and eastern kebaps. How can you go wrong, really? This was the first place we ate in Turkey and we were feeling jet lagged and groggy but still managed to stay up long enough to eat dinner. I tried the ARYAN (3 TL) which is basically greek yogurt in a liquid form. It's pretty popular and turned out to be available most everyone. The commercialized version was good but we heard the homemade version is even better.
Next, we tried YOGURTLU SEMIZ OTU (7 TL) which is "purslane" (an herb) with yogurt. Served as a starter, it reminded me a bit of eating tzatziki sauce off a plate, but much fresher.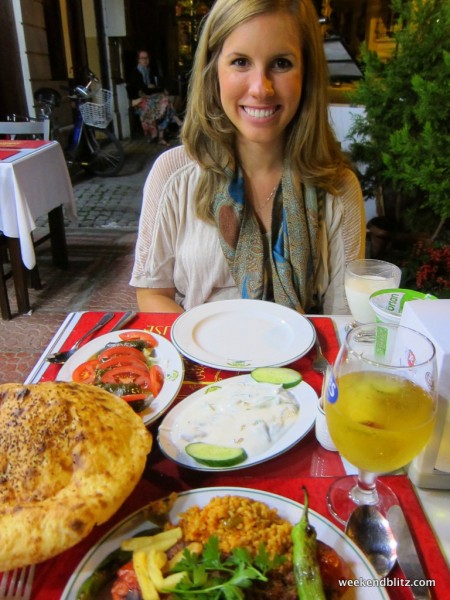 Next, we just had. to. have. the YAPRAK SARMA (8 TL):  stuffed grape leaves. I mean, y'all, can I eat these for every meal for the rest of my life?
ADANA KEBAP (13 TL) was up next and was a spicy kebap with rice, random salads, radishes, grilled tomatoes and green peppers. Seriously, you cannot go wrong with anything off the menu.
After dinner, we mosied around the neighborhood a little more and popped up to a rooftop to see what was going on… What a view! From the rooftop, we could see both the Hagia Sofia and the Blue Mosque lit up at night and what a skyline that makes. The waiter suggested RAKI as the drink of choice and I dived in — not knowing what to expect, Jeffrey had to finish my drink for me because it turned out to be an after-dinner liquor that tasted like liquorish. Disgusting. Similar to pastis in France — it is definitely an acquired taste and I was not about to begin acquiring it.
As far as street food, some of the best food we tried was purchased on the streets. While still not any match for Bangkok's street food, this was much better than any "fast food" you can find in the US. Freshly squeezed pomegranate juice was all over the place – sort of like hot dogs in New York. It isn't too sweet – almost bitter – but it is very refreshing and definitely worth tasting.
Another thing that was wildly popular from street carts was roasted corn on the cob. Seeing it all over, we finally bought an ear of corn and it was terrible. It tasted so hard that we couldn't even take a bite and it surely had been roasting for days just waiting on someone to buy it.
My recommendation: skip the corn and buy a kebap instead.  Nonetheless, street food is easy to find, good and cheap: three things that make a meal perfect. There are plenty of places to find a 3TL sandwich/kebap with bread, meat, tomato and pickles. And, it all tastes very fresh (with the exception of the corn!).