Etihad A380 First Apartment – Flight EY 460 Abu Dhabi-AUH to Melbourne-MEL – Part 1
Etihad A380 First Apartment – Flight EY 460 Abu Dhabi-AUH to Melbourne-MEL – Part 1
After spending a very enjoyable and luxurious 3+ hours in the Etihad Airways Flagship First Class Lounge – Abu Dhabi-AUH, it was time for the main event: The Etihad First Apartment!
BOOKING
We booked this bucket list flight using American Airlines AAdvantage miles for a total of 60,000 miles; this was before a major AAdvantage devaluation and now the flight would cost you 100,000 miles for the one-way route from the "Middle East" region to the "South Pacific" region. Furthermore, since we both have the Barclay AA credit card, we got a 10% rebate, driving the total price down to 54,000 miles + ~$79 in taxes each for the ~$6,300+ flight. We got even more value than that though since we arranged a 23 hours stopover in Melbourne-MEL before continuing on to Townsville, Australia-TSV in Qantas Business Class.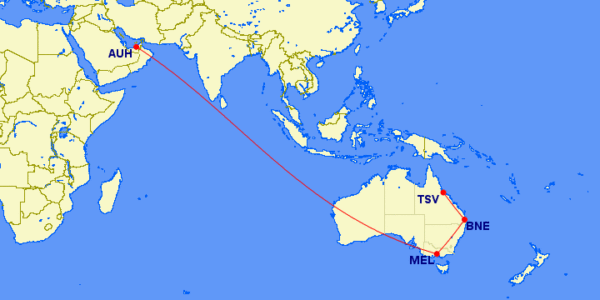 CHECK-IN
We were able to take advantage of the free Etihad Chauffeur Service from the Park Hyatt Dubai to Abu Dhabi International Airport for our Etihad flight.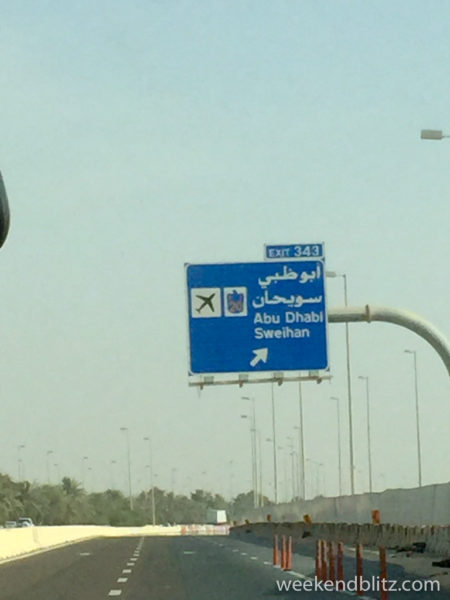 The trip took about 1.5 hours total.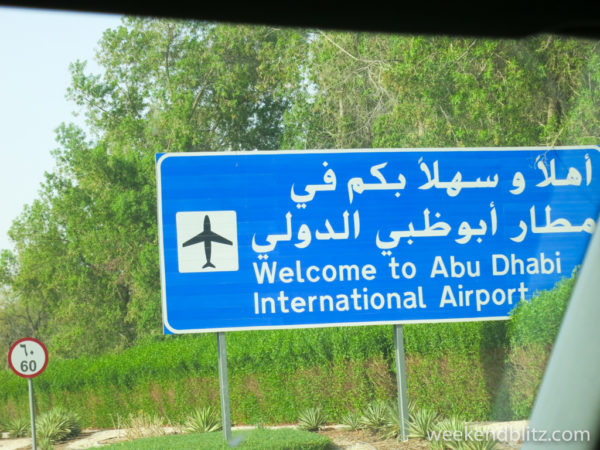 The airport has a dedicated First & Business class check-in area.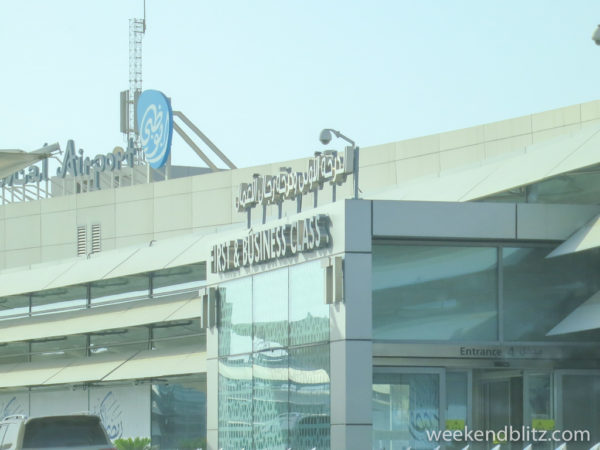 And so the experience begins!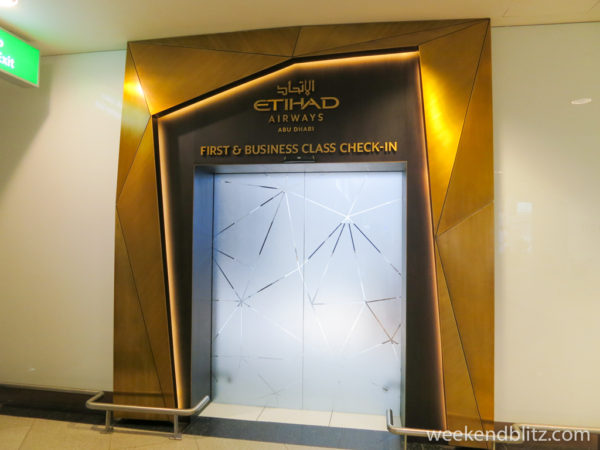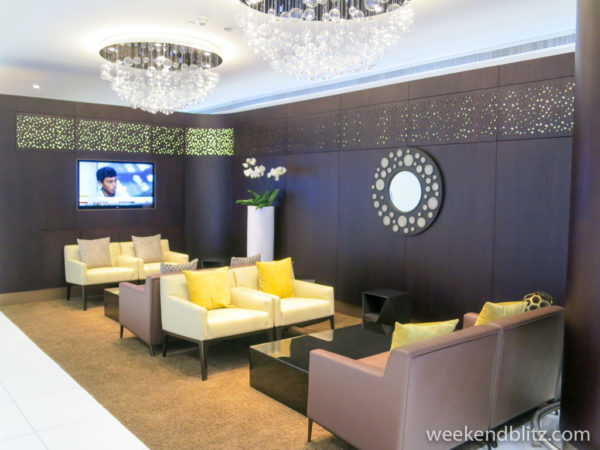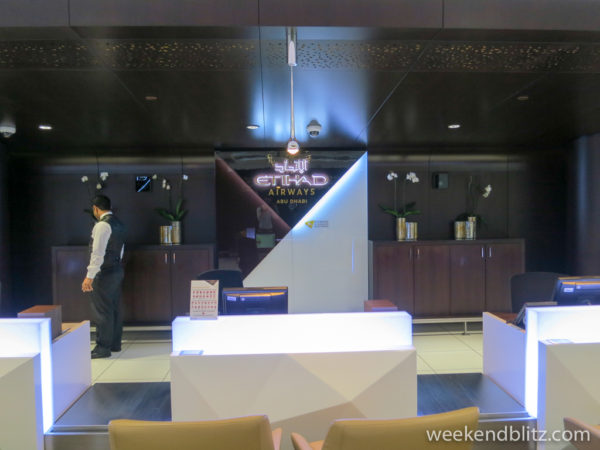 We left the lounge and made the (extremely) long trek to Gate 61 in Terminal 3, literally the furthest away from the Lounge.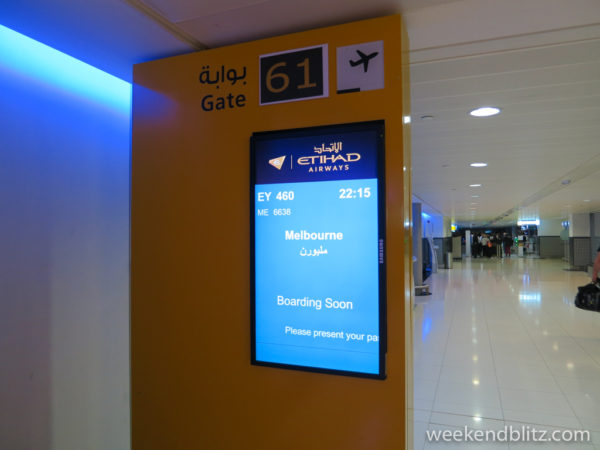 As we approached the gate area, they were doing a secondary document check: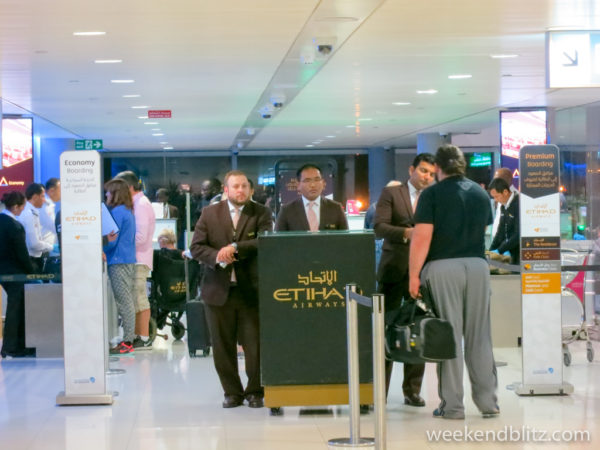 BOARDING
Knowing it would be dark at the time of boarding, we snuck a few pictures before hopping in the lounge: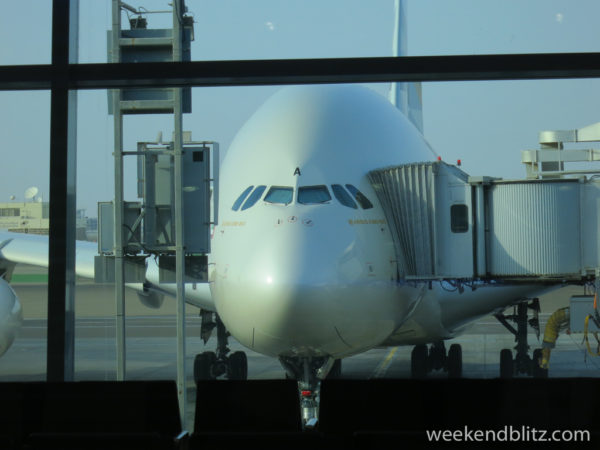 We made our way down (ok, more so really up since we were on top deck) of the long jet bridge to board the flight.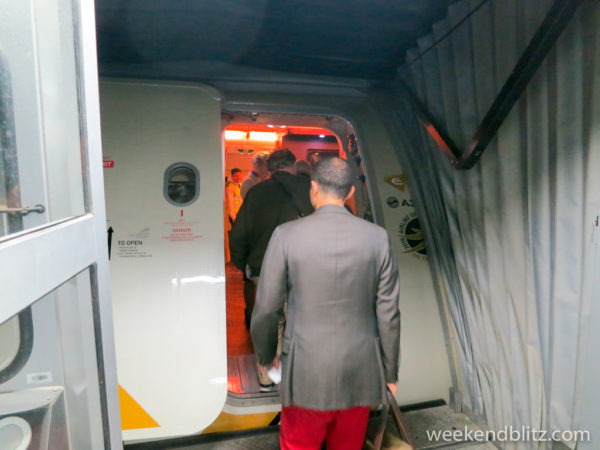 We took a left after boarding to find the First Class cabin: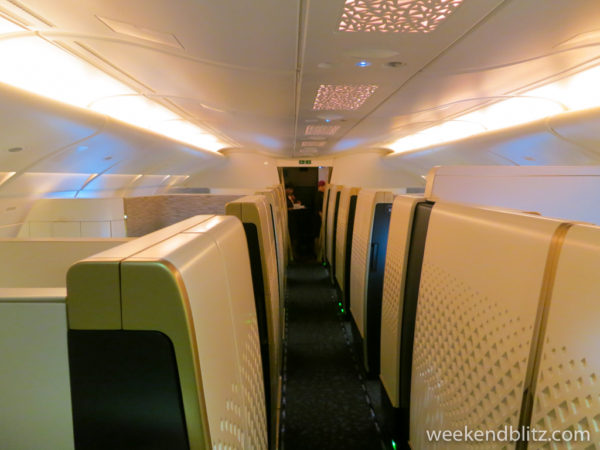 While I didn't necessarily need to be shown to my seat since I'd studied it online numerous times and been counting down the days to this moment, a flight attendant escorted us anyway. She showed us to our seats, 3K and 4K: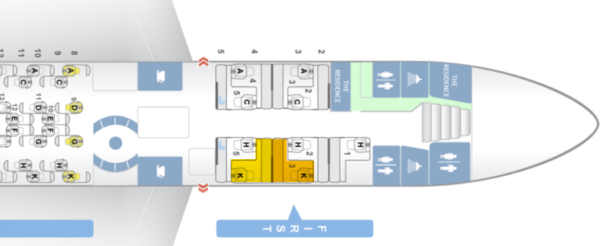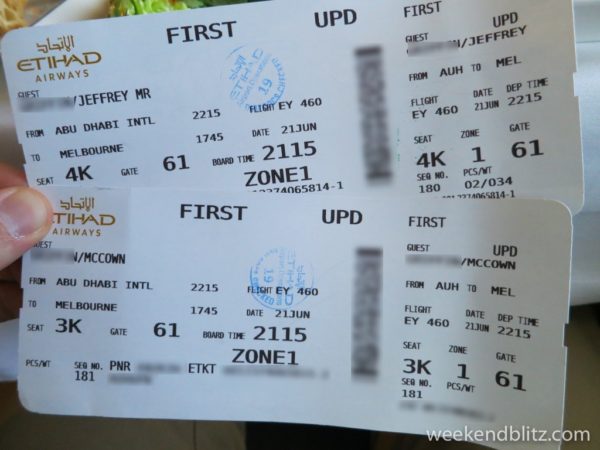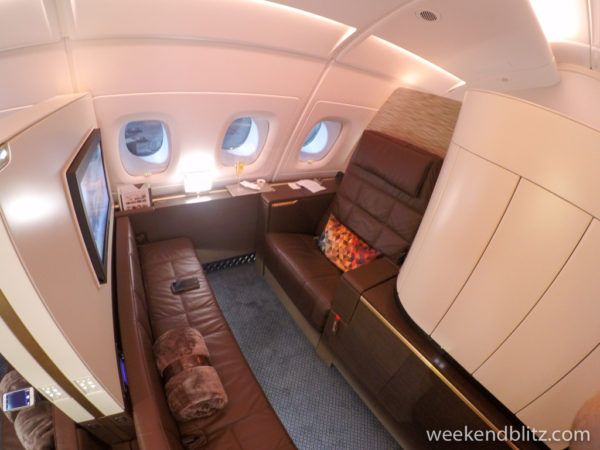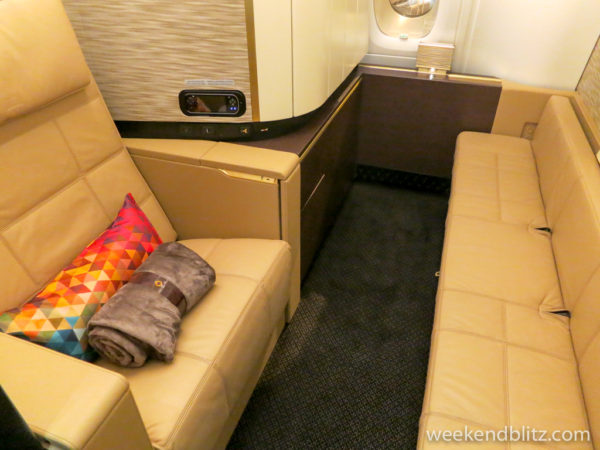 Of the 9 First Class seats (well, 10 if you include The Residence), there were just 2 other passengers aboard, so 4 of us total.
SEAT
The seat was, well, let me just type a direct quote from McCown as we got settled it: "OMG. There was what I expected and anticipated from reading many, many reviews and then there's the real thing. And let me just say, OMG."
The sheer size and space and privacy are unprecedented and staggering.
The big, leather seat is luxurious and makes you feel like you're visiting your grandfather instead of couped up on a plane.
The couch is perfect for having company over in your apartment. And then switched into a bed when you're ready to sleep.
I mean, it's realistically closer to a throne than a seat: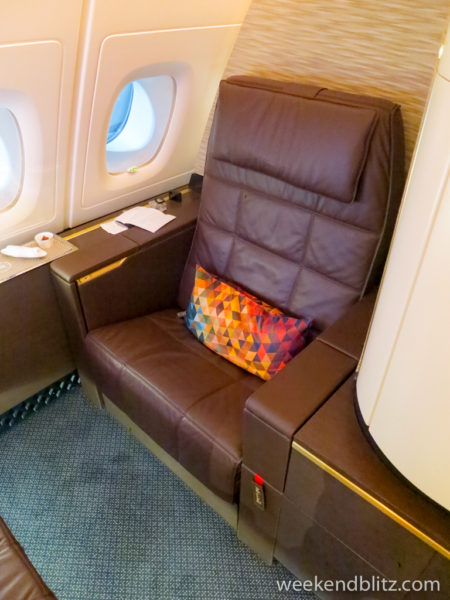 The actual seat featured a few tactile buttons as well as a touchscreen for a variety of controls.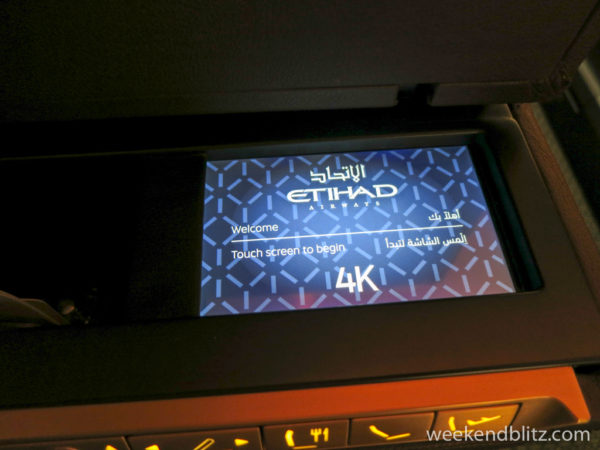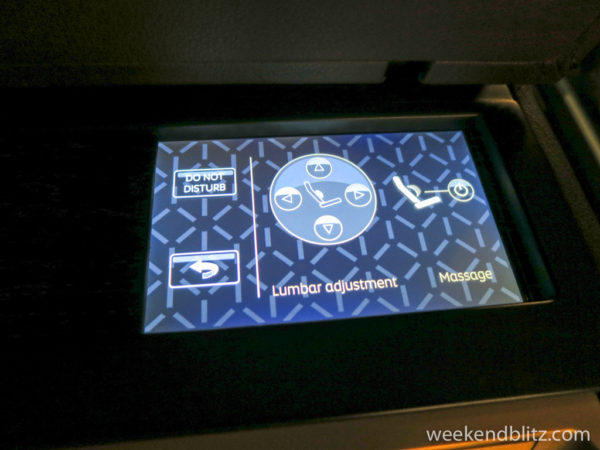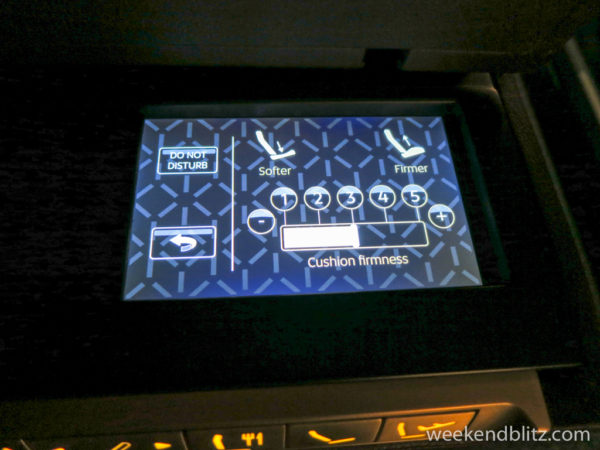 It was all really a sensory overload. The tiny compartments, sliding doors and gadgets and gizmos to check out will leave your head spinning.
Here are just a few of the storage compartments: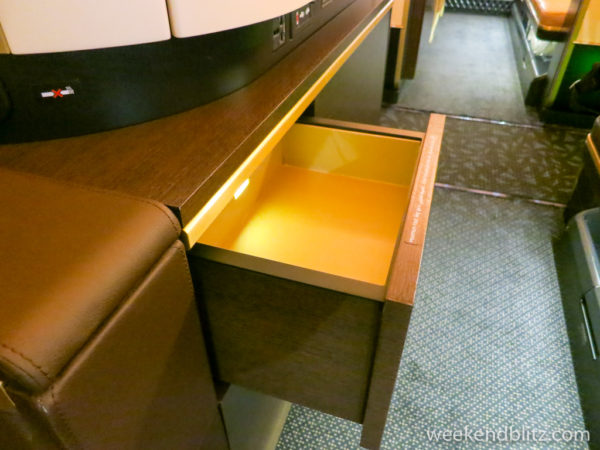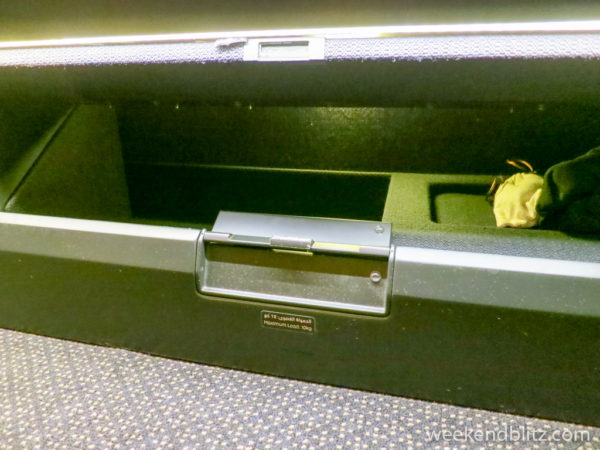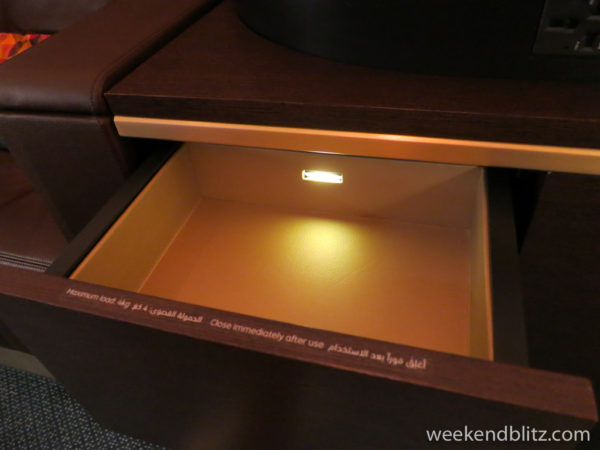 With the A380 being a nice, new modern aircraft, it did not lack power/USB outlets:
And it wouldn't be a true "apartment" without your own fridge stocked with a few soft drinks and waters: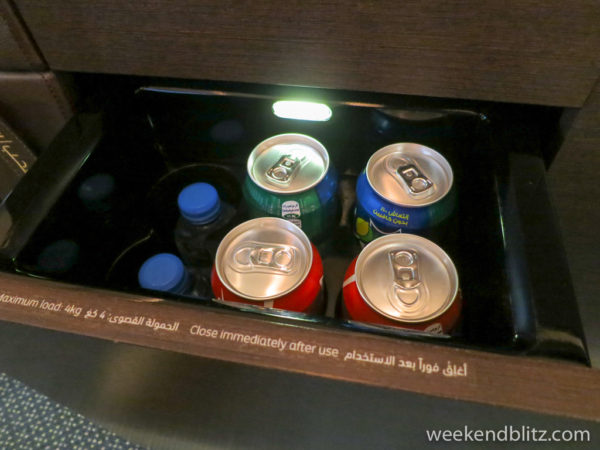 Or without a personal vanity table: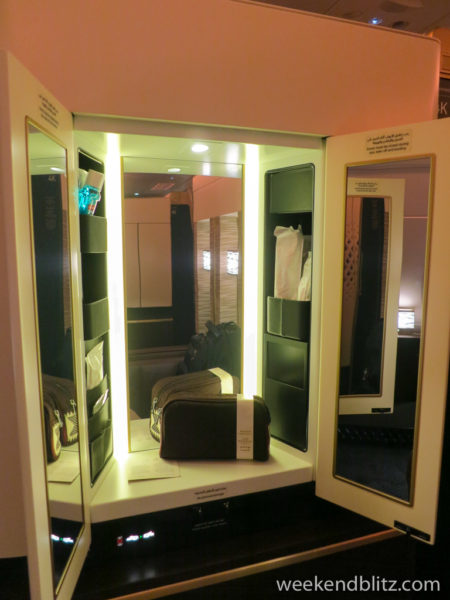 The vanity was loaded down with the amenity kit and various toiletries: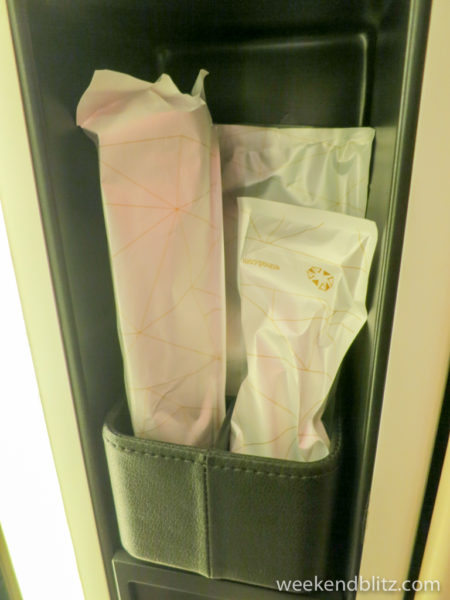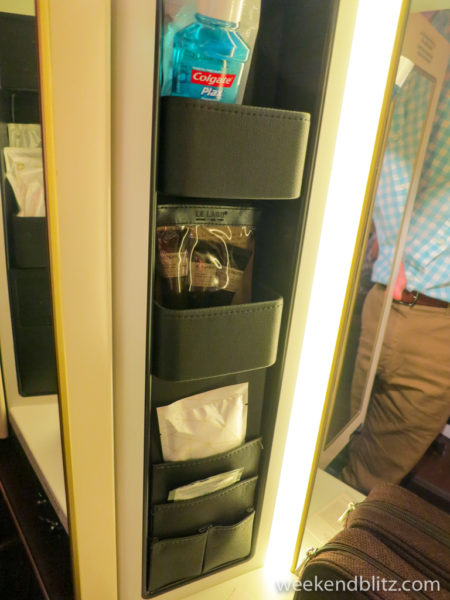 The exterior of the compartment, near the door, opens to reveal a tiny closet suitable for holding a few articles of clothing.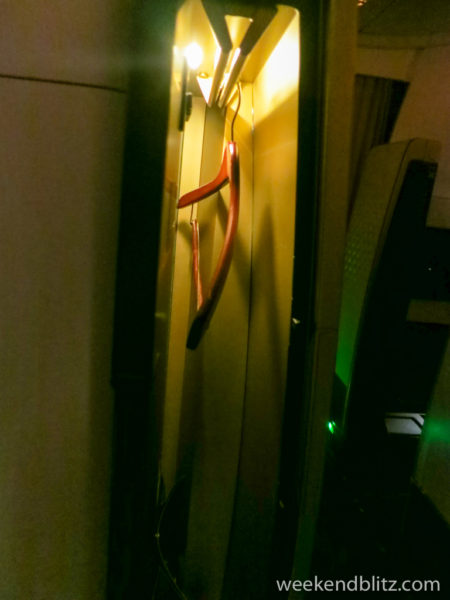 I mean there's just so much space!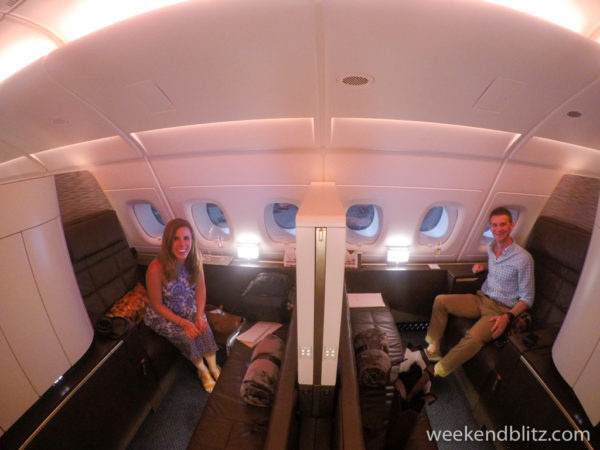 Shortly after getting settled in, a pre-departure glass of champagne was offered. It was served with dates and a warm towel.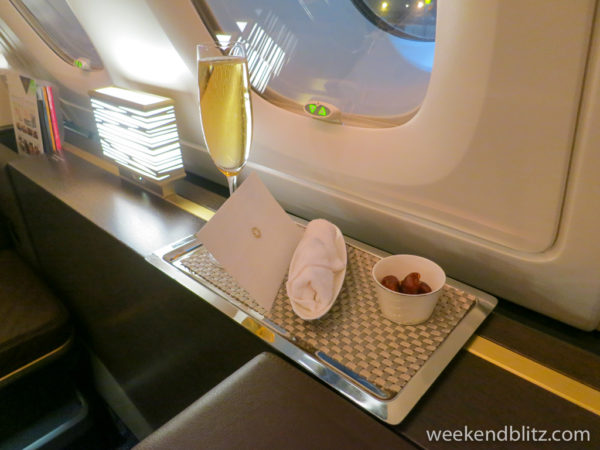 There was also a nice letter welcoming us to the experience.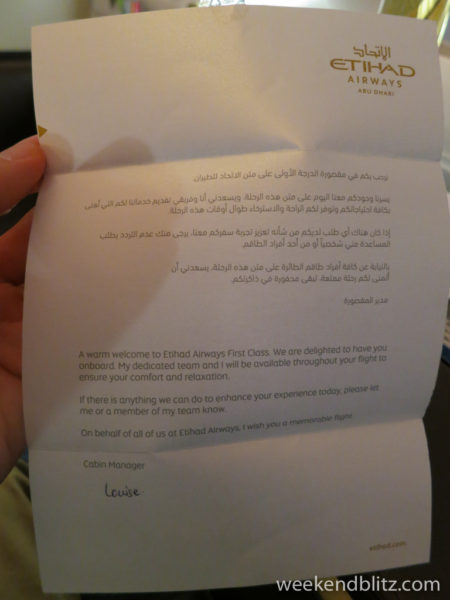 In-flight Entertainment
The First Apartment features a giant screen with a great entertainment selection and, at 24″, makes it one of the biggest in the industry, possibly the actual biggest since it looks like Singapore, BA, and Emirates don't exceed 23″.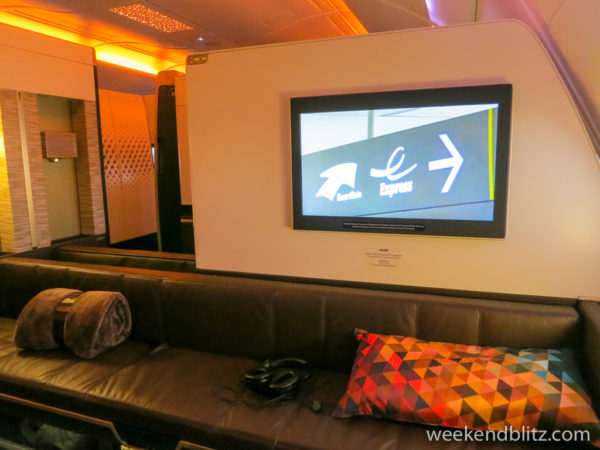 The handset was pretty cool because it can be used as a mini TV or as a remote to select and then broadcast to the bigger choice, very helpful since the enormous suite prohibits you from touching the main LCD screen to change the program.
One of the cool features I found was picture-in-picture, meaning you can broadcast a movie and also watch the tail camera.
Did I mention tail camera? I just love that A380 tail camera, it really never gets old.
While they weren't name brand and certainly not anything special, the noise canceling headphones worked well enough.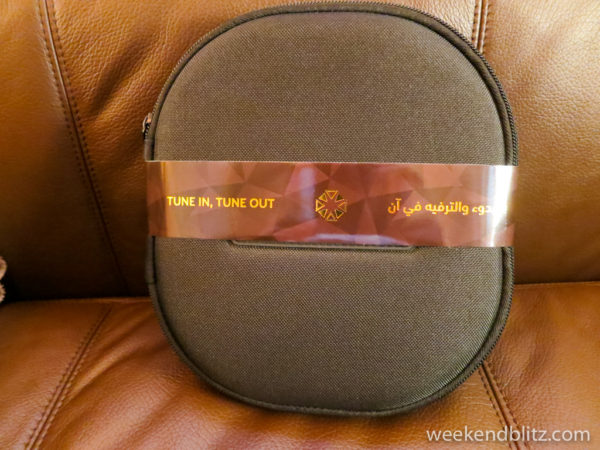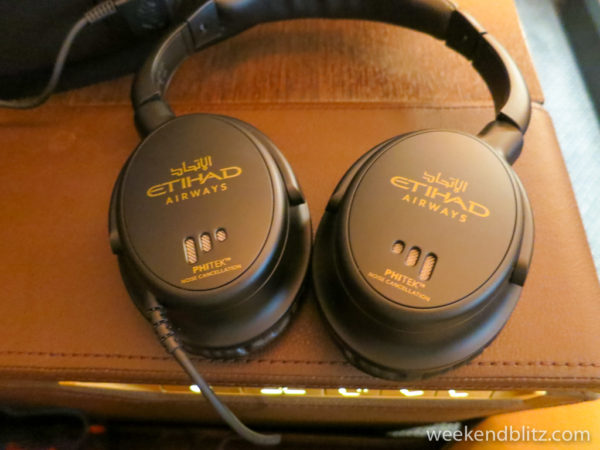 The safety video played and highlighted just how big the A380 is with a ton of emergency exits.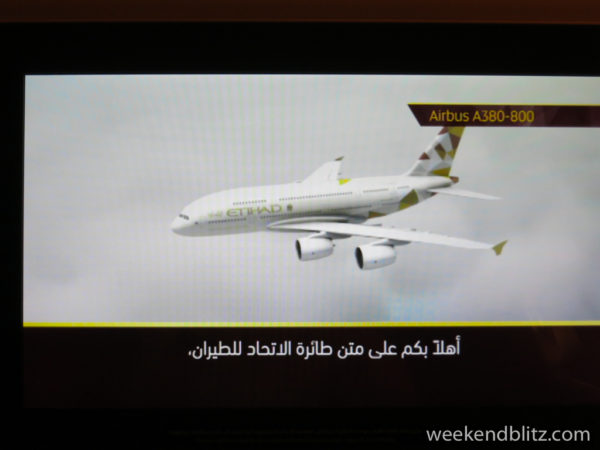 And, as always, Etihad make it easy to find Abu Dhabi and Mecca at any given point.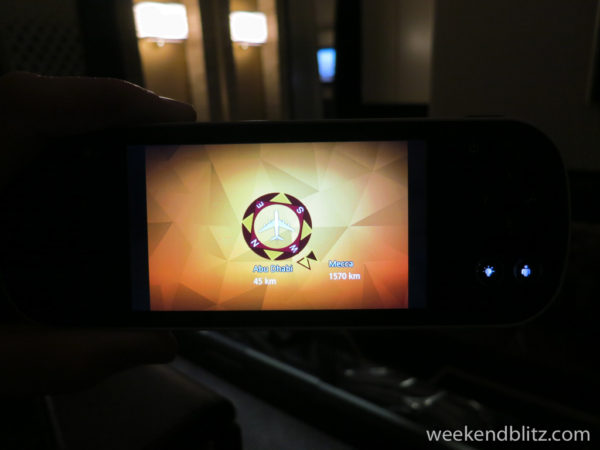 DINING/MEAL SERVICE – DINNER
Right after takeoff, we were offered a nice Chardonnay with a few snacks such as olives, crunchy Asian snacks (wasabi etc.), warm nuts.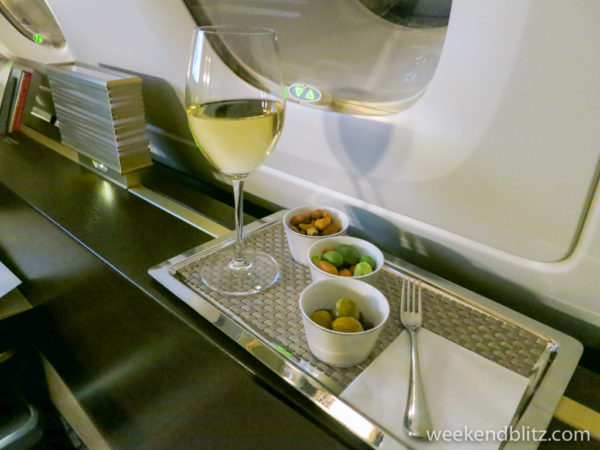 Once the pre-dinner drink and snacks were cleared, the flight attendant came around and offered to set our tables so that we could dine together. It's still hard to imagine that all of this is happening at 35,000 feet in the sky.
Despite not being hungry in the least, we caved in and took advantage of the in-flight dining. I ordered the Steak Frites from the "Lounge and Grill" section of the menu which "offers sophisticated yet familiar favorites." I tried to order it rare but said they couldn't with the way they cook it on the plane. We settled on medium rare which was perfectly fine and it turned out beautifully. It was served with onions, tomatoes and Bernadine sauce. The steak was delicious and everything on the plate was really very good.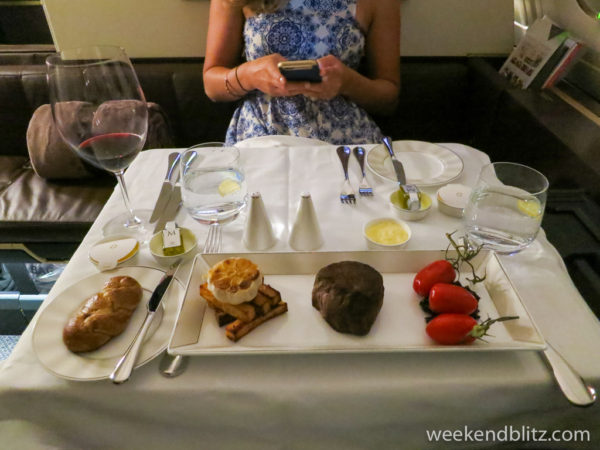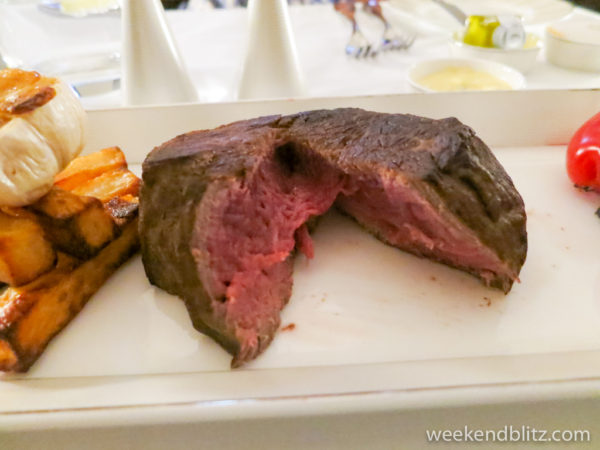 While I had just one course, McCown wasted no time in ordering 3 in all. Her first course was the Gulf Mezze: "a selection of hot and cold appetizers." It included a spinach and cheese kabob (more like a fried wrap) and beef kabob (fried beef ball)- the beef kabob was the best thing I'd tasted in days.  Hummus, baba ganoush, tabouli (all very fresh and much better than even expected), served with Arabian bread (pita), pickled carrots and olives.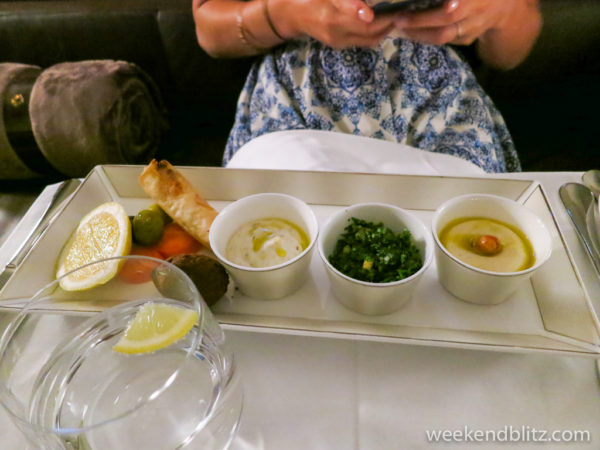 Somewhere in between, a refreshing dish with grapefruit was served– hard to remember exactly when as the drinks were flowing by this point.
For the second course, we tried the Sea Bass with purple potatoes, asparagus, and carrots. The fish was delightful, cooked perfectly and not too "fishy" at all. It was served with a buttery sauce that made the fish very good.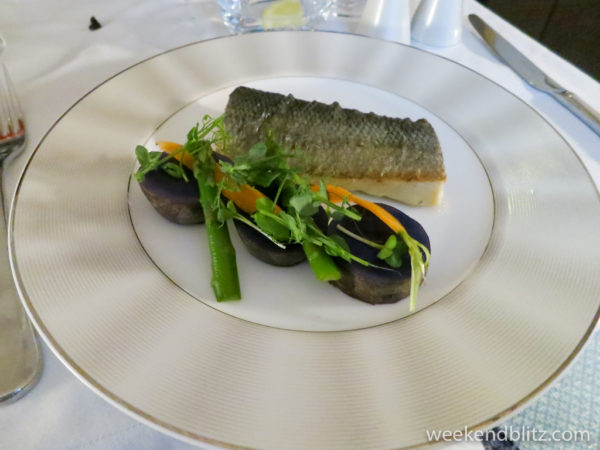 The final course was named "Textures" and featured 3 types of camel milk-inspired desserts, all with very different textures.  We sampled the ganache, mousse and ice cream. All three were very chocolatey and quite rich but all very tasty. Although it was made with camel milk "flavor," there was no distinct, unusual flavor.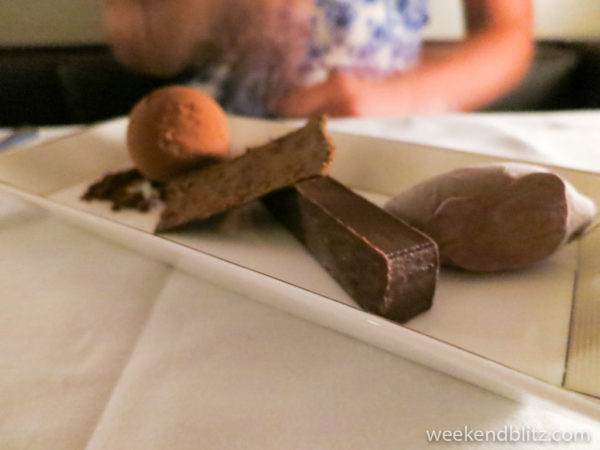 The full dining experience was awesome, and made that much better since the tables have room for 2!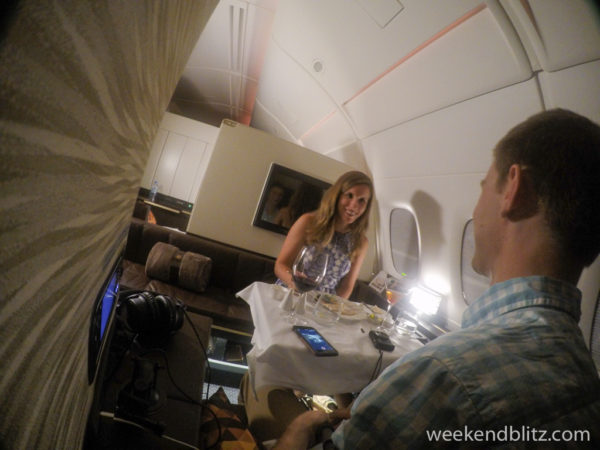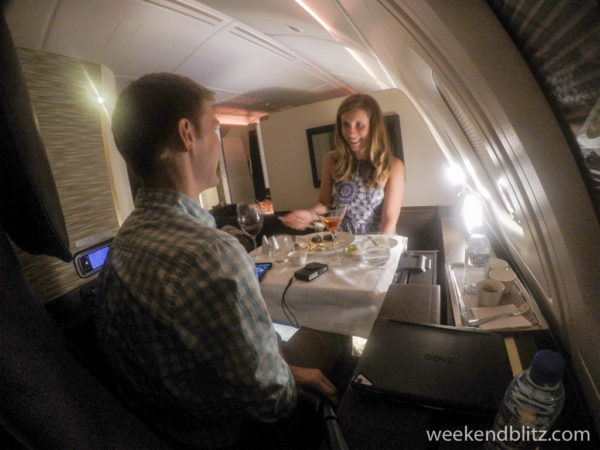 Continued in Part 2 with pictures of the onboard bar, shower, the seat in sleeping mode, breakfast etc.