Cycling Winery Tour – Mendoza, Argentina
While in Argentina's wine country, we wanted to be sure to see some vineyards and see the outskirts of Mendoza… plus try some local wines. Mendoza's wine regions account for about 70% of all the wine produced in Argentina, so visiting some wineries and tasting some Malbec is a must while staying in Mendoza.
Turns out, though, that planning a day trip to wineries is a little harder than we thought. Mendoza's wine regions stretch out over more than 350,000 acres and there are three separate regions within Mendoza. So, with just one day set aside for this, we quickly realized we couldn't see it all. First, we had to pick a region (we went with Maipú) and then we had to choose a plan. We had the option of paying for a tour that picked up and dropped off at our hotel but, for a fraction of the cost, we could make our own private tour if we were a little more adventurous.
We found "Mr. Hugo's" bike rental and decided to go that route as opposed to the all-inclusive (and much more expensive) bus tour. For a much, much, much more affordable cost, we could find our own way out to Maipú and we thought it'd be more fun to take the local bus anyway. We took a city bus for 8 pesos to Maipú. The trip is pretty short– only take about 40 minutes total from the city center: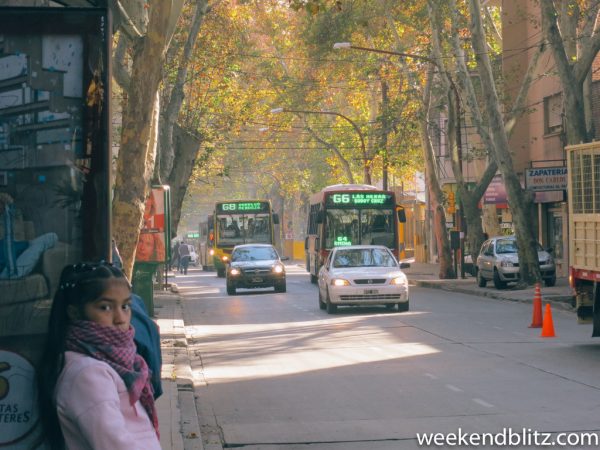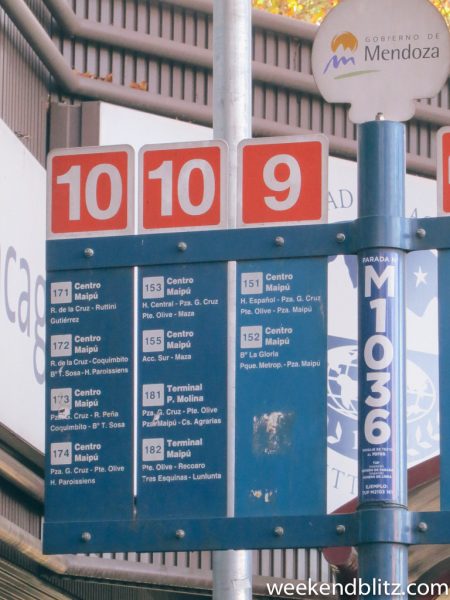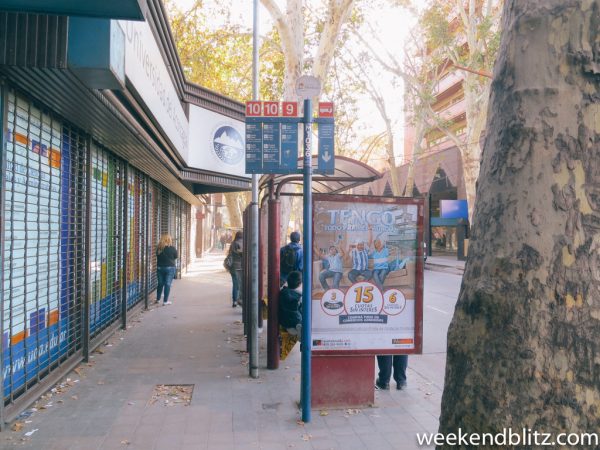 The best news is that the bus drivers know exactly what's up. They let us know exactly when we should get off the bus and then pointed us (and the two other English-speaking tourists on the crowded bus of locals) toward Mr. Hugo's.
1- Mr. Hugo's

Update: Mr. Hugo's appears to have closed. Instead, try Maipú Bikes (Website / TripAdvisor) which has fantastic reviews and is just a few blocks up the road from the old Mr. Hugo's.
Mr. Hugo himself welcomed us and we watched as a whole boatload of Americans chugged champagne from the bottle then finished with beer before riding off into the sunset 11 am sunshine. I think the 50 – 70-year-olds all took the all-inclusive & more expensive bus tour choice, so you're mixed in more with the party crowd on the DIY bike tours. That was fine with us and really more of what we were after anyway, but just something to consider when deciding which route to choose.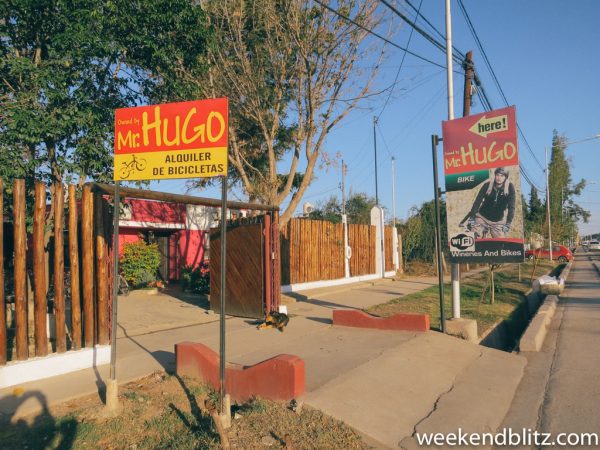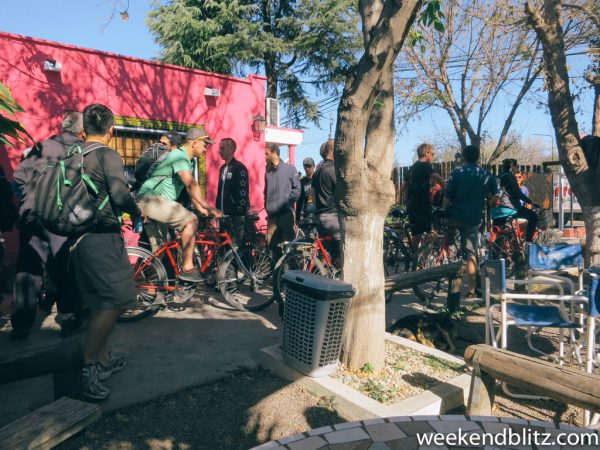 We rented bikes for 70 pesos each (looks like it's up to 100 pesos/bike now because of inflation… still, that's roughly $5-$7 USD). Mr. Hugo gave us a small paper with a suggested route showing all the wineries around (the drawing isn't to scale, so some wineries had more space between them than we thought).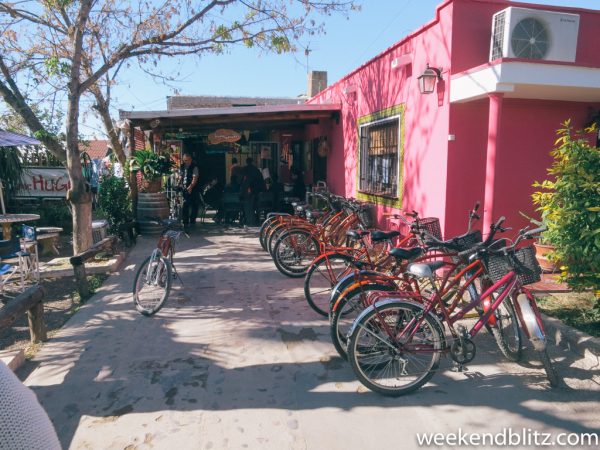 We started biking around 12:30 pm and took a total of 4 hr 15 mins of which about 1 hr 15 mins was spent actually biking and the remaining 3 hours we enjoyed eating and drinking in the various wineries and the biergarten.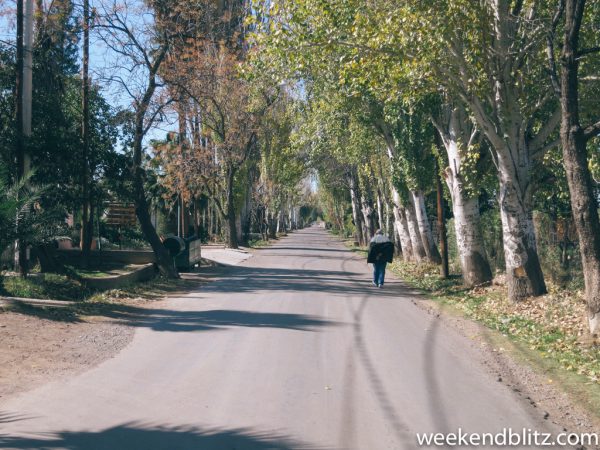 Here's a map of some of the highlights:
2- Museo del Vino
Our first stop was "Museo del Vino" which is very close to Mr. Hugo's. Spanish tours are 70 pesos/person but English tours require a reservation (which we didn't have) and were 100 pesos/group. The good news is that the actual museum is free and it has lots of cool artifacts and old machinery in the wine production department: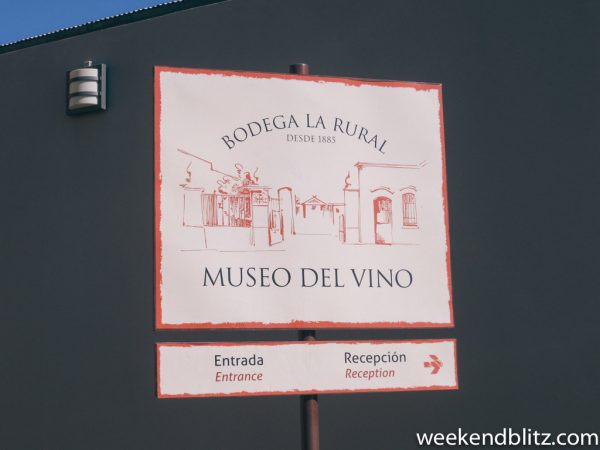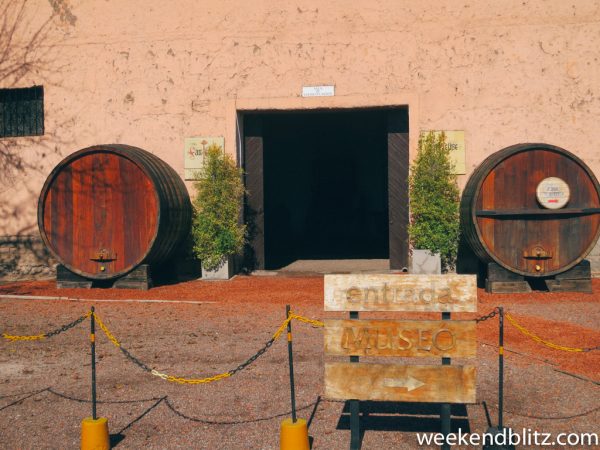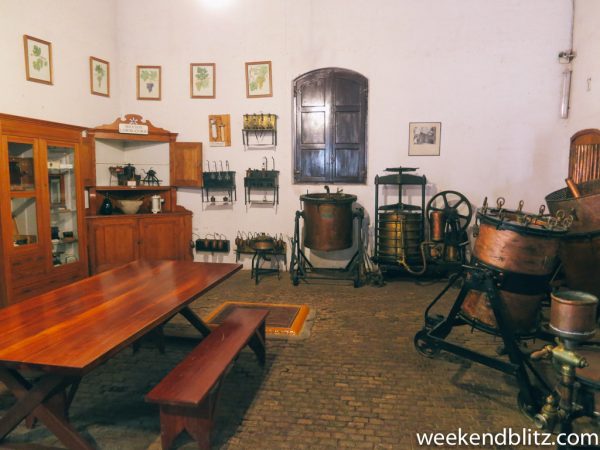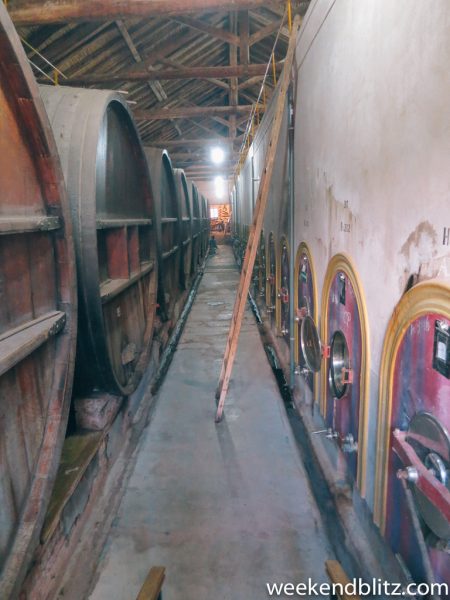 They have a nice tasting room and sell glasses for 38 – 328 pesos and tasting for 90 – 220 ARS.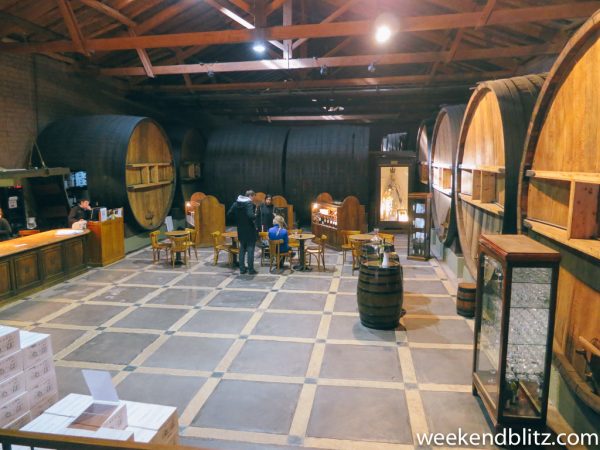 3- Vinoteca La Botella
Next, we biked to La Botella for a free tasting advertised on Mr. Hugo's route. The free wine was obviously pretty bad and was just used to get you in the door, but then we also tried the tasting of three (better) wines for 20 pesos each.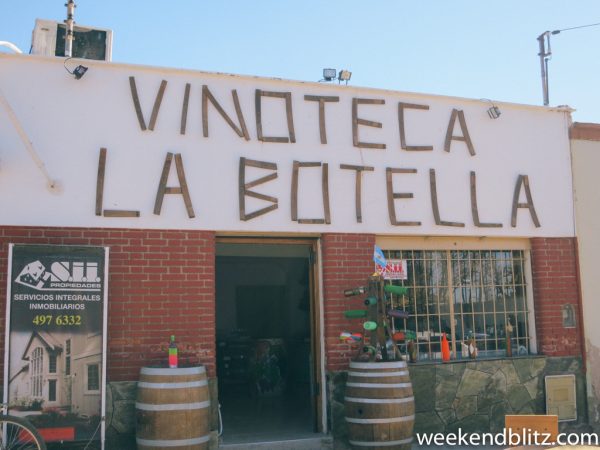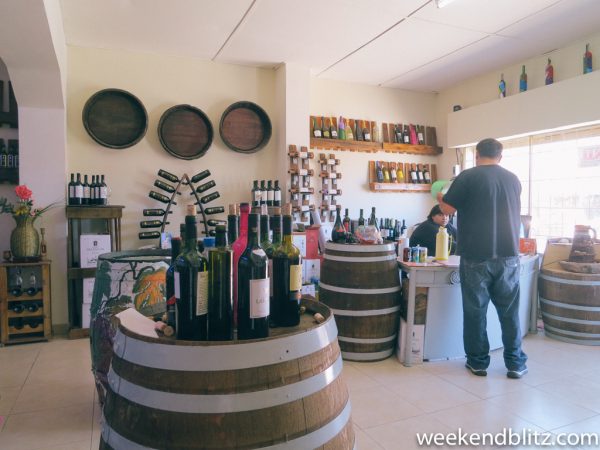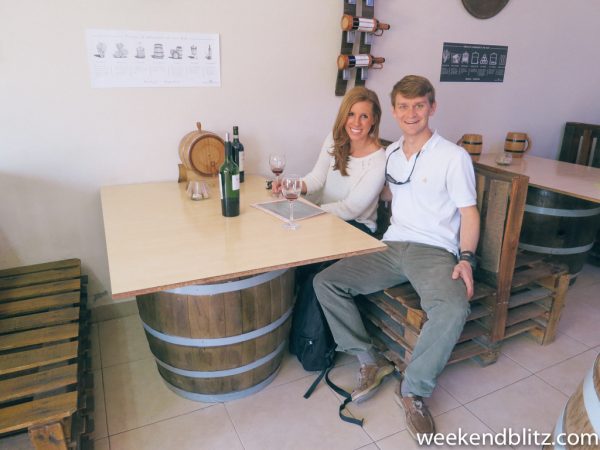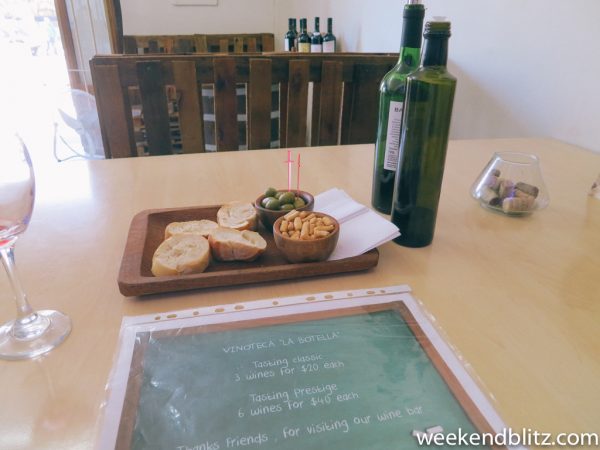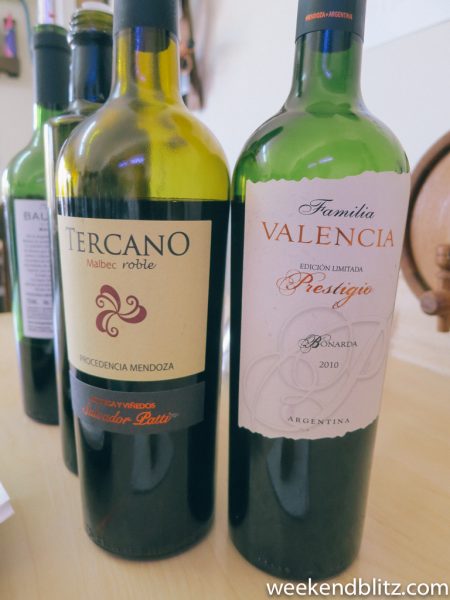 From there, we biked down the main road looking for the Trapiche winery but it was very hard to find! At many times, the road doesn't have a proper bike lane, but cars and trucks do seem very cognizant of cyclists and pedestrians and move way over, so we always felt pretty safe.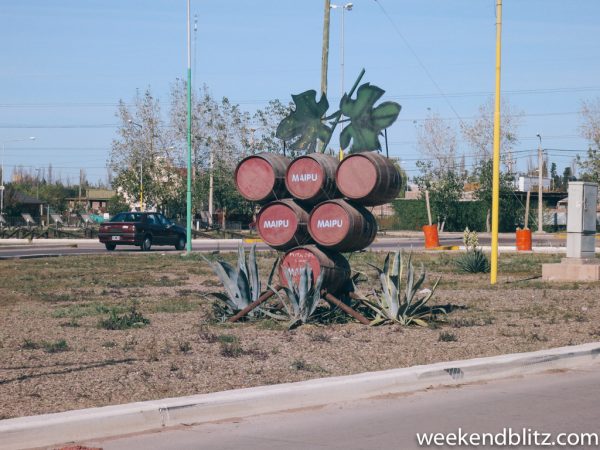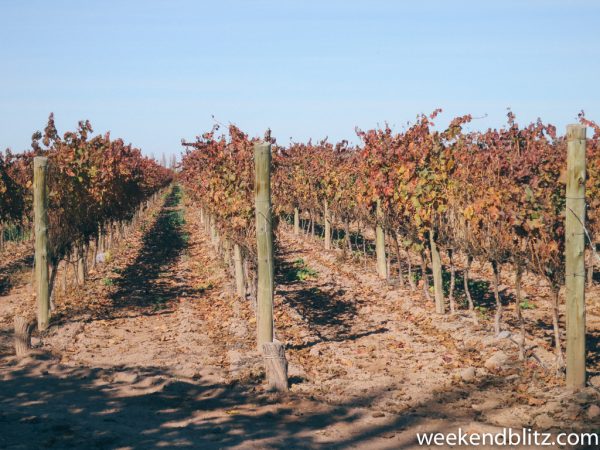 4- El Patio Cervecero Beer Garden
Finally, we stumbled across the "Biergarten," but don't be dissuaded, as we almost were. It's really just a cafe with pizzas, empanadas, 3 types of draft beer and wines by the glass. We weren't really feeling a biergarten on our winery tour, but it had a cool, relaxed vibe and was a great stop for a cheap and quick lunch. The English-speaking staff and free wifi make it fantastic. (3x empanadas for 8 ARS each and 550 mL for 32 ARS. Glass of red for 25 ARS.)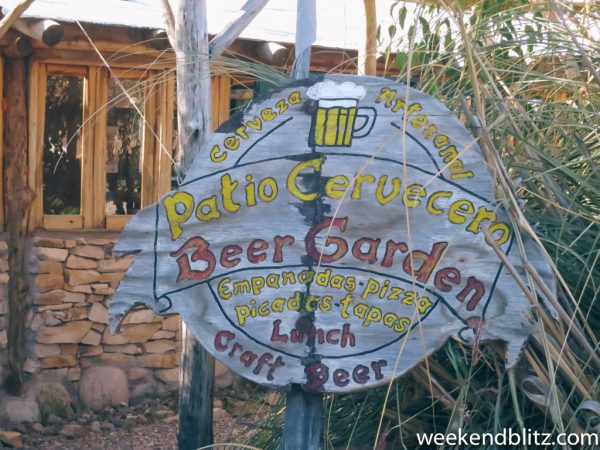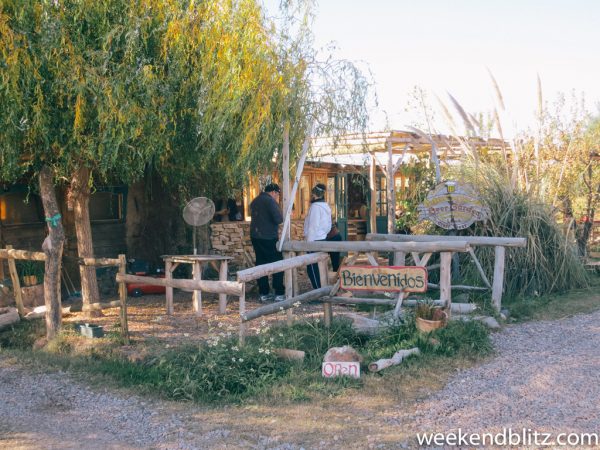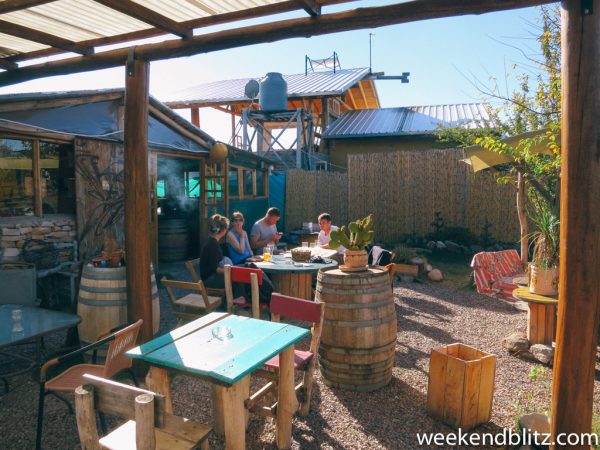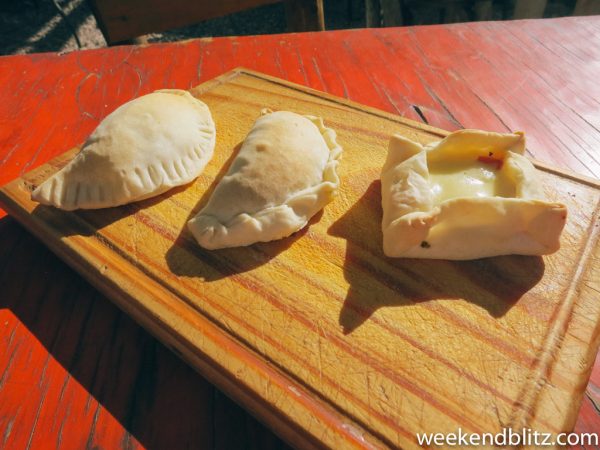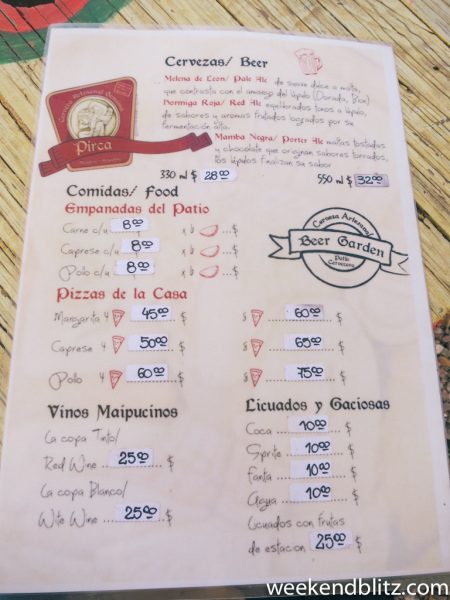 Our weather couldn't have been more perfect: the leaves were changing and there wasn't a cloud in the sky. Perfect fall weather – crisp, not humid at all (and a nice reprieve from the weather back at home with humidity ramping up for our springtime).
We also noticed that there were plenty of others who had rented bikes and were following the same route as us, but we think in peak tourist season, this place would be crawling and quite possibly over-crowded.
5- Trapiche
On our ride back to Mr. Hugo's, we finally found Trapiche! We rode into the perfectly manicured winery that was by far the largest and most well-maintained stop of our day. They waved us right in and actually offered us a free tasting and tours (I guess because it was nearing the end of the day?).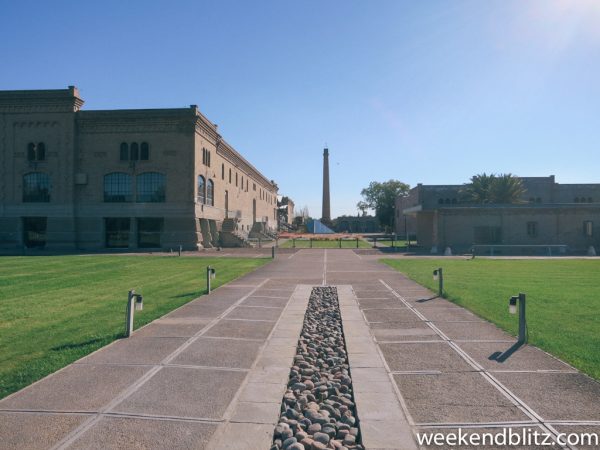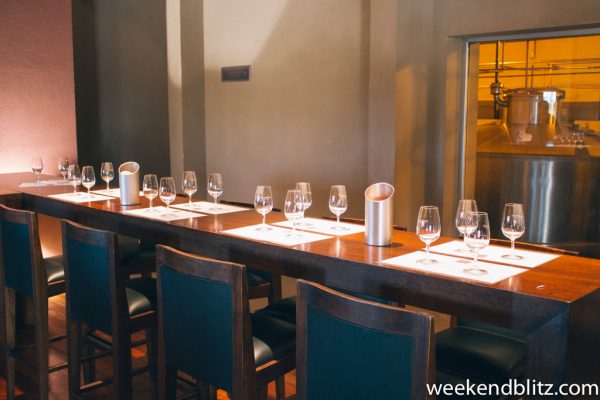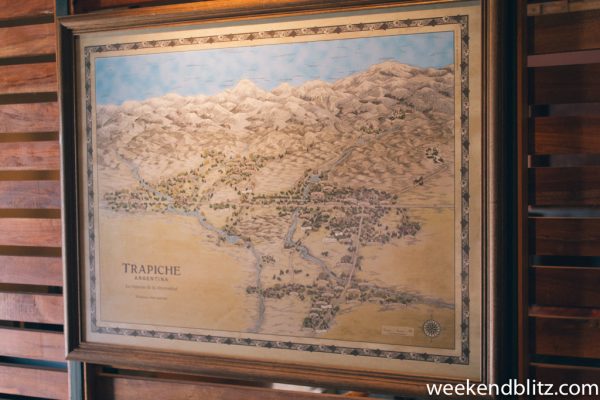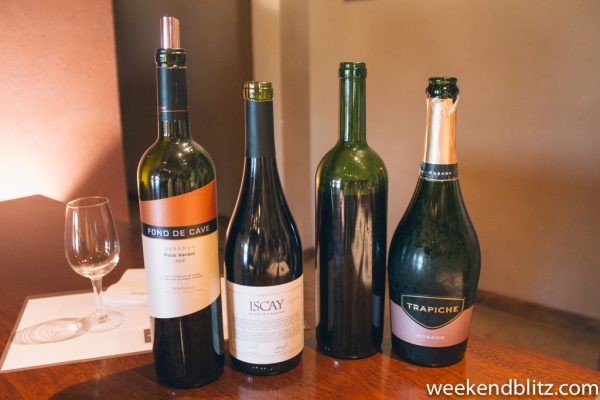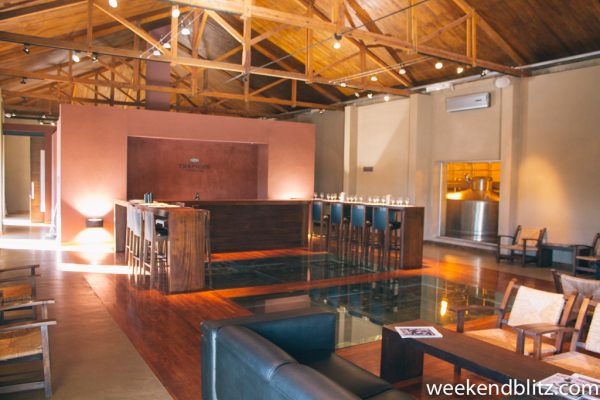 The tasting room overlooked the vineyard, so the view was the best we'd seen all day. Of course, the wine was delicious. This was probably our favorite stop of the day because of the view and the enormous facility.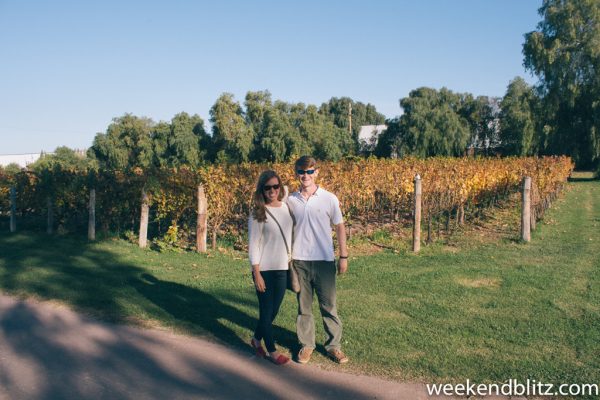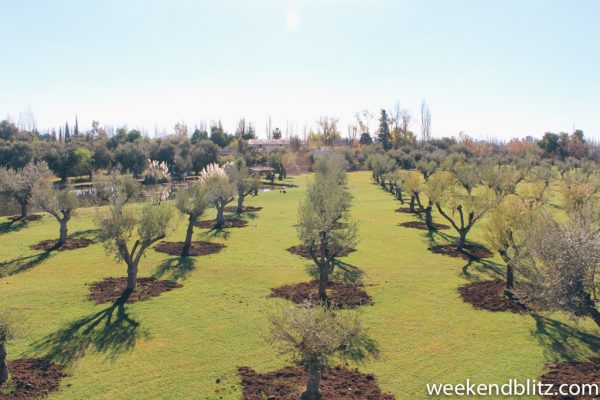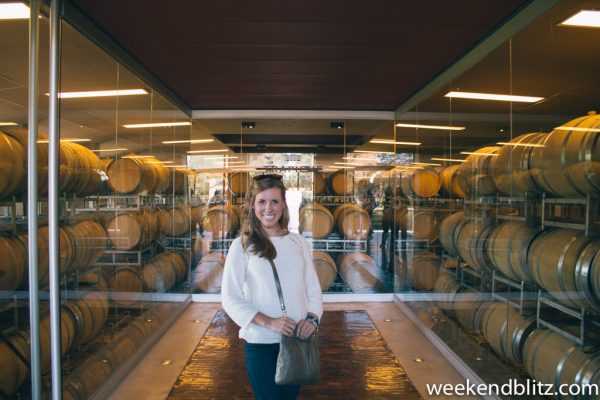 BOTTOM LINE: Overall, our bus trip to Maipú and the DIY winery tours using Mr. Hugo's bikes was just what we were after– we didn't want to blow the bank on a day of the fanciest wineries but just wanted to get the experience. Although the bike trail is usually along main roads and you're biking with traffic, we still had a great time and were thrilled to have great weather to enjoy the day.