Club Carlson Winter 2015 Promo: Up to 30k bonus points per stay
Don't miss out on Club Carlson's Winter 2015 promo, "Extend Your Stay, Earn 30k":

The Deal
From January 12 – March 29, 2015, you'll earn:
15,000 bonus Club Carlson Gold Points for stays 2+ nights long
30,000 bonus Club Carlson Gold Points for stays 3+ nights long
…With no limits to the amount of points earned!
How to Get It
Register here Club Carlson: "Extend Your Stay, Earn 30K" by March 29 or before checkout of your first eligible stay.
Book your Club Carlson stays, remembering that 1 night stays earn you 0 bonus points, 2 night stays yield 15,000 bonus points and 3+ night stays will earn the highest rate of 30,000 bonus points.
Check back within a few days after completing your stay to verify that your points were posted.
Analysis
In all, this is a pretty slick promotion. Here's a sample booking based upon a 2-3 night stay at a rate of $89 which shows what you stand to gain: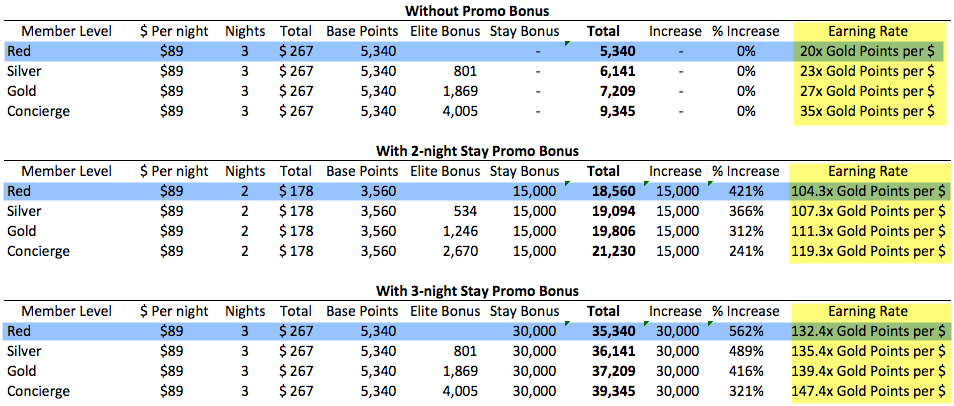 Here's a look at how you could redeem those extra Club Carlson bonus points:
Here's the calculation for those that have the Club Carlson credit card; Gold Elite level is highlighted because all Club Carlson credit card holders are automatically upgraded to this level:
Those members with the Club Carlson credit card can take advantage of "Bonus Award Nights" that allow you to get the final award night free on stays 2+ nights long. This effectively doubles the value of your award points. A simple 3-night stay at a cheap $89 Club Carlson property can yield 5+ nights at a Category 2 property such as the Park Inn by Radisson Budapest. I did a sample booking at this property and the total price comes in at $79.38 x 5 nights = $396.90 in value for a 3-night stay!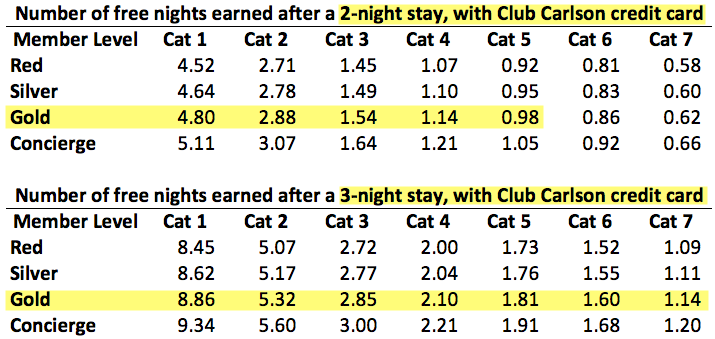 Bonus Calculator
How much do you stand to gain from this promo? Is it worth it to switch stays over to Club Carlson? We can help you decide! Simply input a few details on your sample stay and we'll do all of the work, telling you how many points you stand to gain and how far those points will get you in terms of a free night redemption.
Don't forget: 
As always, "Promotion is valid for Eligible Stays" only.
Promotion is valid between January 12, 2015 and March 29, 2015.
Award stays are not valid: "Stays or nights paid for by redeeming Gold Points or by using Points + Cash are not eligible for this Promotion".
There is no limit to the amount of Bonus Gold points that can be earned via this promotion.
BOTTOM LINE: This might be the best hotel promotion of the Winter 2015 season. The earning amounts, especially for those with the Club Carlson credit card, are unrivaled. In one example, a 3-night stay for a total of $220 can net a total of $400+ in award nights–that simply can't be beaten by the competition.