Bus Ride Through the Andes: Santiago to Mendoza
Taking the bus from Santiago, Chile, to Mendoza, Argentina, turned out to be one of the most memorable parts of our trip and made for a day of sites that were postcard-worthy. It's always fun to try new ways to get around – I'm so glad we chose the bus route rather than just taking a short flight because we were able to see more of the countryside and an up-close view of the Andes as we drove right over them.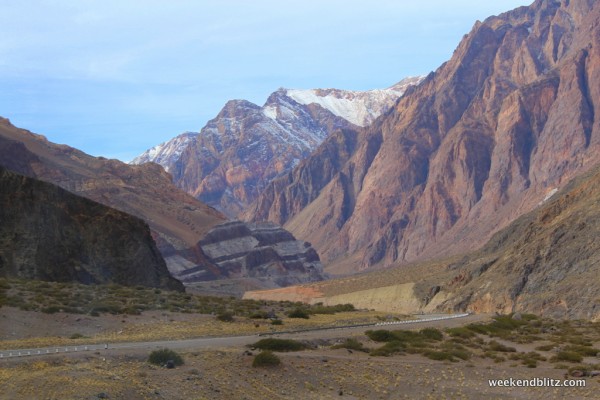 I was (secretly) dreading our day-long bus trip. What if it snowed and we couldn't cross? And, more importantly, what if the roads were so bumpy and curvy that even I got car sick… and then had to stay on the bus for 5 more hours? Yikes. Luckily, none of my fears came to fruition and we arrived in Argentina unscathed and happy.
If you're interested in more detail on how/where to book a bus ticket in Santiago, check out this post: How to: Booking a Bus Ticket from Santiago to Mendoza.
Boarding/The Seats
We departed the bus terminal a few minutes after 10 am and were on our way. The nice, more expensive seats are on the first floor of the bus (about 10 seats), then the cheaper seats are on the top floor. Fancy, plush leather seats were on the bottom floor – I mean these seats looked like Lazy Boy chairs were just wheeled into the bus and bolted down. Nothing to complain about there… but we opted to save $12 each and ride up top in the cheaper seats.
So, not knowing what to expect, we climbed the stairs to the top floor and found cloth seats that definitely weren't as big or as nice as downstairs, but did just fine. Even the cheaper seats are much nicer than seats on charter buses in the US. These seats lean back to about a 45 degree angle – not so bad. Neither floor was anywhere near full – out of the 46 seats on the top floor of the bus, only about 14 people were riding. I'm not sure if that is because it wasn't peak tourist season or because the buses run so frequently. Either way, Jeffrey and I could spread out, so we each took a row.
Before we even got out of Santiago, I fell asleep. Luckily, I woke up as we were literally climbing right up the mountains. The Andes are a beautiful mountain range and the snow-capped majestic – and huge! – mountains are a sight to see themselves. Along the pretty, scenic ride through the mountains, we crossed lots of bridges, went through countless tunnels and we feel like we can successfully claim we've seen about every winding road in the Andes.
The Ride
Here's a map of the route: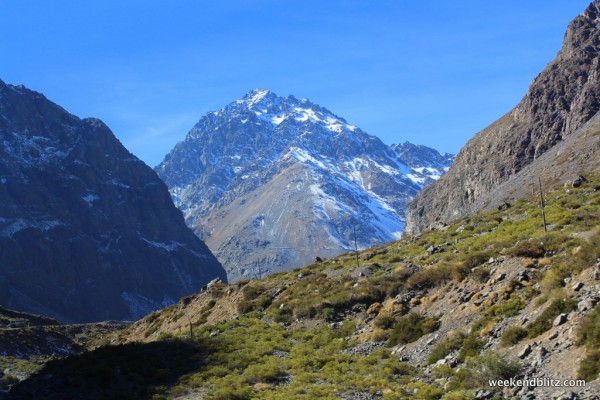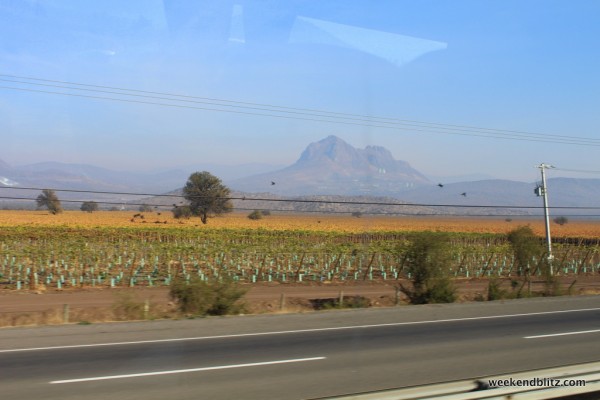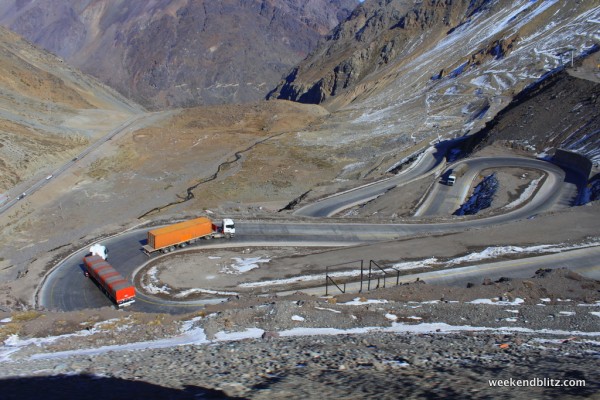 Meal Service
About two hours into our journey, around 12:30pm, when we had plateaued and weren't climbing as rigorously, ham and cheese sandwiches were passed out, and then some fizzy grapefruit-tasting drink. While it won't win any awards for its tastiness, the sandwich was filling and by no means terrible. Jeffrey pointed out that the box the sandwich came in said the sandwich would be good through next week — a little disconcerting when it has cheese and mayonnaise on it… If you truly don't want to eat the ham and cheese sandwich that is passed out on the bus, just hold your horses a few more minutes until you get to immigration control – there are three "restaurants" there that will serve you sandwiches for about $5 USD each.
Dessert consisted of coffee and an alfajor:
It's important to note that there's not really any water onboard the bus. They have a free dispenser that has hot water and cold water but I wasn't willing to risk drinking the cold water. Jeffrey did use the hot to make coffee but, we figured, if it was boiling then it's probably fine to drink. So, make sure to bring at least a few bottles of water for the ride if you end up taking this trip. Also, a few snacks wouldn't hurt either.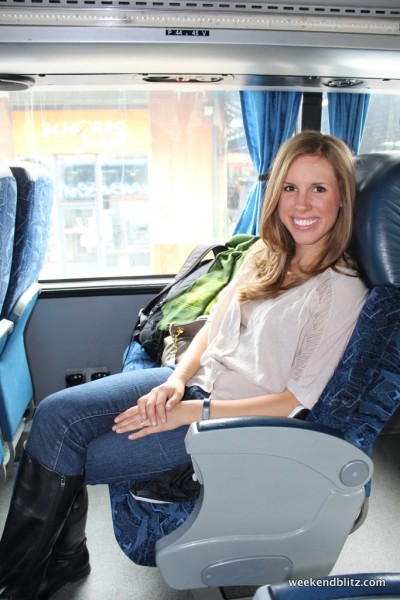 Border Crossing
When you get to immigration control, be prepared to stay a while. We were under the impression that we could walk around for a few minutes, go through a passport check and be on our way… In fact, our experience took, at least, two hours. It's not bad (especially when the weather is great!), but just good to know what you're in for (we left our backpacks and personal belongings on the bus thinking we'd just be off the bus for about 5 minutes).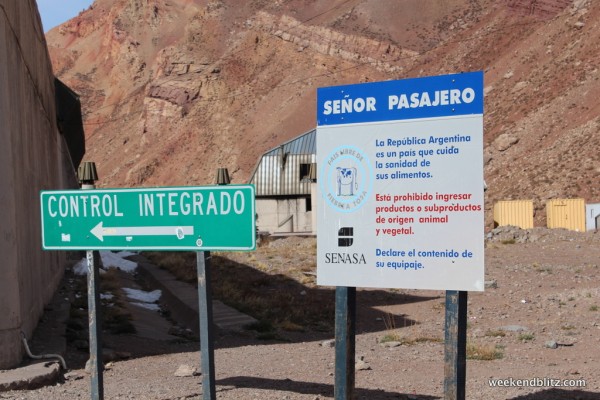 When we asked the bus driver how long we'd be, his response was, "as long as we need to be." But, then, he followed it up with, "Maybe an hour?" There were about 3 small little restaurant kiosks to grab a sandwich, beer, water or coffee… interestingly, all places advertised that they accept Argentinian pesos, Chilean pesos, Brazilian reales and US dollars. Because those ham sandwiches on the bus hadn't really done it for us (and we were bored), we bought a "Chorida"–a chorizo sandwich with lettuce and tomatoes for appx $4 US.
Finally, after about 3 or 4 buses were processed we were up. Interestingly, since it is an official border crossing right on the border, we all lined up, were processed by Chilean passport control, our official "exit" from Chile and then lined up in front of the Argentinian agent to be processed into Argentina. I suppose that we were in neither country for a few minutes there while waiting to officially enter Argentina. Good thing the power didn't go off at that precise moment. Once our passports had been processed, it was back to the bus to wait and have our bags checked by customs and immigration. The officials started unloading the "checked" luggage in the luggage stores beneath the bus. They ran everyone's bag through the x-ray scanner and then selected, possibly randomly, about 3 bags to visually inspect. However, all 3 happened to belong to this Bolivian woman traveling with her two children. An agent then had us unzip backpacks, purses, etc. – anything we were carrying with us on the bus – for a very quick visual inspection. Not sure what he was looking for, if anything. Then finally, the green light! We all boarded the buses and hit the highway. In all, we were stopped for right at 2 hours:
Here are few more pictures of the part you'll not want to miss–the scenery!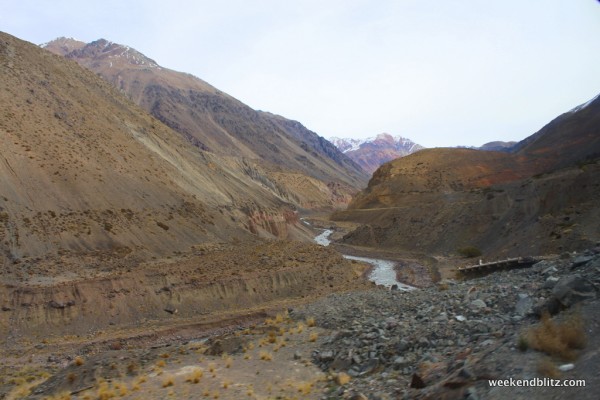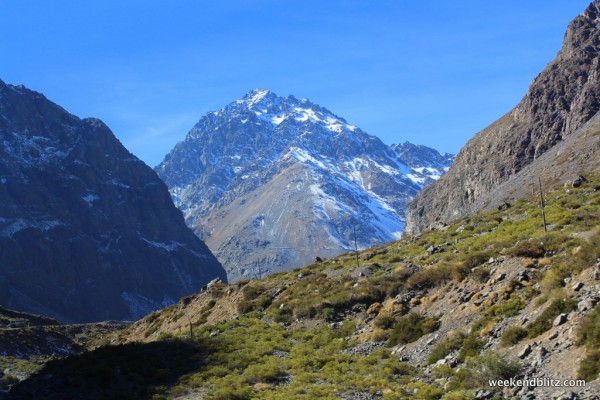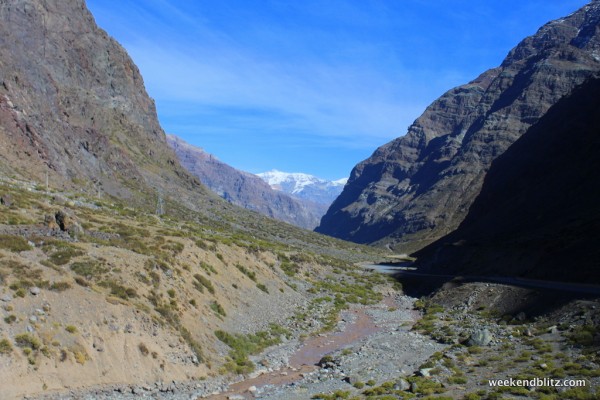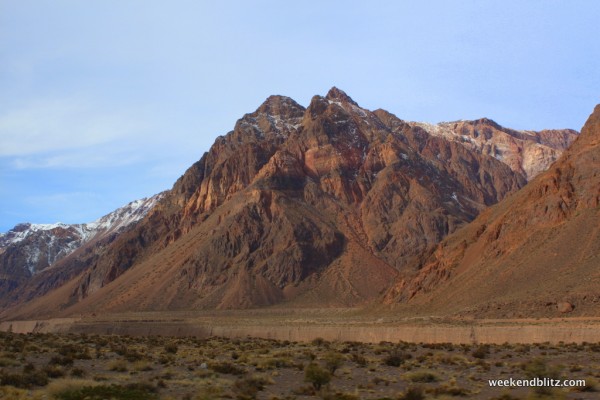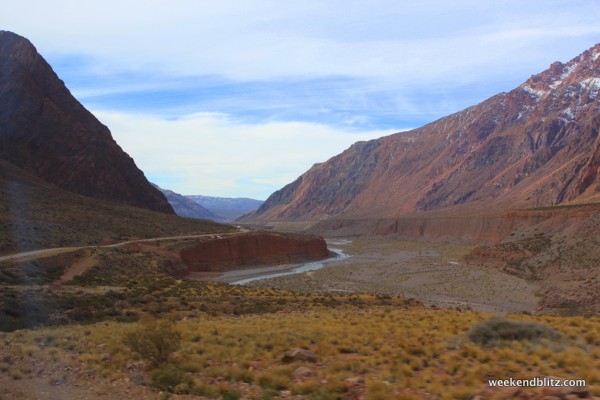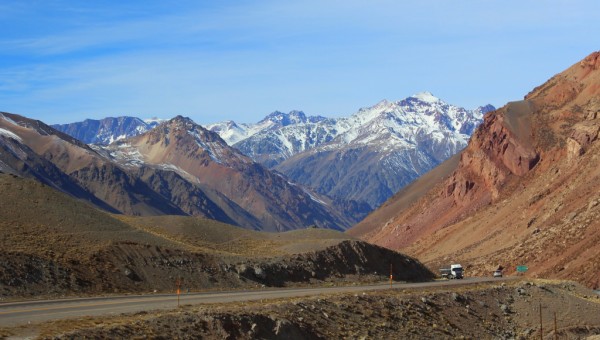 The ride passed quite quickly as we rolled into Mendoza about 7 hours after leaving Santiago.
All in all, the trip from Santiago to Mendoza was quite painless– and much less so than what I was expecting. The views of the Andes as you approach them and then begin to climb them — it's pretty incredible! The actual ride is very smooth and rocked me to sleep for the majority of the trip. And, although we had to wait at the border for roughly 2 hours to pass into Argentina, we were allowed to get off the bus and visit the cafes at the top of the mountain — walk around, etc., so it wasn't miserable at all.