Blitz Deal: Starwood Fall 2014 Promo: Up to 3x Starpoints Through Dec 15
Don't miss out on Starwood's Fall 2014 promo, "More For You":

The Deal
From September 15 – December 15, 2014 you'll earn:
2x Starpoints on all stays of 2+ nights (for a total of 4x points/$ spent)
3x Starpoints on all stays that include a Friday or Saturday night (total of 6x points/$ spent)
How to Get It
Register here: SPG Promos: "More For You" by October 31.
Book your SPG stays, remembering that Friday or Saturday nights will get you 3x Starpoints.
Bonus points will post to your account within 2-4 weeks.
Analysis
Here's what you stand to gain on a typical $250 stay: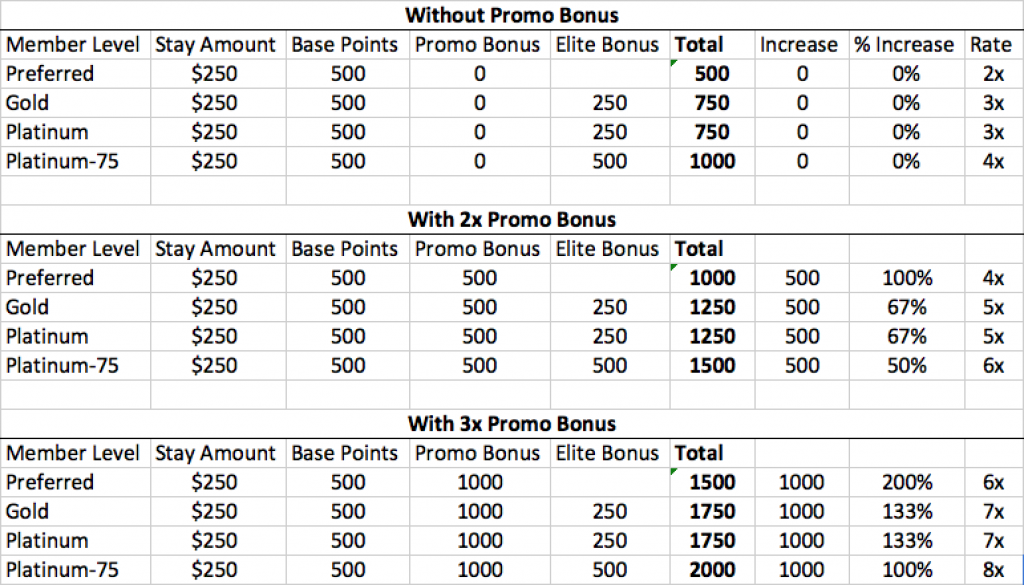 The value of the promotion really depends on how much you typically spend at a Starwood. Two of 3 of SPG's most recent promotions, the Fall 2013 "SPG Take Two" and Winter 2014 "Bring On The Nights", essentially gave you 500 Starpoints/night for up to 25 nights (technically 1,000 bonus points for nights 21-25). The best way to compare the old promos to the new promo is by looking at the break-even values:
For the 2x Promo Bonus you must spend $250 per night to earn 500 Starpoints.
For the 3x Promo Bonus you must spend $125 per night to earn 500 Starpoints.
Compared to Starwood's most recent promo that ran summer of 2014, it's basically identical but has switched the 3x points night from Sunday to Friday/Saturday.
Whether or not you'll find this promotion better than the past few is if you typically spend more than $125-$250/night at Starwood properties. You'll love the deal if you have a week long stay coming up at someplace like the The Gritti Palace, Venice with rates of $2,247+/night where you'd earn a 47,000+ Starpoints bonus. For those of us staying at much cheaper properties, such as Four Points or Aloft and using corporate or AAA discounts, the typical stay is well under $250/night which makes this promotion an overall loser compared to the fixed rate of 500 Starpoints/night from the old promo. But, if you're able to begin your stay on a Sunday then the hurdle rate is just $125/night, which is on the lower end of Starwood property rates. With a Sunday night, you'll likely win on this promo. For those of us in that boat, the one good thing is that there's no cap to the earning.
Don't forget: 
As always, this is only on "eligible nights" i.e. Award nights, Cash + Points Award nights and bookings through third party sites like hotels.com, travelocity.com and expedia.com 

do not count

.
There are 138 properties that aren't participating (view them all here: SPG® MORE FOR YOU — NON PARTICIPATING HOTELS AND RESORTS)
Bonus points are only calculated on base Starpoints earned–does not include additional SPG Gold or SPG Platinum elite points.
"There is no limit to the number of total bonus Starpoints a member can earn."
BOTTOM LINE: This is a pretty solid promotion, possibly better than the last few that Starwood has run but that all depends on how much you typically spend per night with Starwood. Quick rule of thumb, if you spend more than $250/night and don't stay on Friday or Saturday nights then you're winning with this promotion. If you stay over a Friday or Saturday night then any amount over $125/night makes you a winner.