Best Exercise Apps For Traveling
I'm not a runner. Definitely not a Cross-Fitter. I get lost in a regular gym and am still intimidated in weight rooms. If this sounds like you, keep reading…
Although I'm definitely not a work out every day type of girl, I've recently been enjoying exercising more than ever before.
Jeffrey and I spend most of our days when we're traveling walking around all day long exploring new places. But, I've been checking out several different apps to help me keep exercising when we're on the road — and I've even been using them a lot at home lately.
Here are the two I've really loved so far. For me, these apps give me a solid workout, but don't leave me stranded and closing the app halfway through because I can't get through it or can't understand what I'm supposed to be doing (which makes me lose interest… fast).
1. Seven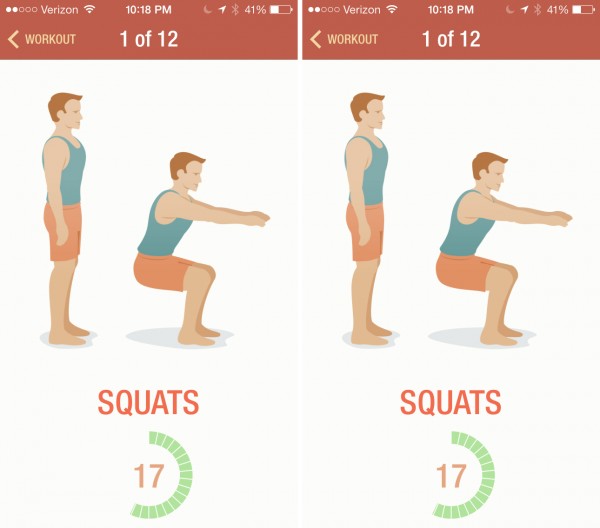 Seven is a free app that only takes 7 minutes to complete and the only equipment needed is a chair. With 12 different exercises, you'll be sweating by the third exercise, but the time passes quickly. And, it's voice-prompted so you can complete the entire workout without ever having to look at your phone. The free version includes full body exercises such as push ups, squats, lunches, tricep dips and planks, but you can purchase more focused workouts (such as Upper Body, Lower Body, Core, Fat Burn, Strength, etc.) for $1.99 each. You can set reminders for your phone to buzz you first thing in the morning or later on in the day if you still haven't completed your workout. Try out the Seven Month Challenge:  complete the 7 minute workout each day for seven months. Bonus:  with each month that you don't skip a day, you earn a new workout.
2. Nike Training Club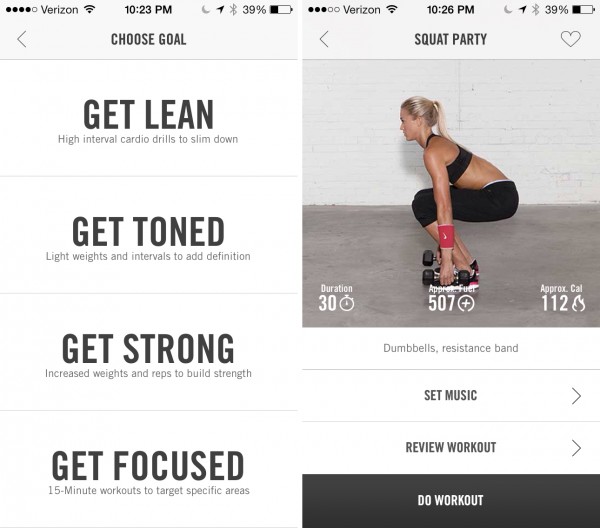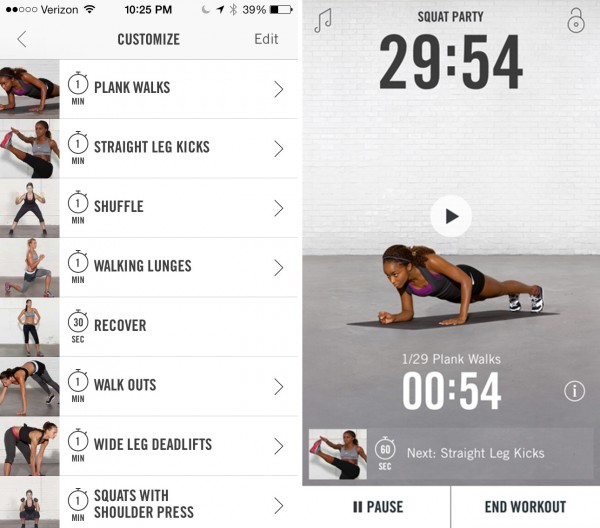 I've had Nike Training Club on my phone for several years now and it's always surprised me how great these workouts are. With lots of variety and choices, there's something for every woman with this app. First, you'll choose if you want to "Get Lean," "Get Toned," "Get Strong" or "Get Focused." From there, you'll choose your level of fitness (beginner, intermediate or advanced) and finally you'll choose your workout, based on focus areas and the amount of time you have (the workouts range from 15 minutes to 45 minutes). My favorite part about this app is the variety and then, once you've chosen your workout, the easy-to-follow instructions (if it's your first time doing a move, you can click to view a video with more details). Although you'll need to do your warming up before you press start, each workout walks you through some cool down minutes at the end.
What do you think? What do you guys use to stay in shape while on the road?
BOTTOM LINE:  Traveling and living in a hotel isn't a good reason to skip working out (although I used to make it an excuse). Check out these two FREE apps on your phone for easy-to-do home or hotel work-outs.