American Express Membership rewards 40% Transfer Bonus to British Airways Avios
As reported here, American Express is running a 40% bonus on transfers to British Airways Avios for the next ~6 weeks.
The Deal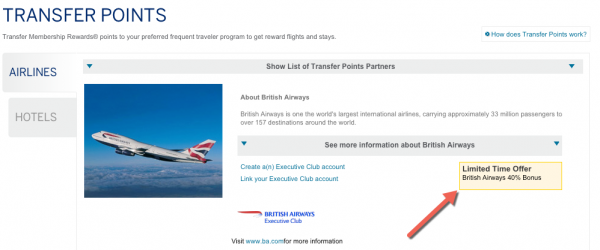 For a limited time, all transfers from American Express Membership Rewards points to British Airways Avios will receive a 40% transfer bonus. It is reported that this deal will last until 1/31/2015, but it is always possible that it could end sooner– so, I would suggest jumping on it ASAP. The transfer is hard coded on the AMEX website at a rate of: 1,000 Membership Rewards® Points = 1,400 Avios.
You can use British Airways Avios miles to book oneworld alliance partner flights, including those on: American Airlines, US Airways, Cathay Pacific, LAN, Qantas, etc….they're great for short distance, non-stop flights that could otherwise cost $100s or $1000 but require very few Avios.
How to Get It
You must have a British Airways Avios account (can be created for free here) and a U.S. based American Express card with at least 1,000 Membership Rewards points to continue.
Login to your AMEX account and click  "Use Points" –> "Travel":

Follow the prompts to "Transfer Points"

Select British Airways Avios as the transfer partner:

You should see the following offer confirming that you're eligible for the promotion:

Use this chart to determine how many Avios you'll require. For reference, a roundtrip flight from New York-JFK to St. Kitts and Nevis-SKB in economy requires 20,000 Avios per person.
I'll assume that McCown and I want to take a flight from New York-JFK to St. Kitts and Nevis-SKB and use the Avios calculator:


Once you confirm your transfer amount, click "Transfer this Amount" and follow the prompts to complete the transfers.
In this above scenario, booking a roundtrip flight to St. Kitts for 2x passengers for 29k AMEX points is an absolute steal given that most U.S. carriers (Delta, United, American etc…) would require 70k miles for the same booking. This same booking on an American Airlines paid reservation would cost around $1,504 total, so you wind up with a return of 3.96 cents/point: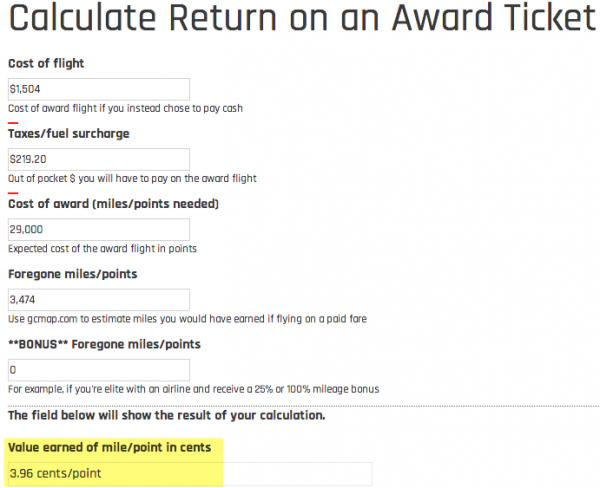 Don't Forget:
For British Airways, transfers normally occur immediately, but please allow up to 48 hours.
Terms of the promotion: "Get 40% more Avios when you transfer Membership Rewards® points to your British Airways Executive Club account by 1/31/2015. Terms apply."
BOTTOM LINE: We'll have a few more posts on just how awesome this deal is over the next few weeks but, in short, jump on it!