Airspace Lounge BWI – Baltimore-Washington International Airport
BWI — Baltimore-Washington International Airport
Terminal D (Note: Also accessible to other concourses by presenting a same-day BWI boarding pass to Concourse D security)
Between D10 and D12, the Delta/United terminal
4:30am – 8:00pm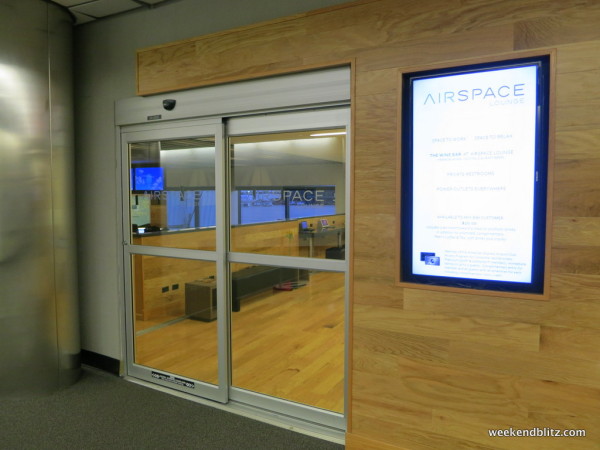 As I've said before (The Club at ATL – Atlanta's Newest (and best?) Lounge and JFK Terminal 4 Lounges/The Oasis Lounge), which lounge I go to is often a function of which one will let me in. However, at BWI, the Airspace Lounge is the only (domestic) lounge, so that adage is a little less relevant. Here are your entry options:
Complimentary Access for American Express Platinum Card–up to 2 guests
Pay to enter — typically $20
Airspace Lounge has a few unique offerings, uniformed military can save about 30% and they also offer an "Arrivals Pass" for those arriving on red-eye flights. They'll give you an amenity kit and clothes pressing, but, be warned, the facility doesn't offer any showers: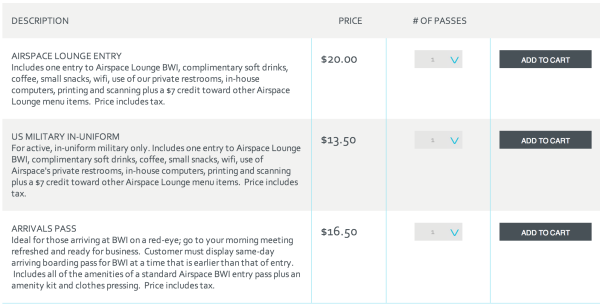 Entry for all guests includes:
$7 credit for anything from the menu (yes, most items require payment)
Free soft drinks, coffee, small snacks, WiFi, use of business center
One plus of this lounge is that 1 AMEX Platinum card holder can get 3 people in–a $60 value that will yield $21 in vouchers–I've even had an employee suggest that I always grab an extra person or 2 from the terminal when traveling solo, because, "Why not? It's free."
I would rarely consider this lounge good value if paying out of pocket; in fact, even when free with AMEX, I've skipped it a few times just because it's sometimes easier to kill an hour at the gate and not deal with the hassle going into the lounge.
The area is far from huge, or even big. The seating is quite limited and I could imagine frequent capacity issues. All the more reason to check first and opt to skip if you're on the a la carte $20 entry plan.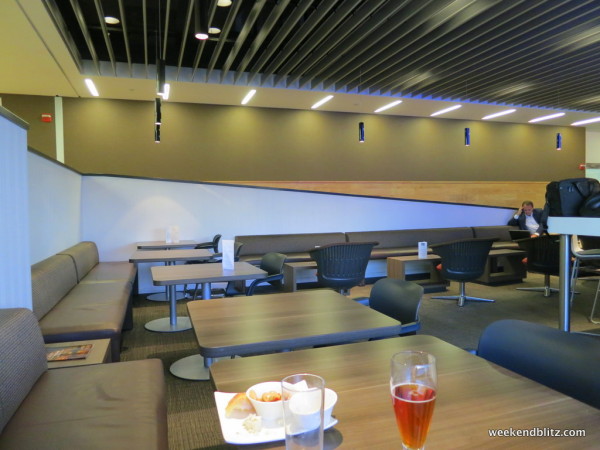 The only free items: real Chex-mix, self serve soft drinks, coffee and tea. Everything else requires payment and ranges from $3 – $6 for food and drinks from $4.50 – $16.50.
Looking for a light snack, I tried the ANTIPASTO PLATTER ($6): Great kidney beans in rich, wonderful marinade. Salami and another Italian cured meat with a very good blue cheese. And…Dogfish Head 90 Min at an airport lounge? Yes, please!
After the food and beverage, the concept was really starting to grow on me–charge less to enter (just $20) but have nicer, à la carte items that are relatively affordable for an airport. Compare this to a Delta SkyClub that charges $50 and provides free cheap snacks and well spirits but tries to up-sell you $10-15 for top shelf and you can see how an Airspace Lounge model is appealing.
BOTTOM LINE: Pretty good, yet small airport lounge–not necessarily worth the $20 unless you have a long layover. But, for AMEX Platinum cardholders, it's a no-brainer to go in and grab a free coffee and snack. Prior to sampling the food and drinks, I thought this lounge was a waste of time– but, by the end, I was made into a fan and would definitely return.