Air France City Jet – Paris-CDG to Florence-FLR – AFR # 5042
Air France City Jet – Paris-CDG to Florence-FLR – AFR # 5042
After exploring Paris in the snow, and getting all engaged up, it was time to bid adieu to Paris and hop our short commuter flight from Paris-CDG to Italy's famed town of Florence-FLR (but be careful, I've heard at least half the flights actually land in Firenze, not Florence…yikes!).
CHECK-IN
After having a bit of bad weather, all of the public transit and flights were finally back up and running smoothly. We took the RER from the city out to Charles de Gaulle-Roissy airport. Somewhat annoyingly, they don't announce the gate or terminal you'll be leaving from until just a few hours before departure, so we ended up having to wait for a bit in the main terminal area. Finally, it was announced that we'd be departing from 2G, and the "G" likely stands for "Going to take a bus a long damn way." ALL other terminals (1, 2A, 2B, 2C, 2D, 2E, 2F and 3) are easily connected by the CDGVAL train, with the exception of terminal 2G … which requires a ~5 minute bus ride from 2F to 2G (not including the wait for the bus, which could be 25+ mins).
The good thing about being in the terminal in BFE is that you'll be relatively alone and check-in, baggage check and security will be a breeze; CDG's terminal 2G didn't disappoint in this regard. We made our way through security to the terminal: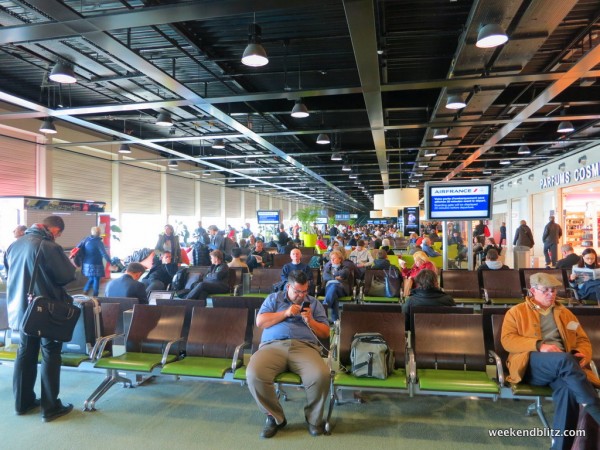 The terminal was perfectly fine and had plenty of space.
AIR FRANCE LOUNGE – TERMINAL 2G
We made our way to Terminal 2G's one and only Air France lounge.
Although I was on vacation and more than happy to have a free Bloody Mary or cold beer, this particular Air France lounge wasn't try to serve anything fun or exciting.
All-in-all, this was a perfectly fine place to get some breakfast, connect to WiFi and pass some time before a flight. Our only (serious) complaint was that it was totally packed. We happened to luck into 2 seats side-by-side, but this was quite a popular place at 11am on a Thursday morning. Our flight was eventually called and we made our way down to the gates:
You'll notice that all gates have stairs leading downwards–there will be no fancy jet bridges at Terminal 2G.
AIR FRANCE FLIGHT 5024 – PARIS-CDG TO FLORENCE-FLR
If you have business class seats on Air France's City Jet, don't hold your breath looking for a fancy cabin. The configuration is just an empty seat in the middle and, voilà:  business class!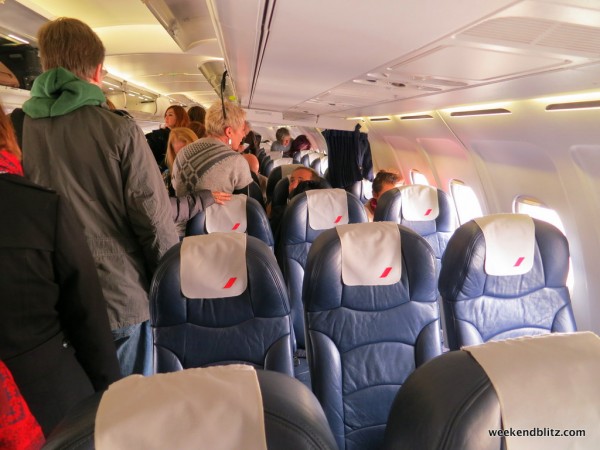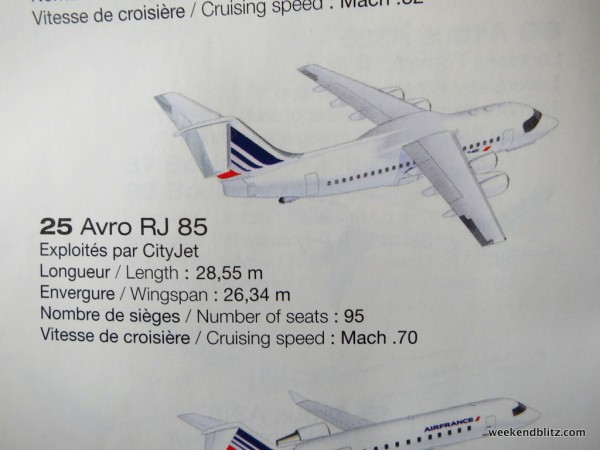 We settled into our extremely luxurious and spacious business class seats:
With everyone boarded, we began our taxi to the runway for an on-time departure.
On take-off, we had some great views of Charles de Gaulle Airport and Paris: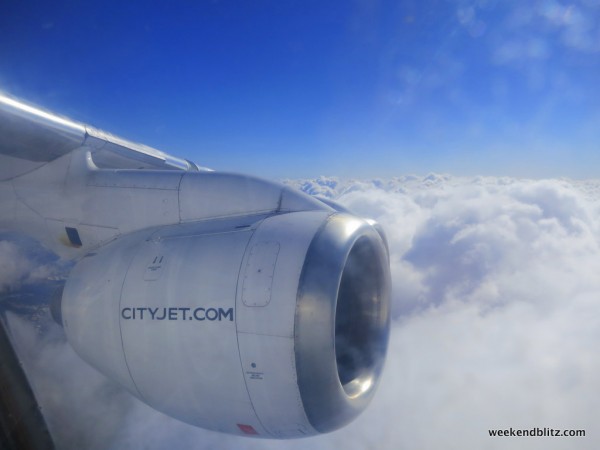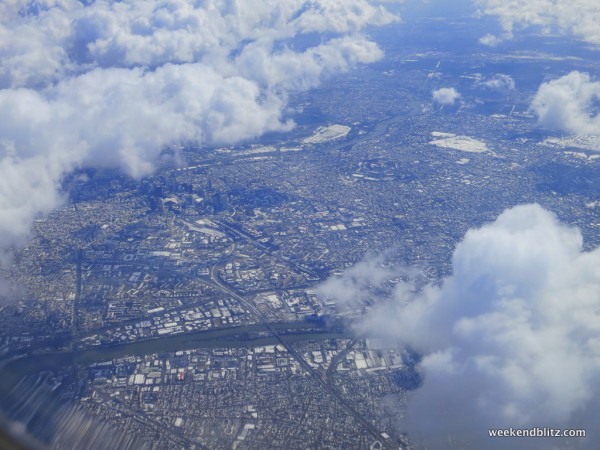 Once we reached altitude, the flight attendants came through the cabin with moist towelettes before beginning the meal service.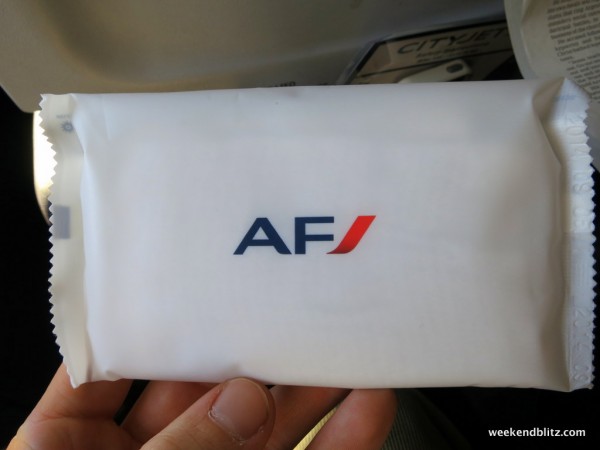 They then came around for drink orders and served us our starter, or at least what we thought was just our starter: a fruit tray, a piece of bread with a fishy type sauce with caviar and another spread with tomatoes, 2 mini brownies and another piece of dessert chocolate.
From looking over our shoulders, it appeared that most other passengers in business class and in economy were being served a proper lunch sandwich: roast beef and cheese on a baguette. I guess they only thought we needed a starter? Either way, the food was fine, plenty for a light snack but far from a solid lunch portion.
About 60 mins into the flight, we were right over the Alps, making for some great photo opportunities: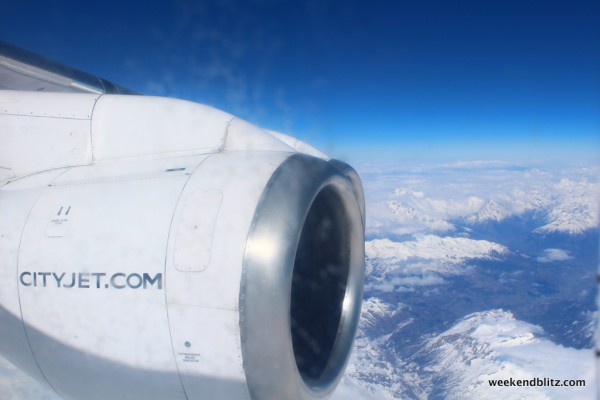 Before long, we had entered Tuscany, where the sun is always shining!
We deplaned quickly and headed to baggage claim. Fortunately, we fared better than these people and collected our bags in no time.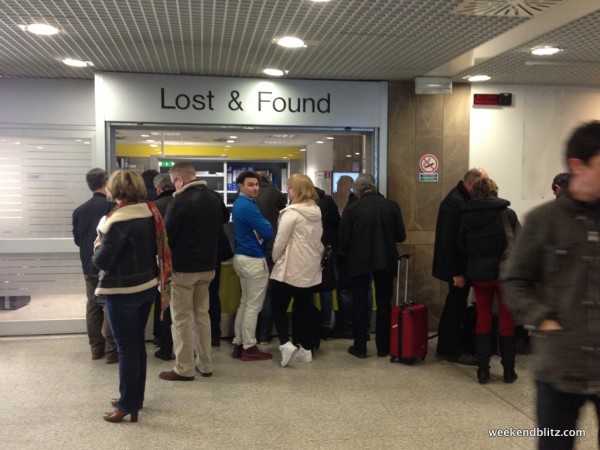 BOTTOM LINE: Air France's City Jet was a perfectly fine carrier to fly for a short regional Europe flight. While the "business class" was little more than a joke, the snack was decent and the flight got us to where we needed to go on time. The cabin was a bit dirty, but nothing shocking for regional jet service.